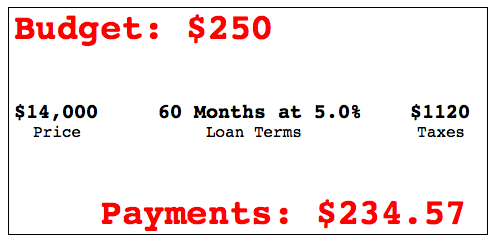 Cars are expensive. If you own a car, or cars, you don't need me to remind you how much you're shelling out monthly for your wheels. For those not in the know, the average transaction price of a new car is now about $32,000.
That average car, financed for 60 months (the average new-car loan is now written for 64 months) comes to almost $500, a budget-straining sum for many consumers.
What if you did some quick calculator work and determined you would only be comfortable making payments half that large? How much car could you buy for $250 a month instead of $500?
Working backwards, we see that getting our payments down to $250 over 60 months means looking for a vehicle that lists for around $14,000. This assumes you make a 20-percent down payment and incur taxes and fees that come to about 10 percent. Our example also assumes a loan rate of 5 percent; you may be able to do better.
At $14,000, we're looking almost exclusively at used vehicles. While there are a few new vehicles that can be had for a haggled and incentivized cost of around $14,000, those vehicles won't include an automatic transmission and are unlikely to satisfy anyone but the most parsimonious commuter.
Here we'll look at five examples of what can be had at the $14,000 level. Our examples come courtesy of Drivechicago.com, a consumer site that aggregates dealer inventory for easy search. Note that used-car prices can vary by region and time of year, so you'll want to do your own research before heading out to the showroom.
Compact Car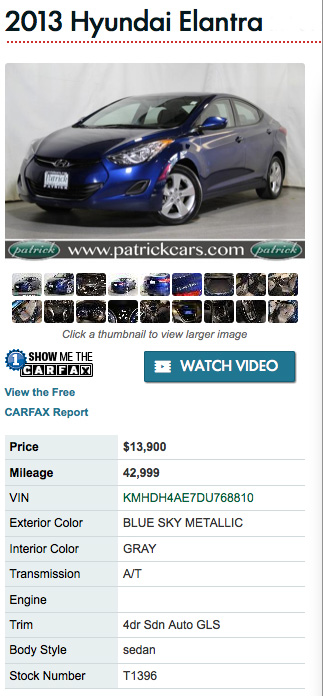 For the frugal shopper looking for something a little newer, this Elantra makes a lot of sense. The Elantra sedan boasts a refined cabin, good front-seat space, acceptable rear-seat space, and, perhaps most importantly, good—though not great—commuter-car fuel economy.
It's worth noting that this example, with 43,000 miles on the odometer, still has 17,000 miles (and several years) of factory bumper-to-bumper warranty coverage in play. Note, however, that Hyundai's generous 10-year, 100,000-mile powertrain warranty applies only to the vehicle's original owner.
Looking for a used sedan? Check out Consumer Guide's used-sedan reviews
Midsize Car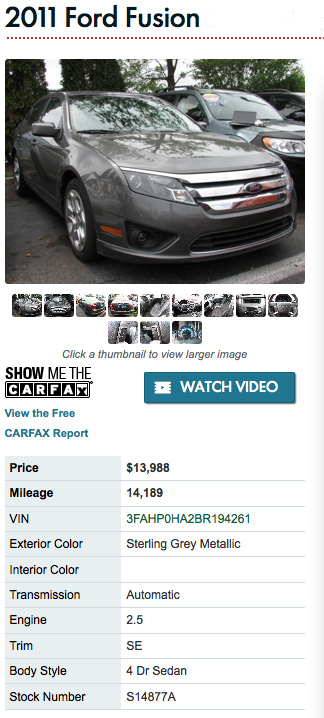 With only $14,000 to spend, you will need to make some compromises. Is the car's age or mileage more important to you? This Ford Fusion is almost 4 years old, but is showing only 14,000 miles on the odometer. While the car is now likely beyond Ford's standard 3-year, 36,000-mile warranty, the low-mileage suggests that there really shouldn't be too much wrong with the car for a long while.

The Fusion, like most other midsize sedans, offers plenty of front-seat space, and better than emergencies-only rear-seat space. Note that this example has the base 2.5-liter 4-cylinder engine, which offers decent power and better-than-average fuel economy.
Looking for a used luxury vehicle? Check out Consumer Guide's used luxury-vehicle reviews
Crossover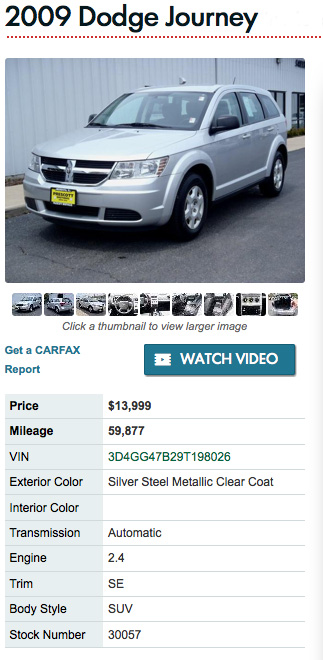 Crossovers are popular in the used-vehicle market, and higher-than-car resale prices reflect that interest. There are, however, models that can be had more affordably than others. The Dodge Journey splits the gap between small and midsize crossovers, and doesn't break the bank as a used vehicle.
This 4-cylinder example won't win many drag races, but will move along acceptably and return decent fuel economy in the bargain. Note that this Journey is out of warranty, as most $14,000 crossovers will be. Because a used vehicle does represent a certain risk, it might make sense to put aside an additional $50 each month to cover unexpected repairs. If you're lucky and those breakdowns never occur, you've built yourself a nice down payment for your next vehicle purchase.
Looking for a used crossover? Check out Consumer Guide's used-crossover reviews
Minivan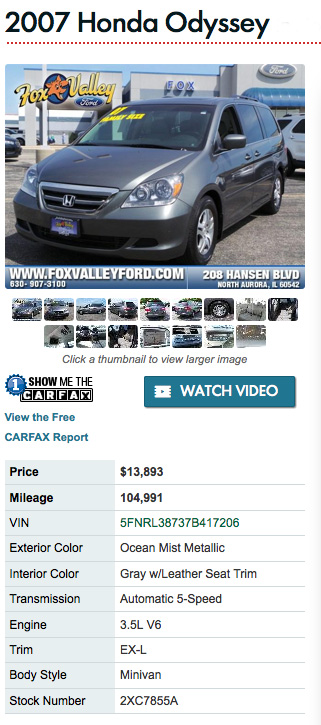 There are few car owners more loyal than Honda Odyssey owners. This love and respect may explain why an Odyssey with over 100,000 miles on the odometer is still going for our target $14,000 price. While other brand minivans may sell for a little less, used minivans are no longer the bargains they once were.
At one point, used Dodge Caravans and Chrysler Town & Countrys were almost absurdly affordable. Those days have mostly passed. When the Dodge and Chrysler vans were redesigned for 2011, the less-expensive short-wheelbase models were pared from the lineup, along with lower-price trim levels. At the same time, Chrysler reduced the number of vans pressed into fleet service, reducing the supply of vehicles that would eventually end up on the used-car market.
Again, we suggest stashing away $50 or so dollars each month to cover the cost of any unexpected repairs. While an Odyssey with 100,000 miles on it may run like a top for another 100,000 miles, it may also need a transmission in 10,000 miles.
Thinking about a used minivan? Check out our used-minivan reviews.
Convertibles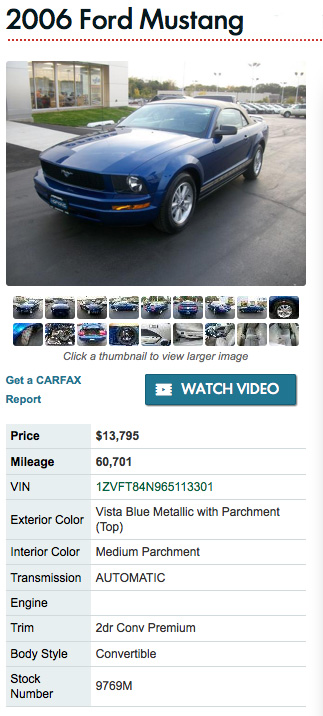 Popular rental cars in sun-soaked vacation areas, Ford Mustang convertibles tend to be easy to find used, and generally affordable as well. It's worth noting that Mustangs available at this price will be base V6-powered examples, and because they were likely rental cars, manual transmissions will be scarce.
Another Mustang plus is the surprisingly useful rear seat. Though rear passengers will be crowded, even adults can be squeezed in back for short drives.
Be aware that convertible tops don't last forever, and that a used drop top may well require a replacement top fairly soon. Expect to pay in the neighborhood of $1200 for a replacement top, including installation.
Looking for a used convertible? Check out Consumer Guide's used convertible reviews