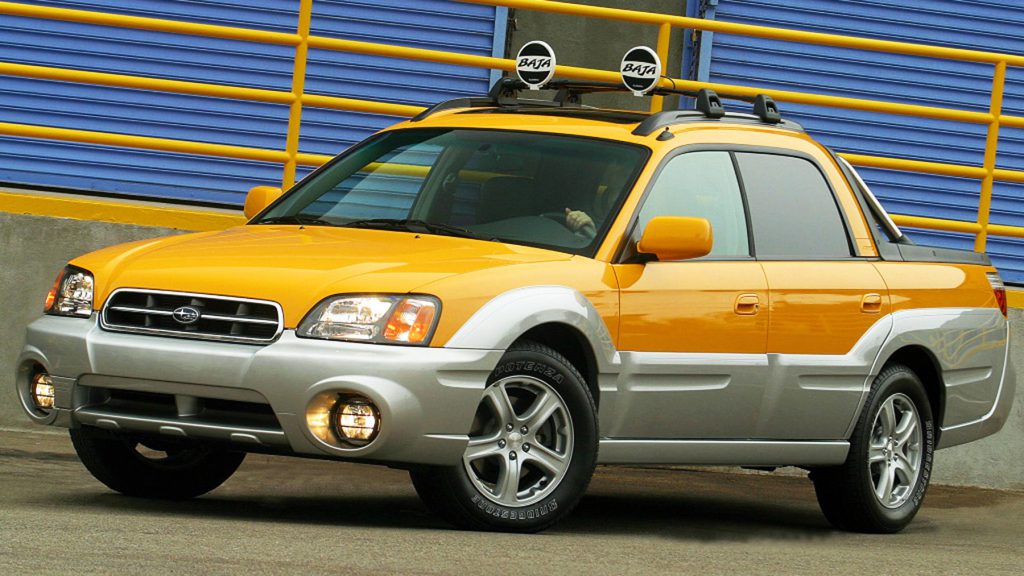 The classic Christmas film It's a Wonderful Life is widely beloved today, but did you know that it was met with only faint critical praise when it was released in time for the holidays in 1946? The Frank Capra-directed story about a family man fallen on hard times underperformed at the box office, and would not be recognized as a serious work of cinematic art until decades later. Fans of the film will be glad to hear that It's a Wonderful Life now ranks high on the American Film Institute's (AFI's) 100 Years, 100 Movies list.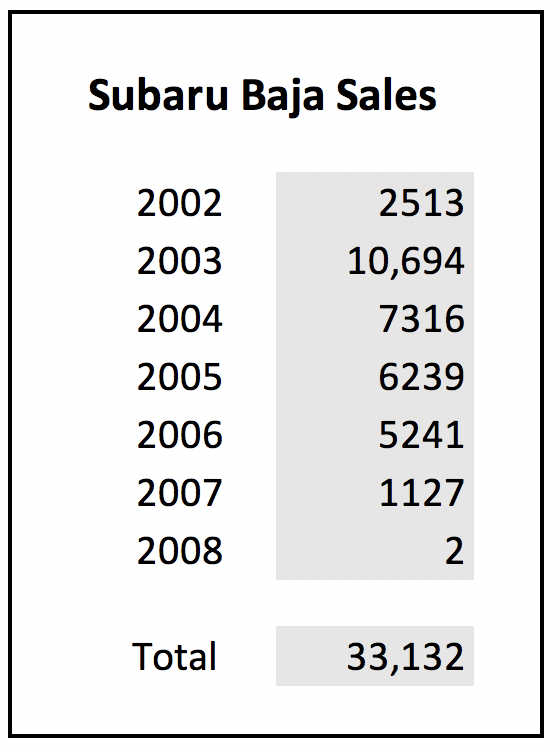 The Subaru Baja is a bit like Capra's Christmas classic in that it went mostly unloved during its 2005-2006 production run, but has become a cult favorite since being discontinued. Essentially a pickup version of Subaru's popular Outback wagon, the Baja featured a short pickup bed instead of the traditional covered cargo area. Like every Subaru of the day, the Baja came standard with all-wheel drive, and, like the Outback, was clad in SUV-evocative trim.
With the Baja, Subaru had hoped to cash in on posthumous love for an earlier small pickup it produced: the BRAT, a compact-car-based "trucklet" which was sold stateside between 1978 and 1987. Unlike the 4-door Baja, the BRAT (for Bi-Drive Recreational All-terrain Transporter) came only as a 2-door, though most were equipped with bed-mounted rear-facing bucket seats–a feature we'd guess Subaru's lawyers vehemently vetoed if the idea ever came up during the Baja's development process.
A quick search the day this article was published found asking prices for Bajas well in excess of other compact and midsize trucks of the same vintage. Even with 200,000 miles or so on the odometer, decent-condition Bajas command nearly $10,000. Especially pricey, and rather rare, are Baja Turbos, which were only available between 2004 and 2006. Seems the Baja, like It's a Wonderful Life, only found respect well after it was introduced.
What follows is Consumer Guide's original review of the swan-song 2006 Subaru Baja, including the forward-looking "News" section at the end of the report.
2006 Subaru Baja Review
Overview
This compact SUV is basically a small station wagon with a pickup-truck bed in place of an enclosed cargo area. It has a raised suspension, SUV-flavored styling, and like all Subarus, comes with all-wheel drive and a horizontally opposed engine. Two Baja models are offered; the Sport has a 165-hp 2.5-liter 4-cyl engine, the Turbo a 210-hp turbocharged 2.5. Both come with manual or automatic transmission. Antilock 4-wheel disc brakes are standard. Baja seats four and comes with a bedliner. The wall separating cargo bed from cabin has a panel that folds to create a pass-through beneath the fixed rear window. Roof lights and a bed-extender cage are options. A bed cover is standard on Turbo models with leather upholstery.
Subaru Baja year-by-year changes

Acceleration
A bit sluggish with non-turbo 4-cyl: expect about 10.5 sec 0-60 mph. Turbo much stronger off the line and delivers fine passing power, though with some turbo lag. In either, automatic transmission slow to downshift for passing.
Fuel Economy
Test Baja Sport with automatic transmission averaged 21 mpg. Test Turbo with automatic averaged 18.0. Baja Sport uses regular-grade fuel, Turbo requires premium.
Handling
More cornering lean than most cars, but Baja handles and stops with far more assurance than the typical SUV. Brakes don't feel especially strong, but provide drama-free stops.
Ride Comfort
A more controlled ride than most SUVs–even car-based ones. Not as smooth as some compact cars, however.
Quietness
Quieter than any like-priced SUV, and less noise than in typical crew-cab pickup, though test example suffered loud wind whistle in crosswinds. Non-turbo engine somewhat gruff and throbby; turbo smoother. Some coarse-surface tire drone.
Controls
Basic dashboard design OK, but a few controls are small or hard to find. Visibility hindered by roof styling. Cabin assembly good, but materials, design nothing special, even in leather-equipped top-line Turbo.
Ruth Gordon TV commercial for the Subaru Brat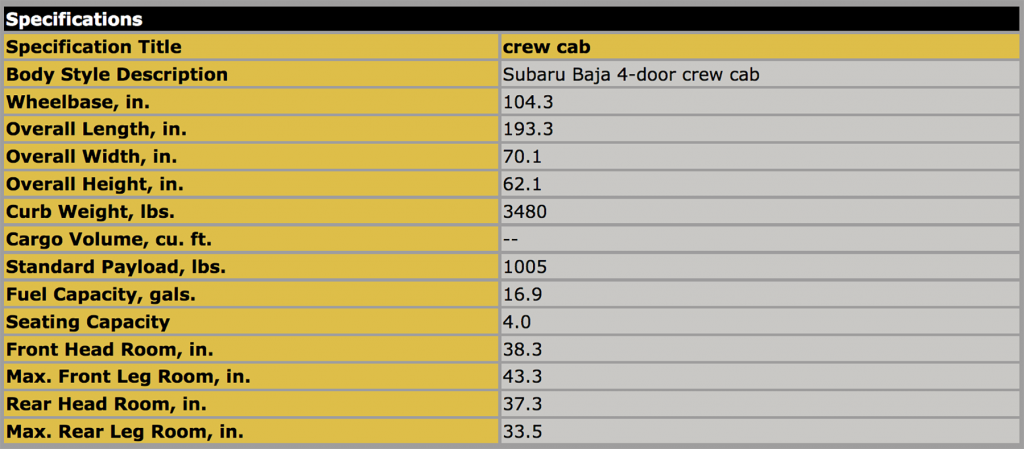 Comfort
FRONT: Good head and leg room for six-footers, but taller occupants may wish for more rearward seat travel. Comfortable, supportive seats.
REAR: Seats just two, with good head room for those under 6-ft. Leg space tightens as front seats move aft. Entry/exit no strain, but not super easy.
Cargo Room
Cargo bed only 3.5 ft long, but lengthens to about 5 ft with tailgate and optional bed extender down. Folding rear seat and opening small "Switchback" panel adds another 2 ft, but the pass-through isn't large. Interior offers good small-item storage.
Review Flashback! 2013 Chevrolet Avalanche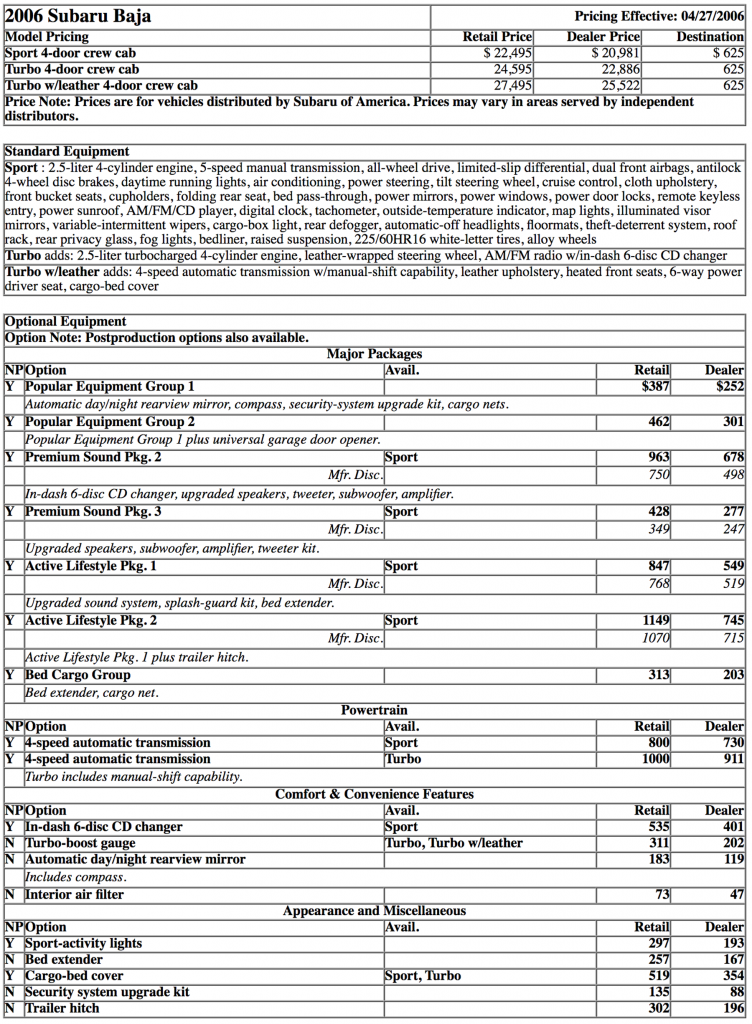 Value
Baja has less utility than a regular compact pickup, but its versatility, features, and carlike behavior have appeal. Turbo models are pricey for their size, but furnish far better acceleration than Sport versions. With either, you get most of the all-wheel-drive traction of a conventional SUV but with greater fuel efficiency and less unnecessary bulk.
Towing Capacity
When properly equipped, the Baja can tow 2400 lb.
News
Contradicting an earlier forecast that contradicted the one before, a reliable source now says Baja will be canned after model-year '06. It had been expected to hang on through 2008.
Listen to the Consumer Guide Car Stuff Podcast
2006 Subaru Baja Gallery
2006 Subaru Baja