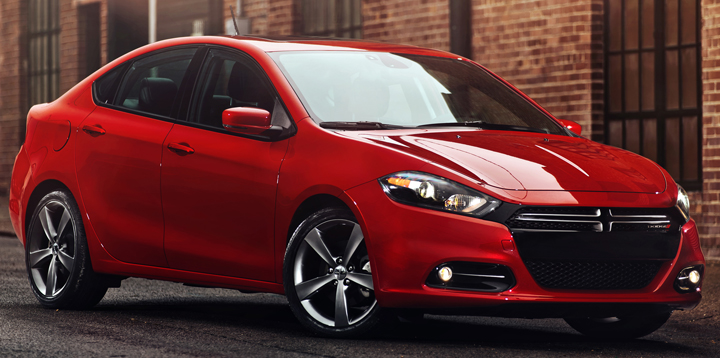 "Dart" is an old name resurrected for a very modern new car. Last used by Dodge in the 1970s, it has now been applied to a front-wheel-drive compact sedan that replaces the slow-selling Caliber 4-door hatchback in Dodge showrooms.
FCA Just Killed the 200 and Dart. Is the Dodge Brand Next?
Quick Spin: Dodge Dart
Dart is significant not only because it gives Dodge a new and stronger entry in the compact-car segment — one of the largest that's only increasing in popularity — but also because it's the first vehicle to be developed jointly between Dodge and its new corporate parent, Fiat. In fact, the Dart's platform is based on one that underpins the Italian-built Alfa-Romeo Giulietta sold in Europe (Alfa is another division of Fiat). Some powertrain components also come from the Fiat parts bin.
As a compact sedan, Dart competes against other "established" names such as the Honda Civic, Ford Focus, Hyundai Elantra, Mazda 3, and Toyota Corolla, along with relative newcomers Chevrolet Cruze and Nissan Versa.
One way Dodge is trying to make the Dart stand out is by offering a host of features — many of them unique or rare in the compact class — along with a vast assortment of both exterior and interior color and trim choices. Although many of its parts are derived from foreign cars, the Dart is built in the U.S.
2013 Dodge Dart: What's New
Virtually everything. One of the three engines offered is similar to one available in the outgoing Caliber, but there's little else that's shared with other models in the Dodge-Chrysler-Jeep family.