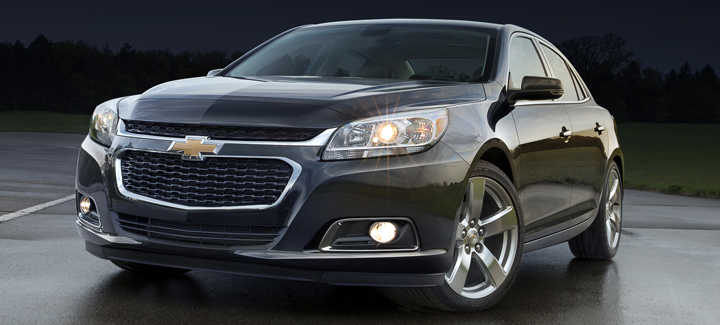 Recently, Chevrolet officials announced they were in the midst of an aggressive new-product rollout across the globe, with 25 new or significantly redesigned vehicles. One of them is the Chevrolet Malibu, which will get a freshening for 2014 just one model year after being redesigned.
Test Drive: 2016 Chevrolet Malibu Hybrid
Today, General Motors announced seven upgrades to the popular midsize car. They include . . .
Revised front-end appearance. GM says that the front-end appearance is "influenced by the all-new Impala" and meant to create a more cohesive look across Chevy's sedan lineup. Below are side-by-side pics of the 2013 and 2014 Malibus, and underneath is the 2014 Malibu compared to the 2014 Impala.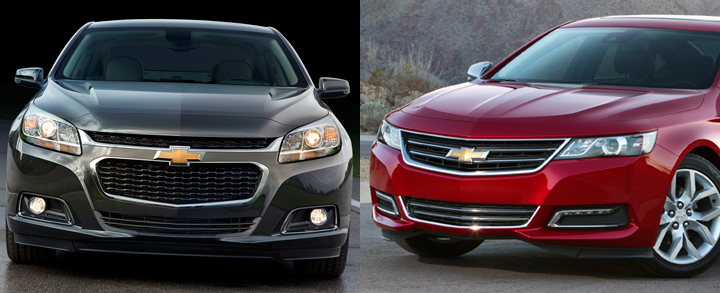 Chevrolet Malibu Standard-Equipment Showdown: 1976 vs. 2016
Updates to the base powertrain. Engineers tweaked the 2.5-liter 4-cylinder engine to enhance low-rpm torque ("for a greater feeling of power at lower speeds") and to improve fuel economy. It's not reflected in the numbers, as horsepower and torque drop from 197 and 191, respectively, to 196 and 186. Fuel economy improves slightly, from 22 city/34 highway to 23/35, but that's in part due to the new stop/start system, which automatically turns the engine off and on when you're idling at a stoplight. Such a system can be mildly to majorly annoying depending on how smooth or clunky it is. GM also noted that the 6-speed automatic transmission will get revised transmission shift points and quicker shifts to "enhance the feeling of performance while delivering greater refinement."
A stronger 2.0-liter turbo engine. With new engine calibration and tuning, the torque rating on the available 2.0-liter turbocharged 4-cylinder engine rises from 260 to 295. Horsepower stays the same at 259. The car's third powertrain, which includes a 2.4-liter 4-cylinder with eAssist (a "mild hybrid"), will return for 2014.
Other refinements. Chassis and suspension updates are meant to result in a smoother ride as well as improved body roll control and weight transfer during acceleration or turning. In addition, revised, higher-effort calibrations were made to improve overall steering feel. The braking system has also been revised.
More rear knee room. Notice they didn't say more rear legroom. The seating configuration remains the same, but front seatbacks have been reshaped for more knee room for rear-seat passengers. Moreover, "revised cushion material allows passengers to sit deeper in the rear seats." The end result is 1.25 inches of greater overall knee room. This change seems like a band-aid attempt to address Malibu's relatively tight rear seating area. Such rivals as Toyota Camry, Honda Accord Sedan, and Ford Fusion all have greater rear legroom.
Two new safety features. Blind-spot alert and rear cross-traffic alert are newly available. As a comparison, the 2013 Camry, Accord, Fusion, and Nissan Altima—four of Malibu's major competitors in this class—have blind-spot alert, but none of them have rear cross-traffic alert.
Redesigned center console. The new center console will have a longer armrest, two cupholders, and dedicated storage for two cell phones.
* * * * * * * * *
Rarely do automakers come out with a freshening a year after a redesign. But the midsize-car market is the biggest one out there, and GM isn't satisfied with Malibu's calendar-2012 sales—211,000 compared to 405,000 for Camry, 332,000 for Accord, and 303,000 for Altima.
Fuel economy is a huge selling point, and GM was willing to add the controversial stop/start feature in order to gain 1 mpg. The cushion sculpting addresses one of the car's few criticisms, and we'll have to sit back there to see if it makes much of a difference. We also look forward to examining the car's driving enhancements.
2014 Chevrolet Malibu 2.5: Engine Revisions Bring Better MPG—and No Price Increase