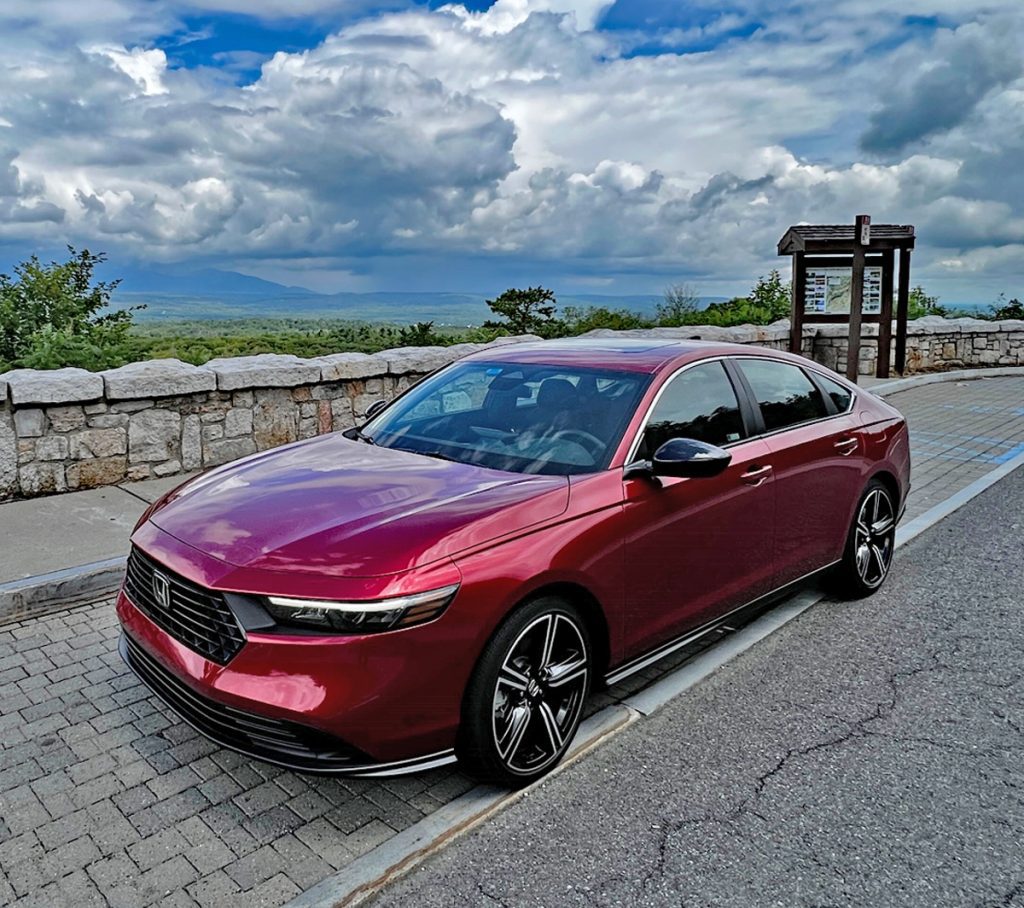 At first blush, the redesigned 2023 Honda Accord Hybrid is kind of a Plane Jane. But once you dig into the details, you'll find there's more to the 11th-generation midsize sedan than meets the eye.
2023 Honda Accord Hybrid
I spend a lot of time driving back and forth between Chicago and Indianapolis these days; that's three uninterrupted hours behind the wheel. So, while I still appreciate peppy acceleration, things like seat comfort, easy-to-use controls and interior quietness have become increasingly important to me. As I experienced during a recent road trip from New York City to Accord, New York, the 2023 Accord Hybrid has all of those long-trip features going for it, and more.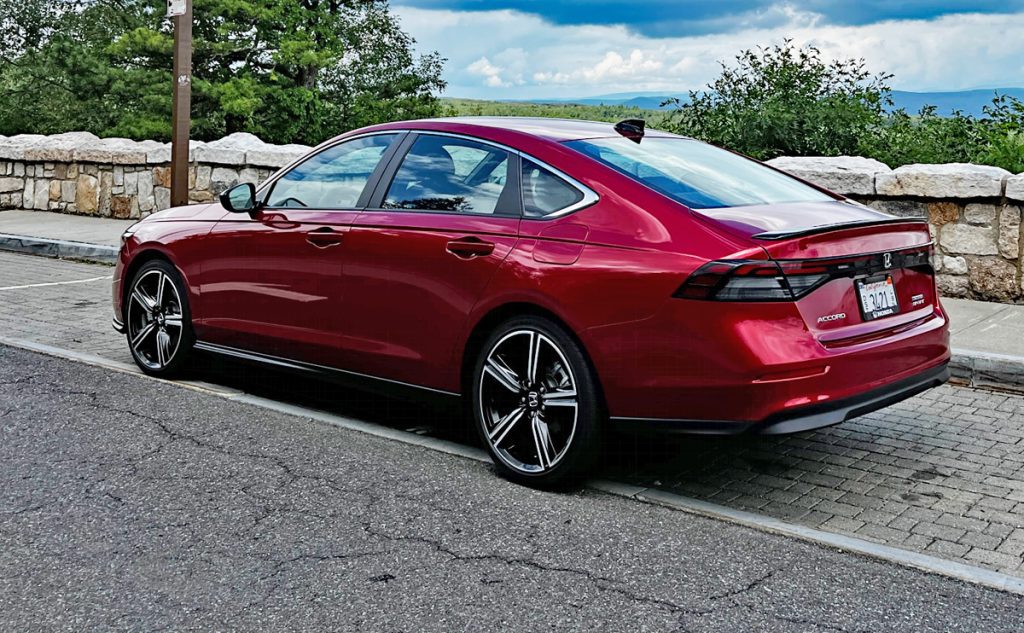 Leaving the hustle-and-bustle of the horn-happy Big Apple, I came to quickly appreciated the upgrades to the Accord's hybrid powertrain. For 2023, Accord gets a new two-motor hybrid system. The system produces slightly less horsepower than the 2022 powertrain, but a meaningful 15 pound-feet more torque. The electric motors pair with a 2.0-liter Atkinson-cycle 4-cylinder engine. Combined system output is 204 horsepower, with a torque peak of 247 pounds.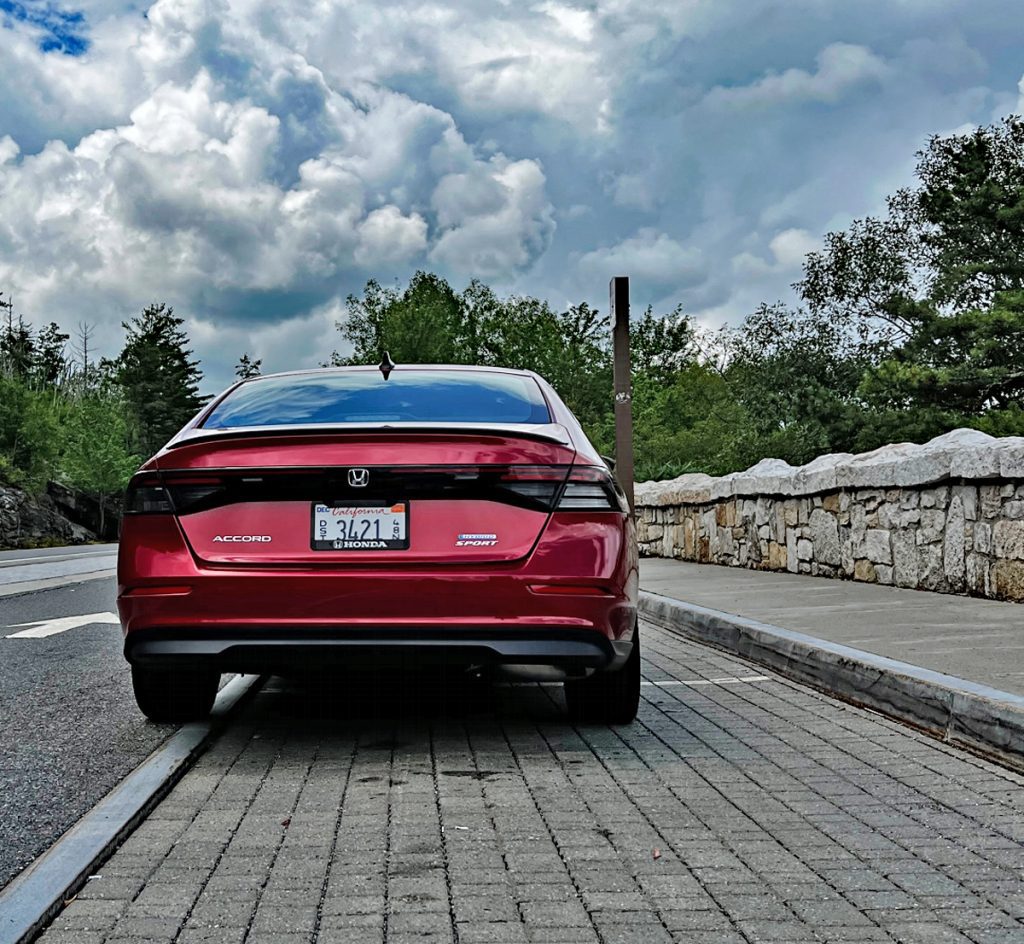 The result of the enhanced hybrid system is a generally sportier driving experience. I'm talking quicker off-the-line launches, sufficient to better even the most-aggressive NYC cabbie, as well as excellent reserve power for highway merging and passing.
Honda claims that chassis rigidity has also been improved for '23, and that the steering and suspension have been tweaked. The result is a perceptibly more athletic driving experience that belies the Accord's conservative styling.
Piloting the Accord Hybrid aggressively comes seemingly without penalty. The beautiful thing here is that even enthusiastic driving doesn't tank your fuel economy—at least not a lot.
Getting out of the city and hopping on the Palisade Parkway heading north, I saw a reported 36.7 mpg. While that's a far cry from the EPA estimate of 44 mpg in combined driving, I'm still considering it a win given my aggressive driving style. Now, people will point to the fact that the Toyota Camry Hybrid (SE/XLE/XSE) is EPA rated at a combined 46 mpg, but that's just on paper, and frankly, 2 mpg isn't that big a deal.
Though I haven't tested Camry Hybrid Accord Hybrids back-to-back, I have evaluated the Toyota RAV4 and Honda CR-V hybrids in a comparative environment. In this case, my fuel economy was better in the Honda. I also found the Honda systems to be more refined.
Direct comparisons aside, the Accord Hybrid is just generally smooth and quiet. The interplay between the electric motors and the gas engine is nearly imperceptible, and—big boost to fuel economy—the Accord Hybrid will operate on battery power alone at speeds up to 40 mph.
While the Accord Hybrid is not a luxury sedan, the cabin is fitted with high-quality materials, and both the cloth and leather seats look upscale. I'm a fan of the honeycomb-mesh grilles that house the air vents. They run along a narrow strip across the dash and look clean and modern.
Test Drive Gallery: 2022 Toyota Camry TRD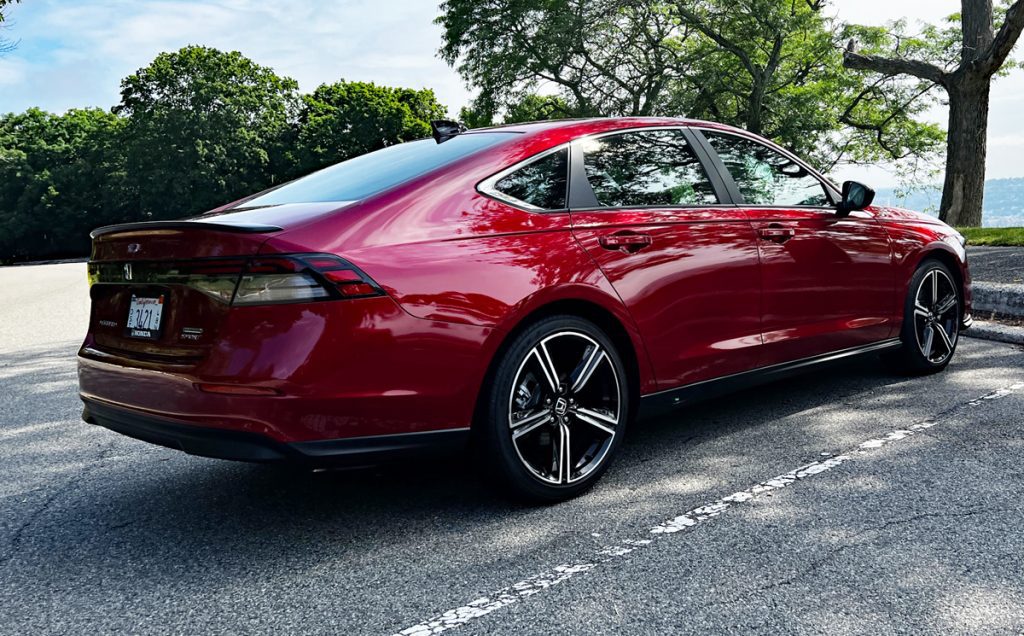 I could live without the swath of shiny piano-black plastic that surrounds the console-mounted gear selector. It readily shows fingerprints, and is a very visible dust collector.
For this petite driver, the Accord cabin falls into the "just right" category. The vehicle I drove featured neat black-denim cloth seats, which were nicely padded without feeling squishy. Additionally, the power-adjustable seats cover a great-deal of driver-size range. Plus, all the gauges were easy to read, and controls were within easy reach.
I liked the physical controls for the climate-control system, and I really appreciated the easy-to-navigate static menu in the left rail of the 12.3-inch infotainment screen.
I was never left guessing how to transition between Apple CarPlay and the Accord's native infotainment system, and thank goodness, Accord boasts a real volume-control knob. I wish there was also a tuning knob, but I acknowledge that most owners would save their station presets, which largely negates the need to do any tuning.
Cool thing about the Honda/Apple CarPlay integration: When you use Apple Maps, your navigation instructions appear in the digital display behind the steering wheel.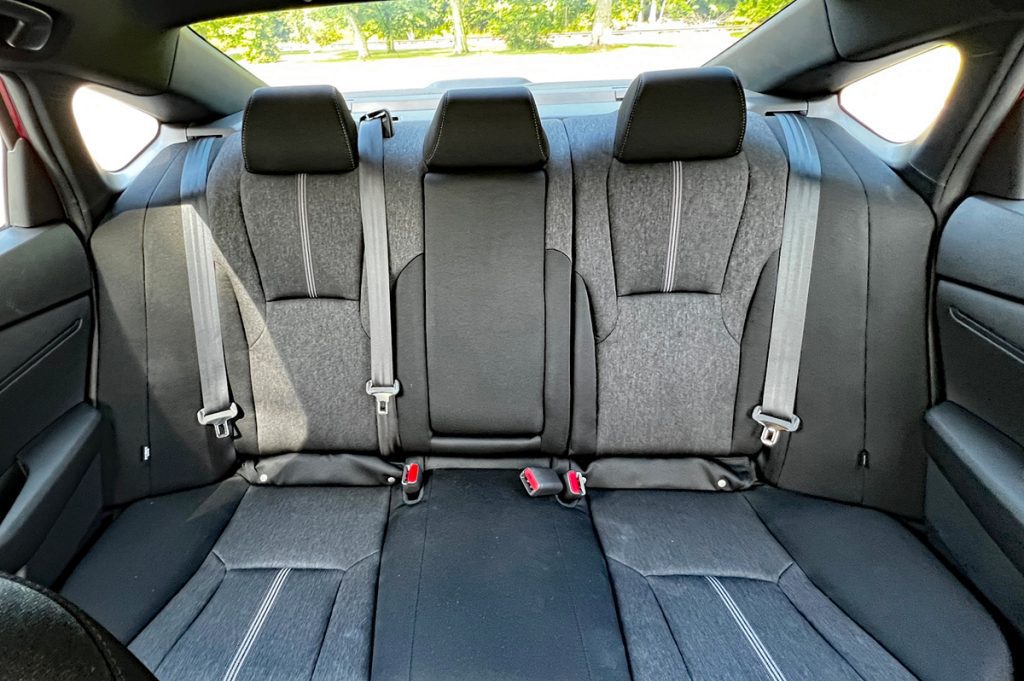 Our test car was the high-value Sport, which has a base price of $32,440, including destination. The test vehicle didn't include any fancy options, but it did have the Radiant Red Metallic paint ($455), raising the as-tested price was $33,445. That's a strong value for a nicely equipped and fun-to-drive midsize hybrid sedan.
The 2023 Accord Hybrid trim-level lineup:
Sport ($32,440): This trim is well equipped with a 12.3-inch info screen, 19-inch alloy wheels, wireless Apple CarPlay, leather-wrapped steering wheel and gloss-black rear spoiler.
EX-L ($34,085): This trim adds leather seats, parking sensors, a driver's memory seat, heated side mirrors and heated front seats.
Sport-L ($34,420): This trim adds 19-inch matte-black alloy wheels, a rear diffuser and Alexa built-in.
Touring ($38,435): This top-tier trim adds Google built-in, a head-up display, Bose premium audio and a wireless phone charger.
The 2023 Honda Accord Hybrid is and impressive vehicle that is long on value and returns excellent fuel economy, even if the styling is unexciting. Interior fit and finish is excellent, and the hybrid powertrain phenomenal. While I liked the base Sport trim, I'll be honest, I'm a bit of a nerd, and for my money, I'd go all-in with the Touring trim because of the premium audio system and Google operating system.
Test Drive Gallery: 2022 Toyota Camry Hybrid XSE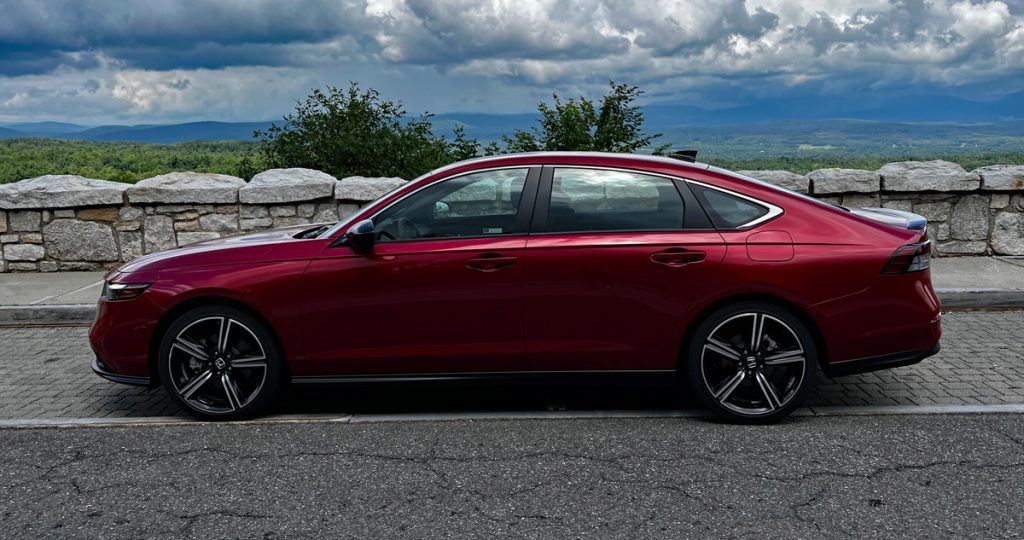 Listen to the Consumer Guide Car Stuff Podcast
2023 Honda Accord Hybrid Sport Gallery
(Click below for enlarged images)