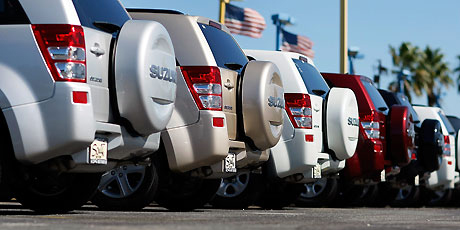 We had a hunch this day would come, but we weren't expecting it so suddenly. Yesterday American Suzuki, the U.S. distributor of Suzuki Motor Corporation, filed for Chapter 11 bankruptcy protection in the court near its Orange County, California, headquarters. This is part of a restructuring operation that will see the shuttering of its automobile sales division.
As of this writing, Suzuki has built and exported a small number of model-year 2013 vehicles, including the Grand Vitara, Kizashi, and SX4. Dealers will sell them until inventories are exhausted. After that, certain facilities will remain open for parts and maintenance. Suzuki promises to honor all warranties.
Just five years ago, Suzuki sold more than 100,000 vehicles in the U.S. Unfortunately, many of those sales relied on sub-prime financing, making the brand especially vulnerable during the 2008 financial crisis and subsequent recession. The dissolution of its partnership with General Motors and a failed pairing with Volkswagen further compounded its woes. The company attempted to go it alone with the model-year 2010 launch of the Kizashi sedan. Though it was arguably the best vehicle Suzuki ever made, most buyers passed it over for more mainstream rivals.
The bankruptcy filing comes as American Suzuki reported total calendar 2012 sales of slightly more than 20,000. Though auto sales will cease, the company's motorcycle, ATV, and marine engine units will remain operational. Suzuki will continue to sell vehicles overseas with a focus on India and other emerging markets.