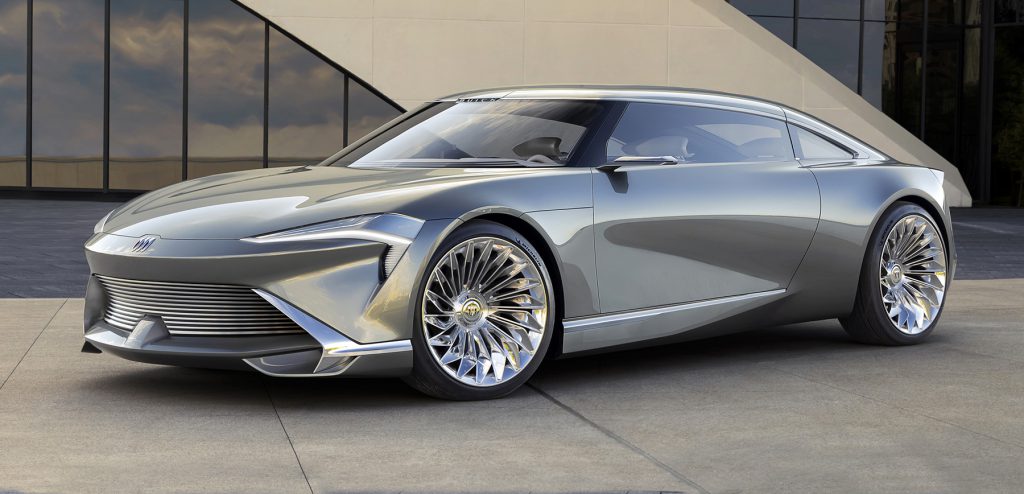 This week Buick took the wraps off a dramatically styled pure-electric concept car and also announced that it is committed to becoming a fully electric brand by the end of the decade. Buick says it will bring its first all-electric vehicle to market by 2024, and that future Buick EV products will use a brand name from Buick's past: Electra. Buick also unveiled a redesigned version of its familiar tri-shield logo, and says the new emblem will debut on its production vehicles starting next year.
Buick Wildcat EV Concept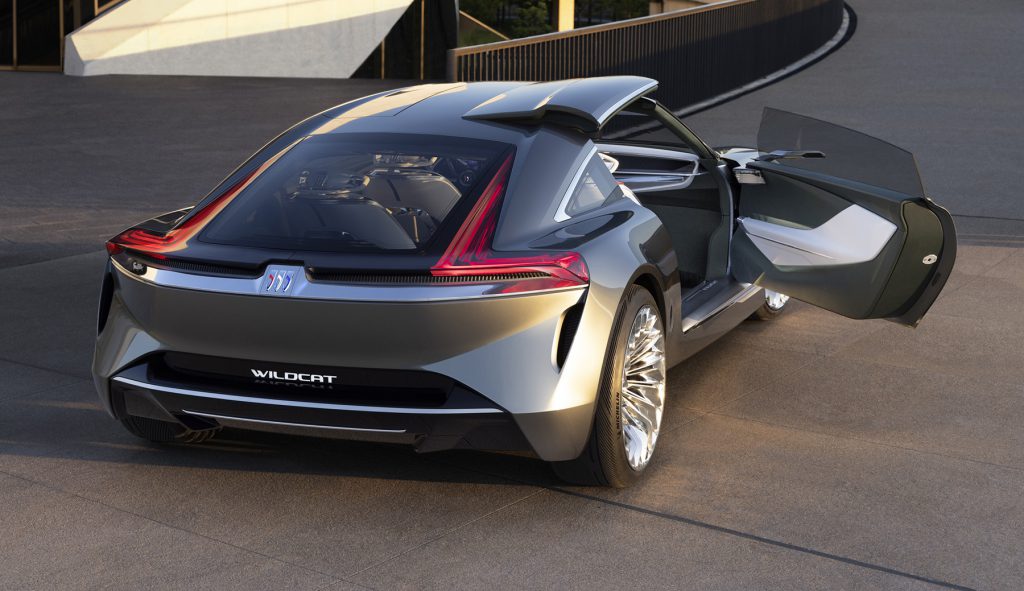 The Buick Wildcat EV concept is a rakish two-door coupe with a 2+2 seating arrangement (i.e., a very small back seat). It also brings back a name from Buick's past; the Wildcat moniker was used on a trio of show cars in the 1950s, and later adorned a series of regular-production Buicks from 1962-70. Sharon Gauci, executive director, Global Buick and GMC Design, said the Wildcat EV concept "inaugurates the next chapter in Buick's design heritage, as we make the crucial transition to our all-electric future."
Dynaflow Madness! A Gallery Of Classic Buick Ads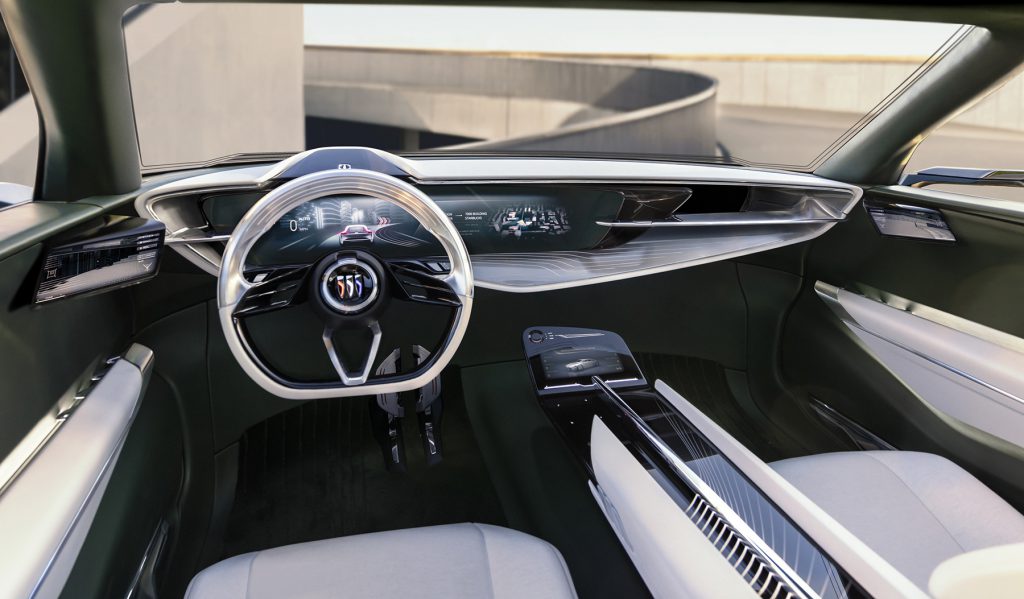 The Wildcat EV's primary purpose is to showcase Buick's new interior and exterior design motifs—styling cues that will be arriving on production models in the near future. No technical details were provided on the concept's electric powertrain, though Buick's forthcoming EVs will utilize GM's Ultium battery technology. Highlights of the Wildcat EV concept's styling include a low-mounted trapezoidal grille with thin horizontal bars; slim, blade-like headlights and taillights; 18-spoke turbine-styled wheels; and Buick's new tri-shield logo. Futuristic features of the Wildcat's interior include a "Zen Mode;" when sensors detect an elevation in the driver's heart rate, the vehicle will dim the cabin lights, active massaging seats, and even disperse calming aromatherapy scents.
Subtle Excellence: Remembering the Buick 3800 V6
Buick Brings Back Electra Name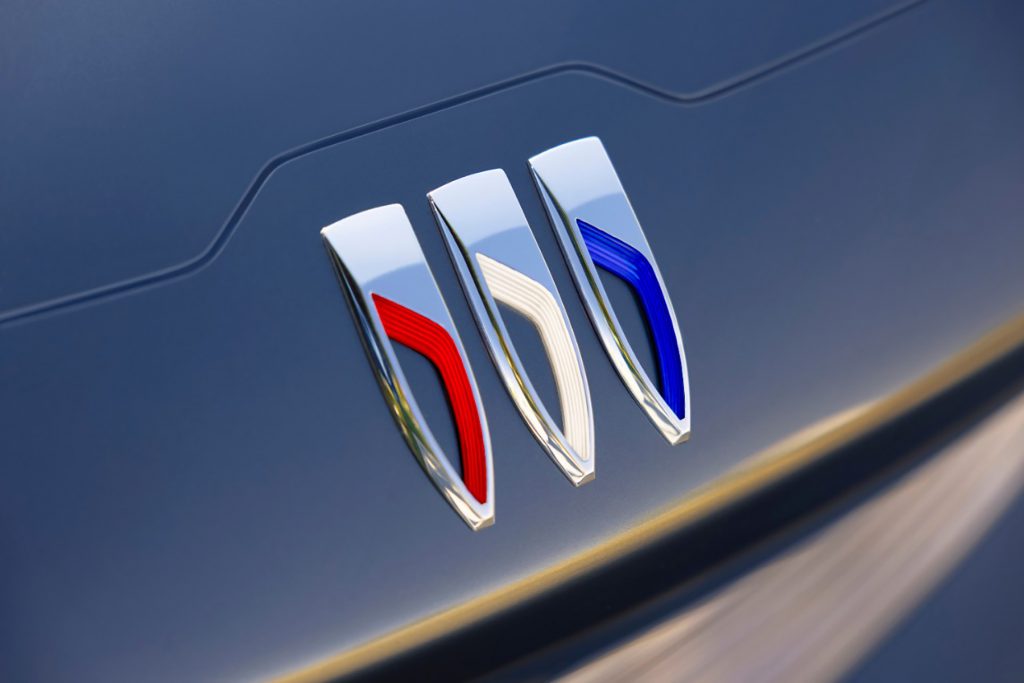 Buick's future all-electric products will carry the Electra name, reportedly with a numeric designator to indicate the vehicle's size—we presume this strategy will be similar to Hyundai's Ioniq EV subbrand, which includes the 2022 Ioniq 5 compact crossover and is set to expand with the addition of Ioniq 6 sedan and Ioniq 7 SUV in the near future.
Despite the fact that the Wildcat EV is most definitely a car, we don't expect the return of traditional passenger cars to Buick's North American lineup. Buick Vice President Duncan Aldred recently reiterated that Buick is "global premium SUV brand."
CG Says:
It's no surprise that GM's push toward electric vehicles would eventually include Buick, but we can't help but feel the Wildcat EV concept is a bit of a tease—there are no plans to build a production version. Buick seems to have a habit of displaying breathtaking concept cars that don't end up on the showroom floor, even if some of their styling cues do. (We can't help but be reminded of the lovely Buick Avista concept of 2016.) Still, the Wildcat's styling cues are lovely and EV-appropriate to our eyes, and they should look good when they appear on Buick's Electra crossover-SUV EVs a couple years down the road.
Listen to the Consumer Guide Car Stuff Podcast
Buick Wildcat EV Concept Gallery
(Click below for enlarged images)
Buick Brings Back Electra Name
Buick Brings Back Electra Name
Buick Brings Back Electra Name