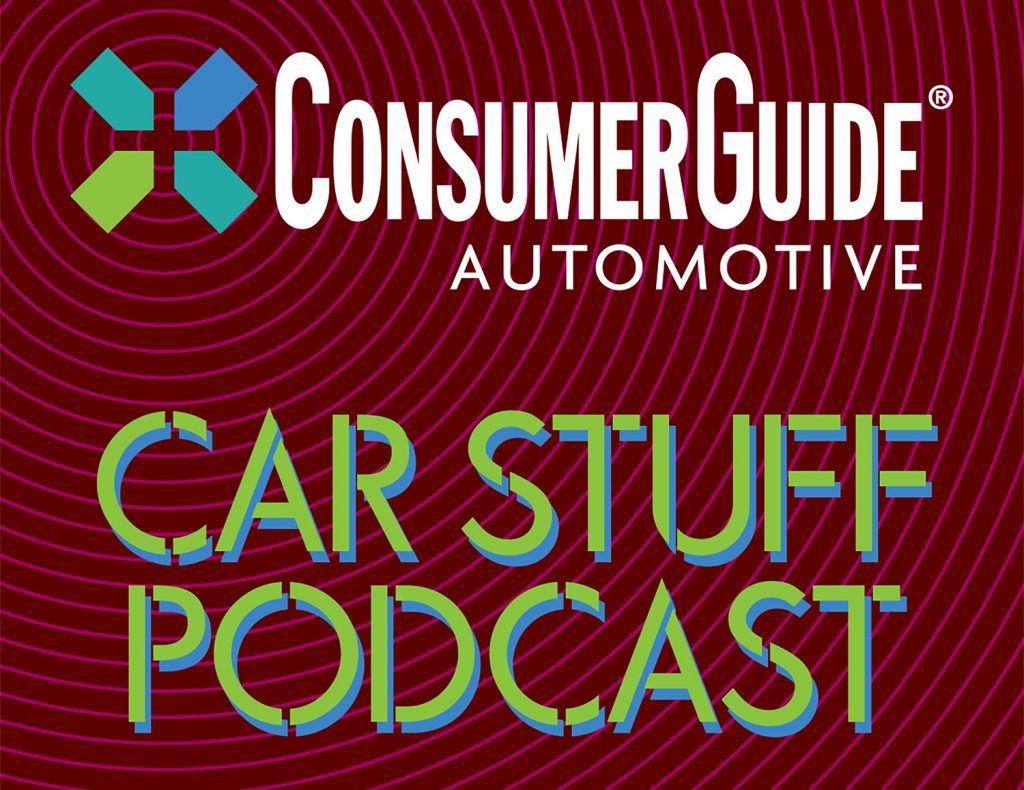 Whether you drive a car, need a car, or just occasionally bum a ride with friends, you''ve come to the right place. Join Jill and Tom as they break down everything that''s going on in the auto world. New-car reviews, shopping tips, driving green, electric cars, classic cars, and plenty of great guests. This is the Consumer Guide Car Stuff Podcast.
Episode: 193
Broadcast date: November 13, 2023
Guest: Brenda Lynch

–
Favorite Automotive Tech Features, Mustang Dark Horse, Dealership Hacking Risks
Jill and Tom opened the show examining Jill's irrational dislike of filled donuts—even jelly filled. Tom stayed off topic for a moment, noting that Google was placing surprisingly racy ads on the Consumer Guide website, including one ad for something called, "Naughty Wedding Photos."
The hosts got serious and talked about a casual poll Tom conducted on Twitter/X to determine drivers' favorite automotive tech features. The list is very interesting. The conversation moved on to Volvo's new electric EM90 minivan, about which there is good news and bad. The Conversation turned to the new top-tier Mustang trim level: Dark Horse. Jill recently spent a week behind the wheel of the high-performance Ford, and shares her take.
In the second segment, Jill and Tom are joined by CDK Global Senior Product Manager Brenda Lynch. Brenda shared the topline results of a CDK study looking into auto-dealership vulnerability to hacking and malware. Is your personal data safe at your local dealer? Listen to this conversation.
In the last segment Jill is subjected to Tom's "Under $48,000" quiz. Because Tom did a poor job managing the clock this episode, the hosts got in a brief chat about pay raises at U.S. Toyota, Volkswagen, and Hyundai/Kia plants, all of which are certainly steps taken to prevent unionization of their factories.
…
The Consumer Guide Car Stuff Podcast is broadcast live every Monday at 3:00 PM CT
on the TalkZone Radio Network.
Download now on Apple Podcasts
Discussed this week:
The Tech Car Features You Can't Live Without (Twitter Poll Results)
CDK GLOBAL 2023 CYBERSECURITY REPORT
Ford UAW Local 862 members vote no on new agreement
Follow the crew: