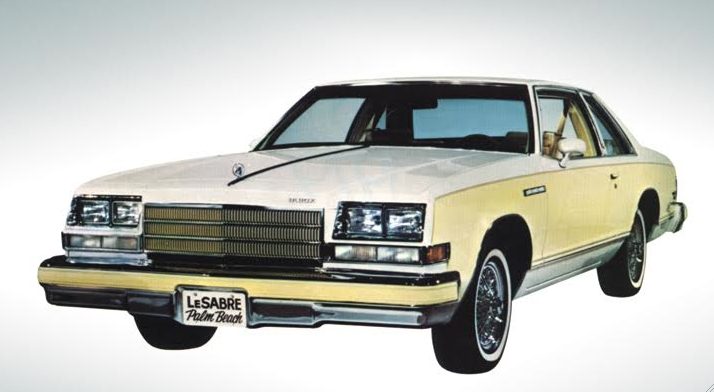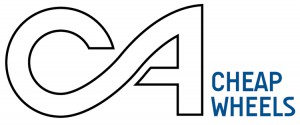 by Don Sikora II
Note: The following story was excerpted from the October 2015 issue of Collectible Automobile magazine.
What has two doors; is 218.2-inches long; and is white, pastel yellow, and wood-grained all over? If the first thing that pops into your mind is the special-edition 1979 Buick LeSabre Palm Beach, you may have just identified your perfect set of cheap wheels.
For the  benefit of those who drew a blank at that question, the Palm Beach was an elaborate "spring-special" appearance package for the '79 LeSabre Limited coupe. Palm Beach was only offered in white, accented with a midbody two-tone treatment in an exclusive color called Yellow Beige. 
What really made the Palm Beach stand out were all of the other places Yellow Beige was applied. It was found on the door-handle inserts, B-pillar trim, bodyside moldings, and the standard wheel covers. The sides of the grille bars were finished in it, too—even the vinyl rub strips on the chrome bumpers were Yellow Beige in place of standard-issue black. Bodyside pinstripes in gold, and Palm Beach emblems on the B-pillars finished the look.
Fit and Trim: The General Motors B-Body Coupes of 1977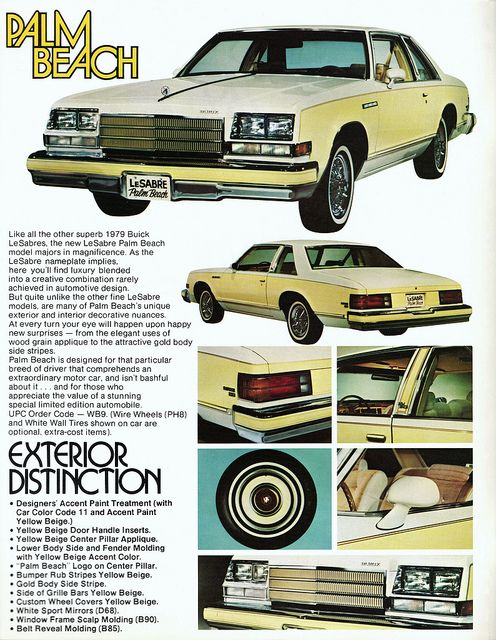 The interior was decked out just as distinctively. The front 55/45 split-bench seat was Yellow Beige with the seating sections covered in button-tufted Palm Beach Cloth. The light-beige cloth had a textured surface decorated with a series of horizontal lines in differing weights and styles. Whether or not it was intentional, the cloth's tone-on-tone appearance has the look of woodgrain. 
Speaking of faux wood, the door panels above the armrests were covered in large sections of a light-colored appliqué that nearly matched the color of the seat cloth. The stuff was also applied liberally to the dashboard and steering wheel. Custom seatbelts closely matched the seat's Yellow Beige sections. A Palm Beach logo on the dashboard and long-pile carpet in a darker beige/brown color were also part of the deal.
Interestingly, the promotional brochure prepared for the car includes a list of regular LeSabre exterior options that were not available on the Palm Beach. These include a two-tone for the roof, bumper guards, and three different types of vinyl-roof treatments. Presumably these items would have interfered with the model's special trim.
However, buyers could choose from several different styles of wheels. Bright-metal custom wheel covers with Yellow Beige accents were standard. Wire wheel covers, Buick's handsome chrome-plated five-spoke styled-steel wheels, and pricey genuine wire wheels were all available at extra cost.
Mechanically, the Palm Beach was the same as any LeSabre Limited. That meant Buick's 231-cid V-6 rated at 115 bhp was standard. Most Palm Beach buyers likely chose one of the optional V-8s though. A Pontiac-built 301 or Buick's 350 were most common, but an Oldsmobile-sourced 350 was the only V-8 on offer in California and high-altitude areas. LeSabre Sport Coupe's turbocharged V-6 wasn't available. No matter the engine, a three-speed automatic transmission was connected to it.
As a late-bloomer in the '79 Buick line, the Palm Beach apparently didn't get around much. A recent article in the Buick Bugle, the magazine of the Buick Club of America, reported that just 4001 LeSabre Palm Beaches were produced.
Pros:
 Extensive pastel-yellow trim applied to more than 18 feet of late-Seventies Buick helps make the Palm Beach one of the more memorable special editions from the period.

 Basic LeSabre coupe styling remains handsome.

 Great set of wheels for the days your AMC Matador Barcelona II is just a little too flashy.
Cons:
Numerous Palm Beach-specific trim pieces will almost certainly prove nearly impossible to find today. More than usual, condition is critical.

There's an excellent chance almost everybody you encounter will have an opinion they want to share about your choice in cars.

Not a good option for folks looking to maintain a low profile.
Final Drive:
Clearly a full-size two-door '79 Buick awash in pastel-yellow accents and several square feet of simulated-wood interior trim isn't for everybody. But if you're adventurous when it comes to color schemes, there are few special-edition cheap wheels that do a better job delivering on a theme. Even if you're dubious of Palm Beach's appearance, you have to admit there's nothing else quite like it.