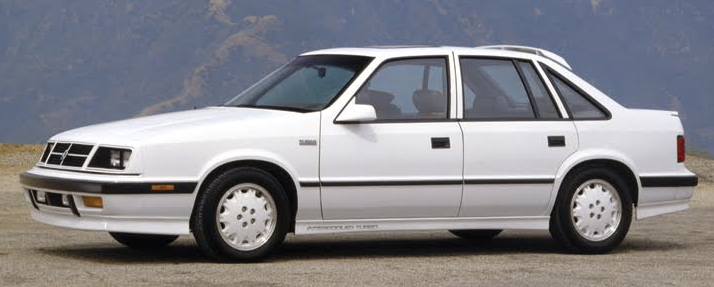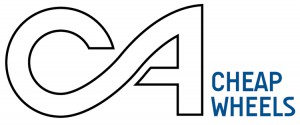 by Don Sikora II
Note: The following story was excerpted from the August 2015 issue of Collectible Automobile magazine.
Carroll Shelby tweaked an incredibly diverse group of cars in his long career. Many of them are coveted high-dollar collectibles, but a much smaller subset provides interesting candidates for a set of cheap wheels. Consider the 1988-89 Dodge Lancer Shelby, a second attempt to modify Dodge's K-car-based four-door hatchback into a European-style sport sedan. 
Collectible Automobile magazine zeroed in on the Lancer Shelby's predecessor, the 1987 Shelby Lancer, as a Future Collectibles pick in February 1993. It was a distinctly different machine prepared by Shelby Automobiles, Incorporated, at the firm's facility in Whittier, California. Starting with the Dodge Lancer ES, Shelby's crew tweaked the turbocharged 2.2-liter engine, suspension, and brakes. It also added unique interior and exterior trim. The result was titled as a Shelby—not a Dodge—and priced from $16,995. Production was announced at 800 units, but some sources say just 780 were built.
Then, for 1988, a different Shelbyized Lancer appeared. This one was built and sold by Dodge as the Lancer Shelby. Note the subtle difference in name. Technically an option package for the Lancer ES, it followed the same basic recipe as Carroll's original but there were significant differences in the ingredients.
The Shelby Lancers came with a 175-bhp 2.2-liter intercooled four-cylinder engine that Carroll's boys called the Turbo II. The '88 Lancer Shelby came with a different Dodge-built intercooled 2.2 mill also dubbed the Turbo II. It had a forged crank, was rated at 174 horsepower, and could only be mated to a five-speed manual transmission. To get the optional three-speed automatic required making do with a 146-horse nonintercooled Turbo I engine.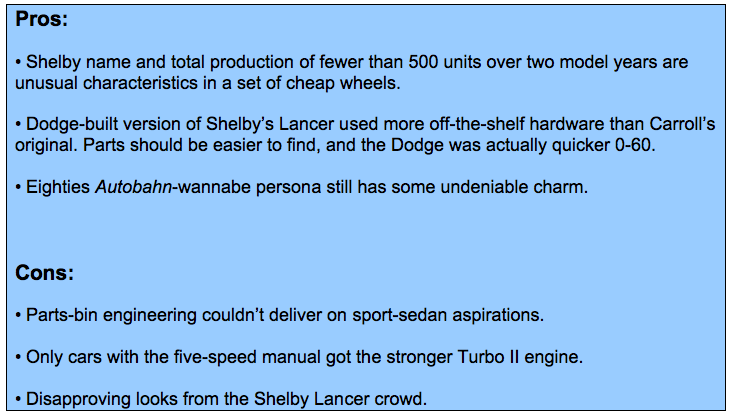 The suspension was the same "sport handling" setup that was standard on Lancer ES, not the Shelby-massaged arrangement of the year before. Brakes were standard Lancer, with drums out back instead of the four-wheel discs Carroll had specified. Performance radials came mounted on the Lancer ES's available 15-inch aluminum road wheels.
The Lancer Shelby was available in red, white, or black, and white cars included body-color wheels. Overall appearance closely followed the look set by the Shelby Lancer with a lower-body aero kit, modest rear spoiler, and blacked-out trim. Dodge added a chrome Pentastar on the grille and a second spoiler above the rear window. Graphics included "Shelby" and "Intercooled Turbo" callouts.
The Lancer Shelby came well equipped at a base price of $16,530. Other than the 146-bhp engine/automatic combo, the only option was a power sunroof.  Production in 1988 was a mere 279 units; some sources say an additional 208 were built for 1989.
Why were sales so low? Car and Driver's June 1988 review offers some hints. It called the car a "poor man's Hammer," a reference to the legendary AMG-modified Mercedes-Benz sedans of the time. C/D liked the Lancer Shelby's long list of standard equipment and the car's speed. Testing netted a 0-60-mph time of 7.2 seconds, and top speed was 130.
The review quickly went downhill from there, though. A loud engine, notchy shifter, stiff clutch, difficult–to-modulate brakes, overassisted power steering, and a sometimes-punishing ride were among the gripes. Poor-fitting interior pieces and assorted rattles drew attention. The car was relatively expensive too. This quote may sum it up best: "Of course, you wouldn't be surprised to learn that Dodge's approach to bahn-burning performance is considerably more superficial than AMG's."

More from Collectible Automobile Magazine