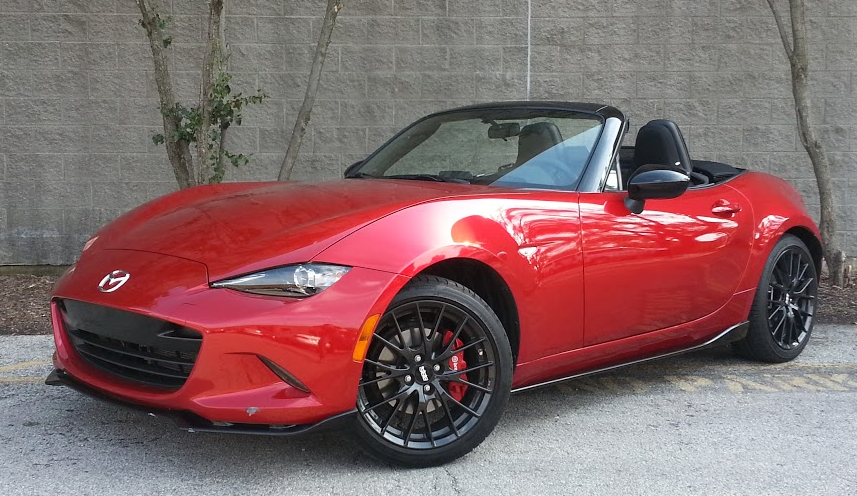 Class: Sporty/Performance Car

Miles Driven: 283
Fuel Used: 9.0 gallons
CG Report Card
Report-card grades are derived from a consensus of test-driver evaluations. All grades are versus other vehicles in the same class. Value grade is for specific trim level evaluated, and may not reflect Consumer Guide's impressions of the entire model lineup.
Room and Comfort
B+
Power and Performance
B+
Fit and Finish
B
Fuel Economy
B+
Value
B
Real-world fuel economy: 31.4 mpg
Driving mix: 40% city, 60% highway
EPA-estimated fuel economy: 27/34/30 (city, highway, combined)
Base price: $28,600 (not including $820 destination charge)
Options on test car: Soul Red paint ($300), Brembo/BBS Package ($3400)
Price as tested: $33,120
Quick Hits
The great: Handling, shift action, fuel economy
The Good: Acceleration, easy-to-use manual convertible top
The not so good: Control layout, highway noise, interior and cargo storage space
Check out Consumer Guide's Sporty/Performance Best Buys
John Biel
Well, here goes.
That's what I thought, with fingers (mentally) crossed, as I started Consumer Guide®'s test 2016 Mazda MX-5 Miata, dropped the fabric top, and backed out of the office parking space. As this Miata is all new, I wondered just how far Mazda had gone to change its delightful little sports car.
The answer came in the first few feet of travel: Just enough where you can see it, and not at all where it counts. That's the answer I was hoping to get.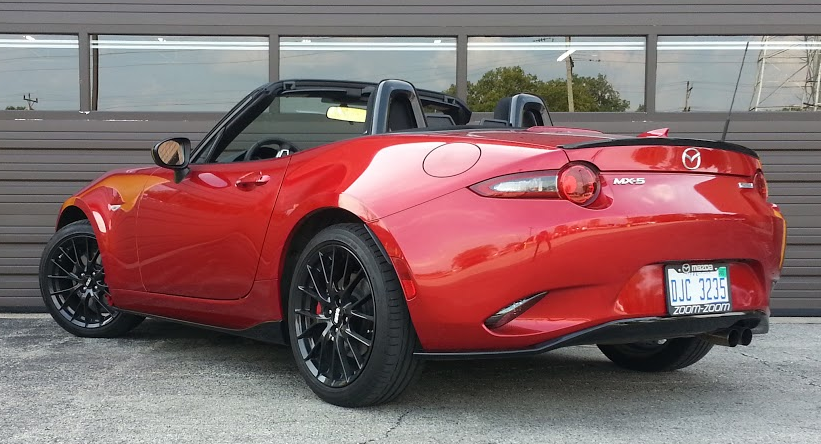 It may not look as "friendly" on the outside as the soft-surfaced Miatas of the past, and its complement of tech gizmos has been ratcheted up, but the seating position, engine sound, and playful handling are squarely within the realm of driving experience that the car has staked out for itself in the last quarter century. If you've liked any of those previous models, you ought to like this one, too.
Mazda has scaled back both weight and horsepower in the 4th-generation Miata with a SKYACTIV version of the 2.0-liter dohc 4-cylinder engine. Yet it's power enough to dart away from a stop, and with sufficient torque to keep the car ready and willing after those moments when you have to scrub off some speed for one thing or another. The 6-speed gearbox in the midlevel Club model that we tested was a precise joy to use.
In theory, owners of this newest Miata shouldn't be stopping for the recommended premium fuel quite as often. EPA mileage estimates for it are 27 mpg in the city and 34 mpg on the highway, hikes from 21 and 28, respectively. In an admittedly small sample, a single round trip of just 55 miles (62 percent in city conditions), I averaged 23.39 mpg. That was only minutely better than what I got from a more powerful 2015 model driven about twice the distance.
First Spin: 2016 Mazda MX-5 Miata
Steering is light yet immediate in its response, taking the car right where it's pointed. Even in the supposedly track-oriented Club model the ride is not stiff or twitchy. If you get bounced around a bit it's probably because a small car has hit a sizeable bump, not because the suspension is screwed down to the nth degree. Braking is quick and sure, and easy to modulate.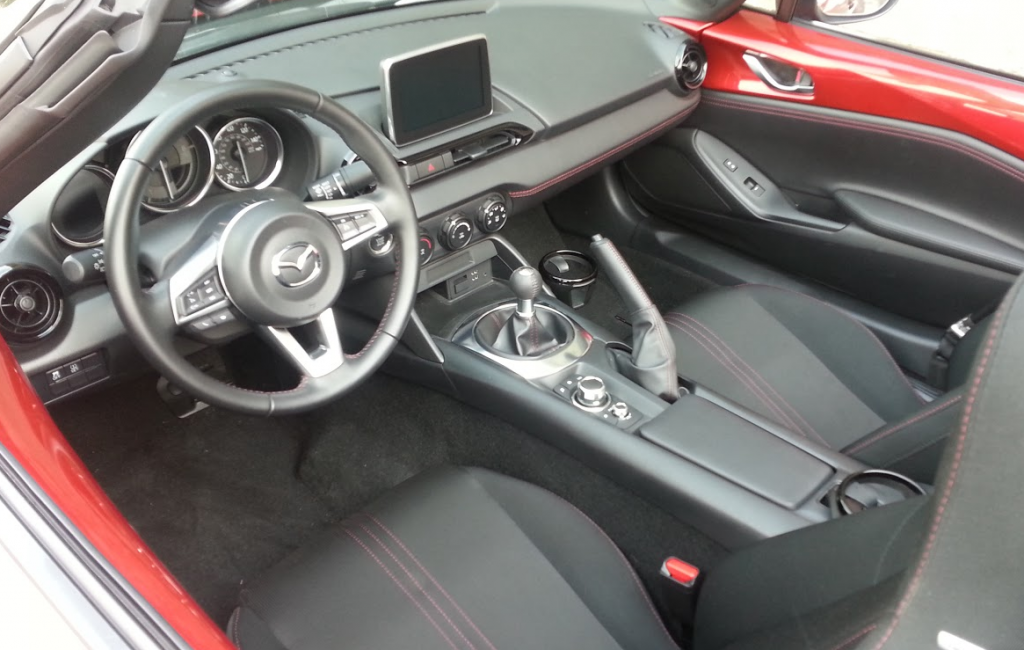 The most striking difference is in the cockpit, where appearances have been modernized, soft-touch surfaces have been added, and more of the tech and entertainment features that are common throughout the industry have finally reached the Miata. Round analog gauges still inform the driver, but a 7-inch touchscreen sprouting from the dash signals that infotainment—the Mazda Connect system, Bluetooth connectivity, satellite radio, and the availability of a navigation system—has come to the MX-5. Is it necessary? Let the debate swirl. Was it inevitable? Probably. The Miata was supposed to recall the feel of old-time sports cars, not become one.
There are some quirks that require a passenger's patience. Working the dial-activated Commander Control for the infotainment system is overly complicated. There's (still) almost no interior storage space. Cup holders are on stems inserted into console slots, and one is guaranteed to contact the right-seat passenger's left knee. The trunk remains a small hatch into which things are lowered from above—though the car is so low that liftover isn't as bad as that might sound.
But shove the top back into its well with an easy one-hand reach, slip the shifter into the first gate, nudge the accelerator, and those concerns fade into the background. Here goes, indeed.
2016 Mazda MX-5 Miata: Platform for Personalization
Rick Cotta

After being thoroughly impressed with the redesigned 2016 Mazda MX-5 Miata at the press preview last month, I had the chance to take a local test car on a long highway trip up to a favored destination in Wisconsin. During that drive, a couple of things came to light that weren't evident on the preview drive.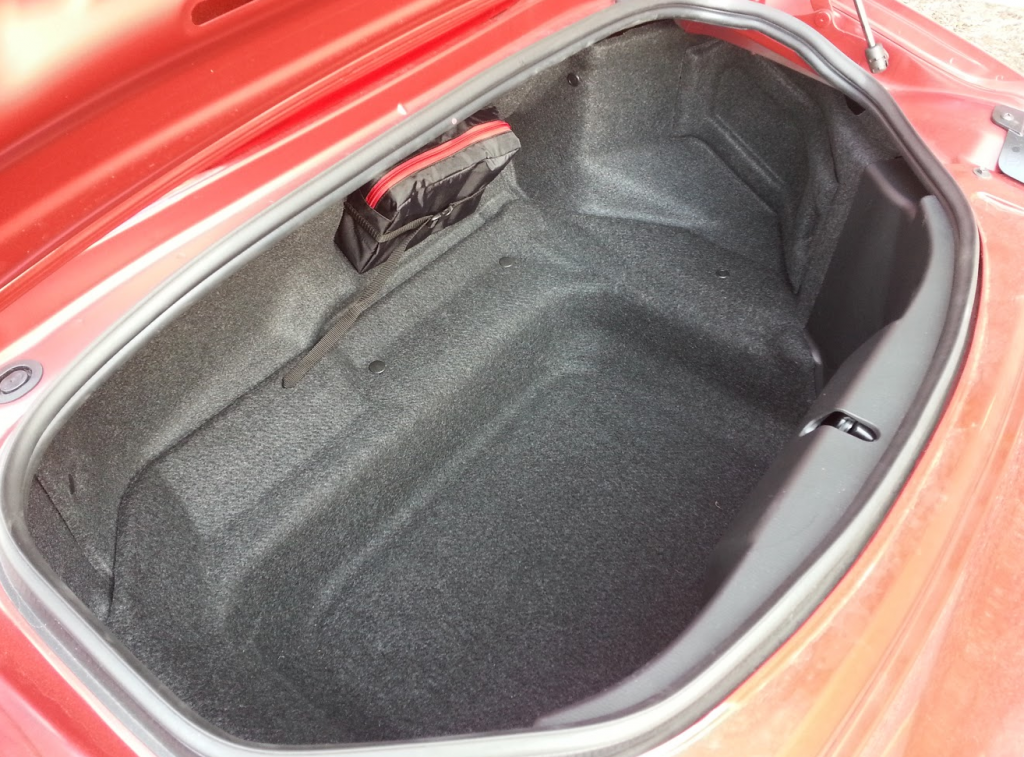 At freeway speeds, there's a fair amount of wind noise, at least in the Club trim level we tested. But what really makes a racket is when semi-trucks pass (or are being passed), the roar of their engines being loud enough to drown out normal conversation. The top-line Grand Touring is said to have more insulation in the convertible top, which would likely help in this regard.
While the net-like seats (the fabric is stretched between the seat's frame rails, saving the weight and bulk of traditional cushions and springs) are comfortable enough, they're a bit lacking in lumbar support for my tastes, at least on long drives. Since their physical makeup couldn't accommodate adjustable lumbar support of any kind, you're pretty much stuck with rolling up a towel and putting it behind your back (as is frankly the case with many other cars).
Then there's the console control knob for the audio system. At least four times on my trip, I rested my right arm in its natural place … and the radio changed from FM to AM. Not sure why someone thought pressing the main knob (in this case, with my forearm) should cause that to happen.

And who would think to look for the 12-volt socket at the far top left of the passenger foot well? (I only found it after asking someone from Mazda at the preview.) Makes for a fun scavenger-hunt challenge for the uninitiated but a not-so-fun reach for anyone else.
But that's about it for the complaints. Sure, the ride can get a little choppy over peaked surfaces, but that can be said for any number of sporty cars. Cargo space is also pretty limited, but that's an element of the size, not the design. And only a Prius driver could complain about the fuel economy, which came in at 37.7 mpg on my extended highway trip, and that even included some city use.
Bottom line is that I'm still thoroughly impressed with the new Miata. It has enough power to be sporty, enough ride composure to be comfortable, and enough features per dollar to be a value.
And oh yeah … did I mention the top can be lowered or raised with one hand – while seated? Love that.