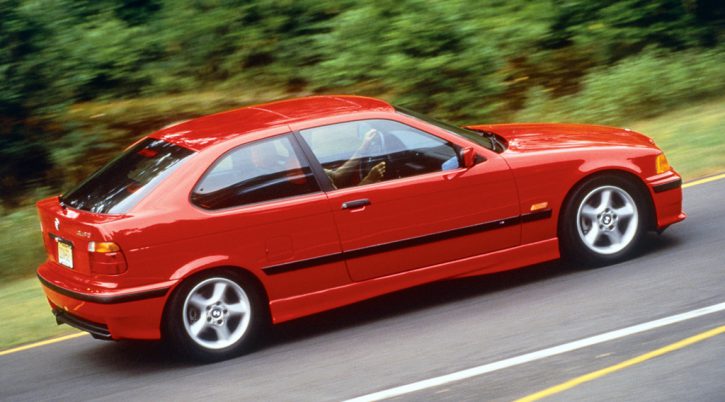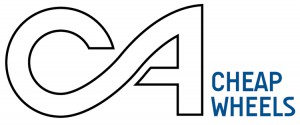 by Don Sikora II
Note: The following story was excerpted from the October 2016 issue of Collectible Automobile magazine.
BMW's 3-Series has been around long enough that its basic premise is well defined. Think sporty, rear-drive, premium-priced sedans, coupes, and convertibles. Handsome, if maybe a bit conservative, styling is part of the mix, as is a highly desirable overall package.
Less remembered is that back in the days of the "E36" generation, BMW also sold a cheap-but-cheerful 3-Series two-door hatchback. It was introduced to America as the 1995 318ti. (At home in Germany, it was the "Compact.") The big talking point in the States was the $19,900 base price when a 3-Series sedan started north of $25,000.
The 318ti was basically the same as any other BMW 318 forward of the windshield, but from there on back it was a very different car. While wheelbase remained 106.3 inches, overall length was reduced by more than nine inches, with all of that chopped out of the rear overhang. The hatchback was fitted with a simpler—and no doubt less expensive—rear suspension from the previous-generation 3-Series. 
The shortened rear had a very brief, nearly horizontal deck at the base of the coupe-like lift-up rear glass. The look was stubby and a bit odd, and one wonders how the car could have looked with the "breadbox" roofline that later appeared on the E36-based Z3 Coupe.
BMW fit the 318ti with a unique simplified dashboard, but interior passenger space was essentially the same as in any 3-Series. The shortened tail naturally limited cargo capacity behind the rear axle, but that was more than offset by a split-folding rear seat.
Under the hood, Americans received BMW's rev-happy dohc 1.8-liter four-cylinder engine. It was good for a so-so 138 horsepower at a lofty 6000 rpm. A smooth-shifting five-speed manual transmission was standard, with a four-speed automatic optional.
Late in the '95 model run, BMW released a batch of 200 318ti Club Sport models as part of the BMW Individual program. They were developed by BMW's M performance division, and received a lowered and stiffened sport suspension, 16-inch wheels, racy door mirrors, an M3-inspired lower-body aero kit, and a choice of red or black paint. The handsome black interior benefitted from striking red accents. In Car and Driver's Club Sport review, Larry Webster sounded smitten with the thrills of driving a relatively slow but very well balanced car quickly. Points of note included perfectly weighted steering, the rear-driver's inherent lack of torque steer, and strong brakes. Webster reported the Club Sport's pieces, minus the special mirrors, would be included in the 1996 model's optional Sports package. Twenty-plus years later, the Club Sport's $23,520 base price ($25,850, as tested) sounds like an outright bargain.
The '96 models also received a slightly larger 1.9-liter four. It made a bit more torque than the 1.8, but horsepower was unchanged at 138. Also new was a $3030 California Package that included a large electrically operated folding canvas sunroof, and some specific trim pieces including a set of 15-inch wheels. The California's pop-top became a stand-alone option starting in '97. Otherwise, changes were modest through 1999.
Pros:
• Period reviews praised the car's handling, and the use of the older rear suspension setup didn't matter much on the road.
• Hatchback utility an unusual plus in a BMW.
• Even for cheap wheelers, the BMW roundel and 3-Series name have definite cachet. Rear drive is an enthusiast plus too.
Cons:
• Remember, it's still a BMW even if it's cheap to buy. Parts and repairs can be expensive, especially if you don't wrench yourself.
• These cars weighed in at about 2700 pounds but with a mere 138 ponies on hand figure a 0-60-mph time of about 8.5 seconds.
• Bobtailed styling an acquired taste.
Final Drive:
Cheap-wheelin' a low-buck BMW is incredibly intriguing. The beautifully balanced handling may be offset somewhat by people assuming you're loaded because you drive a BMW, even if in reality you're waiting for parts from Munich and worrying about FedEx bills. We really like the California Package cars, but top pick here has to be the Club Sport.