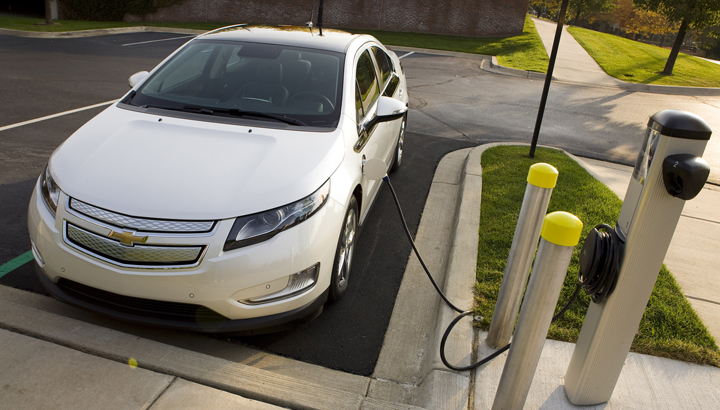 Note: This report supplements Consumer Guide Automotive's full report on the 2012 Chevrolet Volt, a compact hatchback that starts at $39,145. The Volt can operate solely on battery power for up to 40 miles. After that, a gas engine kicks in and provides an additional 300 miles of driving.
Test Drive: 2016 Chevrolet Volt
Test car came equipped with a navigation system with DVD ROM and 30GB hard drive; Premium Pkg.; Bose speaker system. Total MSRP with $850 destination = $43,880.
Powertrain: 1.4-liter 4-cylinder engine, electric motor, 16 kWh litium-ion battery pack; single-speed reduction gearbox (to electric motor); 149 horsepower maximum total.
Acceleration: Car and Driver timed Volt at 0-60 mph in 8.8 seconds, versus 8.4 for a conventional Chevrolet Cruze Eco compact. Those numbers seem believable to me, having tested both models. My Consumer Guide colleagues rate Volt's overall performance at "5," and I agree with that. The powertrain has Sport and Mountain settings for particular types of driving, but I didn't play much with either. I had only one occasion to drive on the gas engine, and that was on the return leg of a trip to a friend's house about 25 miles away. Whether on battery or engine, the car cruised happily at 70-75 mph but seemed short of passing power from that pace, which may explain the Mountain mode—though I'm sure the car would eventually reach its governed 101 mph maximum (not that many people will try). Agree that the switch from electric to gas-engine mode is almost imperceptible, so it's helpful that two of the dash displays alter appearance as a sort of alert when that takes place.
Fuel economy: Wish I could be more help here. I relied on the car's instrumentation and charged every night except one. Alas, I neglected to top off the tank after delivery and forgot to log miles traveled and kWh used for one charge session (each plug-in resets the EV trip computer), so I can't provide full-test data. What I can report is driving 120.4 total miles, during which the car says it consumed only 0.5 gal of gas, though I managed to coax 1.13 gal into the tank at the end of the test. After a full overnight charge, the display showed max ranges of either 31 or 34 mi, nothing in between. Can't explain that difference, as ambient temp in my garage was more or less constant each time, and I gave the thing at least 12 hours to juice up. Anyway, the one time I used the full EV range, the car gave me 34 mi as it promised before the engine took over. Electric regeneration in Drive seemed rather weak for a hybrid, but it's much stronger in Low, as report notes.
Ride quality: Tester came on all-season 215/55R17-94V Goodyear Assurance tires. My test Cruze Eco had the same, but with a 93H rating. Ride-wise, I thought the Volt a little clunky vs. the Cruze and most other recent compact cars I've driven—like it had "concrete tires." (Note: I didn't check pressures manually, but I saw nothing out of line on the tire-pressure monitor.) The ride always conveys a sense of heft—and the car is heavy for its size—but it doesn't smother pavement breaks and small bumps very well. Softer shocks and/or more-compliant suspension bushes might be in order.
Steering/handling/braking: The Volt doesn't major in driving fun, but it is pleasant and front-wheel-drive predictable. It feels nicely straight-stable on freeways despite the numb, slightly over-light steering. It also corners well, though it's too heavy to be as "tossable" as, say, the Cruze Eco. My colleagues mention a slight "let up" in braking power near the end of a stop, requiring a little extra pedal pressure, but I didn't notice this, nor the non-linear "grabbiness" that afflicts many hybrids with brake-energy regeneration.
Quietness: Coarse-pavement tire thrum is audible in EV or engine mode, and seems fairly high, though that's probably because there's so little noise otherwise. Motor whine in EV mode is evident but quite low—just loud enough to remind you that you're in an electric, which I think is rather nice. It goes away once the engine takes over, even though the engine most always drives through the motor, rather than spin the wheels directly.
Test Drive: 2014 Chevrolet Volt
Controls: My colleagues are right to say the center-dash controls could be better arranged. The touch activation needs work too, at least on the car I tried, as the pressure required for the different "switches" seemed to vary across the panel, depending on which part of the hand made contact. Had no trouble working out the digi-graphic displays, but some seem cartoonish, like the "efficient driving ball" you can call up in the main cluster. I didn't use the navigation except for map display, but the top-center screen seems a bit small for the many functions it can handle, so the screen's virtual buttons are too.
Details: Was disappointed that my tester lacked the cool iMac-style white dash trim, making do with a pebbled surface in dull UPS Brown that felt like metal. Ugh. The Premium Package leather trim struck me as very ordinary. Indeed, the overall cabin ambience was disappointingly plain and low-rent for the over-$40K sticker price.
Room/comfort (front): Agree with my colleagues' comments in this area. Would note that front headroom is limited for 6-footers like me, so only height-challenged drivers will need to use the driver's seat-height adjuster.
Room/comfort (rear): I'd say entry/exit is more than "slightly restricted," especially if the front seats are pushed very far aft. As for the "useful" center console . . . c'mon: It provides only two cupholders and a smallish open storage tray. But of course, it has to be there as part of the four-seat layout because of the T-shaped battery pack that runs through the cabin.
Cargo room: Having used the car for grocery shopping and such, I'd say cargo space is just OK, because the load bay isn't tall enough for bulky items, even with the rear seats folded. I also think it's ludicrous that a cargo barrier and cargo net are options on a car this costly. And where's the cargo cover? The hatch doesn't lift quite high enough to clear this 6-footer's noggin', but that's not a big deal. The front-door map pockets are oddly shaped and so not that useful. There's a Volvo-like hidey-hole storage area behind the shifter. It would be a good place for stashing an iPod, except that there's no power point or connector nearby.
CP Says . . . Yes, the Volt is comfortable, dynamically capable, and about as practical as any ordinary compact car. But like most every other hybrid, it is an overly complex, overly expensive solution to oil-use and clean-air goals that more and more conventional cars meet nearly as well and sometimes better from a cost/benefit standpoint—the Chevrolet Cruze Eco, for one. Or my Volkswagen Jetta SportWagen TDI "clean diesel." Moreover, even with government credits it would take years to recoup a Volt's purchase price in either fuel savings or CO2 not emitted (excluding power-company pollution). So although the Volt has undeniable appeal as a "range-anxiety-free" EV, that's the only reason I can think of for buying one. A "technological wonder"? No doubt about that, but there are better ways of spending $40,000 on a car, even for diehard "greens."