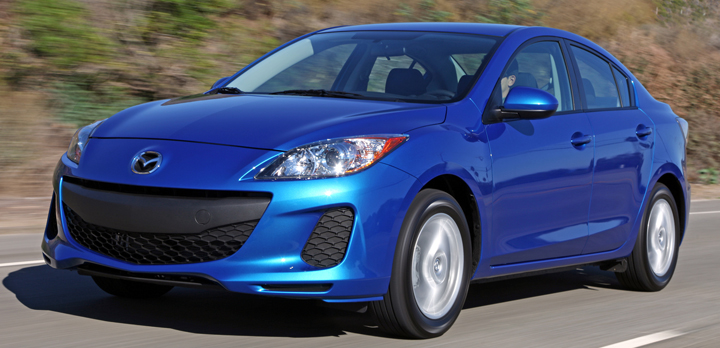 Note: This report supplements Consumer Guide Automotive's full report on the 2012 Mazda 3, a compact car that starts at $15,200.
Test car came equipped with: A $1,400 Technology Package, which includes blind-spot detection and steering-linked bi-xenon headlamps. Total MSRP with $795 destination = $24,495.
Powertrain: 155-horsepower 2.0-liter 4-cylinder engine, 6-speed automatic transmission; front-wheel drive
Acceleration: Motor Trend says 0-60 mph takes 7.8 sec with manual transmission; this automatic tester felt about as quick. I was disappointed by the new 2.0 SkyActiv 4-cylinder in three ways. First, like the regular 2.0, it feels a bit weak due to fairly modest torque peaking high up the rev range (at 4100 rpm) and consequently modest low-end pulling power. As a result, the automatic transmission is often reluctant to kick down without a hefty stomp on the pedal, which is also needed for a decently swift launch. The AT shifts smoothly, and having 6 forward ratios is a plus for the compact class. But the unit feels geared and/or programmed for max mpg, so I often resorted to the manual-shift gate to get around the tranny lag and sensation of relative sloth. Second, the SkyActiv engine is slow to rev (doubtless because of its longish stroke), which detracts from the 3's usual "zoom-zoom" vibe. Also, like many direct-injected engines, this one sounds rather gruff when extended, though it spins smoothly.
Fuel Economy: We averaged 38.4 mpg for some 128 miles of Phoenix-area driving split about 40/60 city/freeway. That accords well with the EPA's estimated 28/40 mpg city/highway.
Ride Quality: This tester came on all-season P205/55R16-89H Bridgestone Turanza EL400 tires. I agree with the main report about the ride being quite good overall, with firm damping that nicely checks unwanted body motions. Still, I wouldn't term the ride "near premium," due to moderate thumping over sharp bumps and pavement breaks and minor wheel patter on rough surfaces.
Steering/handling/braking: This Mazda has been one of the "funnest" compact-car drives since its basic design debuted way back with model-year 2004, and the 2010 updating hasn't changed that. As the main report says, all models have sporty yet predictable moves, abetted by sharp steering, fine brakes, and good resistance to front-drive nose-plowing in tight, low-speed corners. The 260-horsepower MazdaSpeed 3 suffers unruly torque-steer at or near full-throttle, this despite electronic "supressors," and that's no surprise with so much power being applied through front wheels that must also steer. This "bad boy" behavior demands caution, especially on damp pavement, but driving enthusiasts love it.
Quietness: The main report notes that full-throttle engine ruckus and coarse-surface tire thrum are the main irritants, and I agree. However—and perhaps it's my imagination—the new SkyActiv engine seems slightly quieter than the regular 2.0-liter four at normal cruising speeds. The 6-speed auto plays a part (versus the 5-speed automatic), though this model is not geared exceptionally long (the tach showing about 3000 rpm at 70 mph in top). Still, it's a decently relaxed highway cruiser.
Controls: My colleagues like the simple, intuitive audio and climate controls but have issues with the dash lighting and navigation system. Those views reflect my own. Actually, I never did quite figure out the dash lighting, and I hate that it's red instead of a more restful blue, green, or even white. Mazda is one of those automakers that think red dash lighting connotes sportiness. Maybe it does, but older eyes like mine don't like it. As for the nav system—standard on the test SkyActive i Grand Touring—it's not the easiest to operate and its display screen is too small and distant. Both those things suggest that the nav system is an afterthought response to class competitors. Let's hope the next-gen dash has space for a decent-size touchscreen that can be positioned close to hand (or fingers).
Details: The cabin ambience is at best pleasant and sporty-functional. Still, materials and workmanship are a cut above the compact-class norm, evidenced by such things as a dashtop covered almost entirely in padded foam.
Room/comfort (front): I agree that the 3 is a bit crowded for larger folks, but this 6-footer had no complaints regarding room, comfort, or getting comfortable at the wheel. As before, visibility is fine except over-the-shoulder and dead-astern, where it's pinched a bit by the rear-end styling.
Room/comfort (rear): Like most compact cars, the 3 is a 4-seater for all practical purposes. Adults have enough space for shorter trips, but entry/exit isn't super-easy, especially with a front seat set well aft. The rear bench is rather hard and flat, which is class-normal too.
Cargo room: As my colleagues observe, the trunk on 3 sedans is "a bit small but useful" and small-item storage is decent. I was pleased to note another carryover feature in the "extra mile" vein: compact strut-type trunklid hinges.
CP Says . . . The recent makeover (for 2010) isn't quite enough to keep the 3 from feeling a bit dated versus the Chevrolet Cruze, Ford Focus, and a few other compacts that are stem-to-stern new. But it's still an appealing small car—especially for more-enthusiastic drivers—and thus still Best Buy worthy. The main report notes high pricing for the class, but the Yen's current super-strength against the dollar gets much of the blame for that. The next-generation 3, which I think is due as a 2014 model, should incorporate most all of Mazda's SkyActiv tech and thus has potential to be the new class leader for performance, fuel efficiency, and fun-to-drive character. I'll be eager to try it.