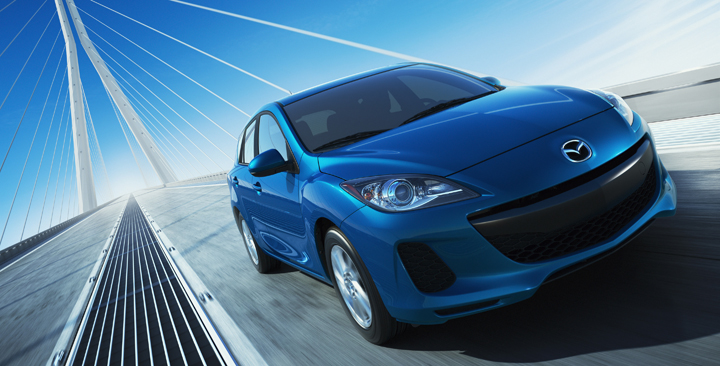 Four months ago, I wrote a piece about Mazda's sagging fortunes in the U.S. market. The small Japanese brand was putting all its eggs in a basket called SKYACTIV. Now it appears that the gamble is starting to pay dividends.
While its other products saw moderate to sharp sales decreases for August 2012, the two models that use the company's SKYACTIV technology are on the rise. Those are the Mazda 3 compact car and the CX-5 compact SUV.
Mazda 3 sales are up about 13 percent year-to-date in 2012 versus the same time period in 2011. That doesn't seem impressive until you dig a bit deeper into the August 2012 numbers specifically. Of the 11,120 3s sold that month, a staggering 85 percent were equipped with SKYACTIV. (Mazda offers a total of three engines for the 3, SKYACTIV included.)
The CX-5 is new for 2013 and is the first Mazda product with a full suite of SKYACTIV technologies (engine, transmissions, body structure). (See "First Spin: Mazda SKYACTIV" for more detailed information about how SKYACTIV works.) CX-5 replaces both the similarly sized Tribute (a Ford Escape clone) and slightly larger CX-7 in Mazda's lineup.  In August 2012, more customers bought a CX-5 than purchased Tribute and CX-7 combined in August 2011.
Demand for SKYACTIV is strong, both in the U.S. and around the world. Mazda initially pegged annual CX-5 sales at 160,000, but it revised that forecast to 190,000. The 3, CX-5, and Mazda's next SKYACTIV-powered car, the redesigned 2014 6, is helping drive an increase in production of the new gasoline and diesel engines to 800,000 from the current 400,000.
The logbook from our extended-use CX-5 Grand Touring is filled with praise for the little SUV. Said one driver, "The interior on our Grand Touring model is ruggedly handsome, not to mention roomy and very comfortable. The nine-speaker Bose Centerpoint Surround Sound System with AudioPilot, available on Touring and Grand Touring models, is freaking awesome." Another added, "The Mazda CX-5 does a great job blending SUV and car attributes into a surprisingly engaging-to-drive compact sport ute. The biggest disappointment is the engine's lack of excess power, but my impressive fuel economy of nearly 35 mpg on the highway is worth the trade-off."
Mazda is not out of the woods yet, but SKYACTIV is shaping up to be more than just an unusual name. We will have to wait and see if the upcoming 2014 Mazda 6 will be able to build upon the technology's strong start.