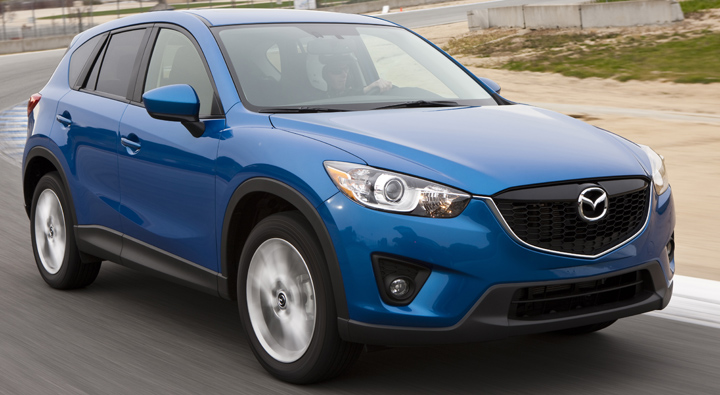 Note: This report supplements Consumer Guide Automotive's full report on the 2013 Mazda CX-5, a compact SUV that starts at $20,695.
Test Drive: 2017 Mazda CX-5 Grand Touring
Test car came equipped with no options. Total MSRP with $795 destination charge = $27,840.
Powertrain: 2.0-liter 4-cylinder engine (155 hp, 150 lb-ft), 6-speed automatic transmission, all-wheel drive.
Acceleration: First, let's note Mazda's quoted 0-60 mph times: 8.8 seconds with front-drive/manual transmission, 8.9 for the same with automatic, and 9.3 with AWD (which comes only with automatic). Those claims seem accurate. Car and Driver clocked 9.2 for an AWD tester similar to mine, which seems right to me.
My colleagues say that acceleration is adequate from a stop. I agree, but the new 2.0 SkyActive 4-cylinder slightly disappointed me. I haven't experienced front-drive versions yet, but the engine in this tester felt rather taxed by the automatic transmission and the (added) weight of the AWD. There are two problems. First, this engine isn't strong on low-end torque. Second, mpg-biased programming means the automatic transmission upshifts at the earliest opportunity and is reluctant to kick down for passing without a big prod on the gas pedal. Do that, and you sometimes go two gears down when one would be enough. On the plus side, the manual-shift can be used to compensate for the automatic's occasional quirks. Also, around-town scoot is fine, and highway cruising is fairly relaxed. Still, more power would not go amiss here, especially up long grades at highway speed. A turbo or an extra 500cc displacement would be welcome.
Fuel Economy: I logged 22.8 mpg for some 91 miles of Phoenix-area driving that split roughly 40/60 city/freeway. As the EPA estimates are 26 city, 32 highway, and 29 combined, the CX-5 disappoints here as well. Indeed, my result suggests that the car is marginally underpowered.
Ride Quality: The Grand Touring CX-5 has standard P225/55R19 tires, in this case V-rated all-season Toyo A23s. Unlike my colleagues, I found the ride stiff, with a fair bit of wheel patter except on the smoothest pavement. It's not harsh, however, and the suspension deals well with large bumps and dips, though I wouldn't call it absorbent. Methinks a little more compliance is in order. An exceptionally solid, rattle-free structure probably makes the ride feel more restful than it is.
Steering/handling/braking: Compact SUVs are no threat to compact cars for agility, due to their added weight and higher stance, but this one is definitely more poised and fun-to-drive than most—including, I must say, the latest Honda CR-V. Neither has enough power to gun through corners with any gusto, but the smaller Mazda turns quickly and confidently, abetted by steering with unusually good road feel for an electric-assist system. That's just as well, as the CX-5 is prone to mild highway-speed wander in gusty crosswinds that requires minor steering corrections.
Quietness: This 4-cylinder is not only raucous at high rpm, it never slips into the background, even in gentle highway cruising. At least it sounds fairly nice and is blessedly free of common 4-cylinder boominess around 4000 rpm. I do agree that tire thrum is prominent, but not just "at times;" it's constant on most surfaces save mirror-smooth asphalt. Wind noise, by contrast, is almost nonexistent, even in breezy weather.
More crossover news and reviews
Controls: The dashboard has Mazda's current general look, but thank goodness designers left space on the forward face of the center panel for a navigation/audio touchscreen—unlike Toyota, which is lately pushing screens so far up and forward that they can't be reached in normal driving, forcing touch operation to be replaced by an awkward "computer mouse." But though the high-set CX-5 screen is within easy view and reasonably close to hand, it's a bit small for best legibility by seniors like me. The climate controls are about halfway down the center panel, between air vents and a useful open cubby. They're simple, intuitive and well-marked, but the system's slim horizontal status display above is hard to read by day. All CX-5s come with keyless entry but also an engine-start button that's semi-hidden behind the right-side wiper stalk, thus requiring an awkward reach around. The trip-computer button is similarly masked to the left of the steering column, but other switchgear is easy to locate and located where you'd expect it to be.
Details: The interior is very nicely done, but it's not luxurious in tone, even on this leather-lined Grand Touring. It's more sporty-functional in the usual Mazda way. Detail workmanship was excellent on my tester. Soft-touch surfaces are surprisingly plentiful, and hard plastics are used in places where they're not too obvious.
Room/comfort (front): But let me note that the jaunty styling inhibits visibility to the right-rear and dead-astern. Sightlines elsewhere are fine.
Room/comfort (rear): Like so many vehicles, the CX-5 skimps on rear-seat space to provide more cargo room within a given package size. The result here is more cozy than cramped. Too bad the 40/20/40 rear bench lacks sliding sections and that the seat itself is rather hard and flat.
Cargo room: The rear seatbacks do not fold flat with the cargo floor. Instead, they rest at about a 40-degree angle, though they might go lower if something really heavy was loaded on top of them. I also noted that the rear headrests might need removing first if a front seat is set far aft and/or its backrest is angled very steeply.
CP Says . . . As my colleagues say, the CX-5 is one of the better compact SUVs and deserves a long, hard look. It could use more muscle—especially with AWD—and I wish the ride weren't so "crunchy," but those are its only real shortcomings. For most buyers, I think the best all-around value would be a front-driver in mid-range Touring trim. It stickers less than $2,000 above the equivalent Sport and includes automatic transmission and a whole bunch of useful comfort, convenience, and safety features.