The 2009 Chrysler Aspen gets a new gas/electric Hybrid model and more available power for what will be its final model year.
5 Discontinued Trucks You've Totally Forgotten About
Chrysler Aspen is a luxury-trimmed version of Dodge's Durango. The two share traditional conventional gasoline V8 and hybrid powertrains, as well as seating for up to eight. Aspen comes in a single Limited trim level. Standard on conventional models is a 303-hp 4.7-liter V8 engine. Optional is a 376-hp 5.7-liter version of Chrysler's Hemi V8. That's a 41 hp increase over the 2008 Hemi. Hybrids have a 5.7-liter Hemi V8 that pairs with a battery-powered electric motor for 385 hp. They can run on either gas or electric power or both, depending on driving needs. No plug-in charging is needed. Both 5.7-liter engines have Chrysler's Multi-Displacement System, which shuts down four cylinders when cruising to save fuel. A 5-speed automatic is the only transmission in gasoline models, while the hybrid gets a continuously variable automatic transmission (CVT). Conventional Aspens are available with rear-wheel drive or all-wheel drive. Hybrids are AWD only. Maximum towing capacity is 8900 lb for conventional models, 6000 lb for the Hybrid. A low-range gear for off-roading is an option on non-Hybrid AWD models. Available safety features include ABS, traction control, antiskid system, curtain side airbags, and front side airbags. Standard seating is for eight with a 2nd-row bench; available buckets reduce it to seven. A power liftgate and rearview camera are standard on all models. Leather upholstery and navigation system are standard on Hybrid and available on other models. DVD entertainment is optional on all.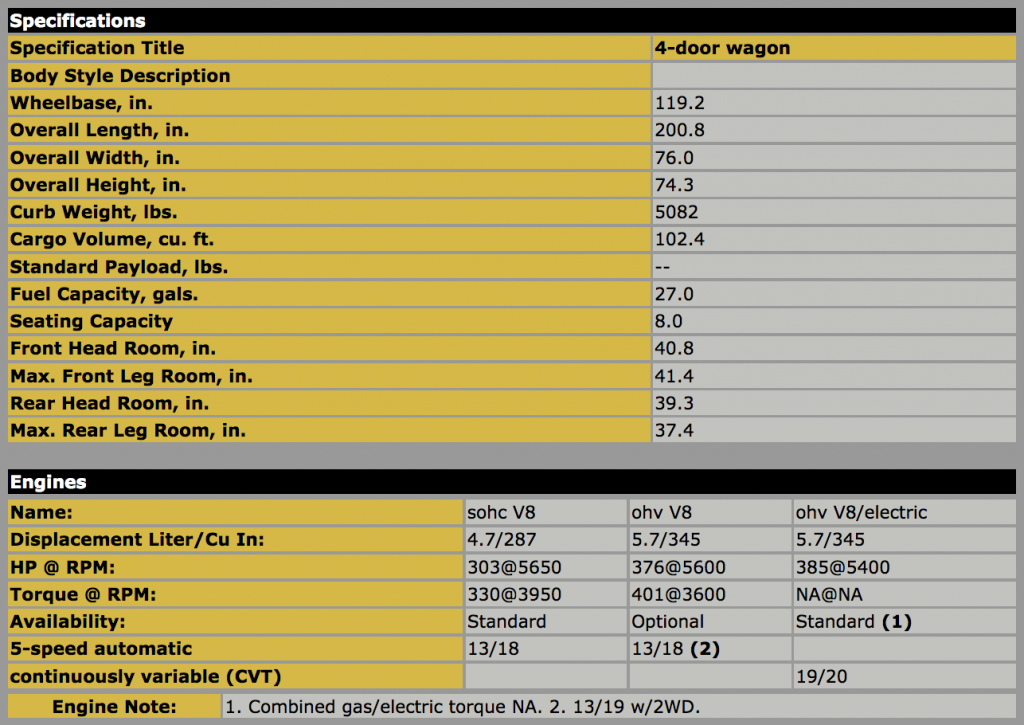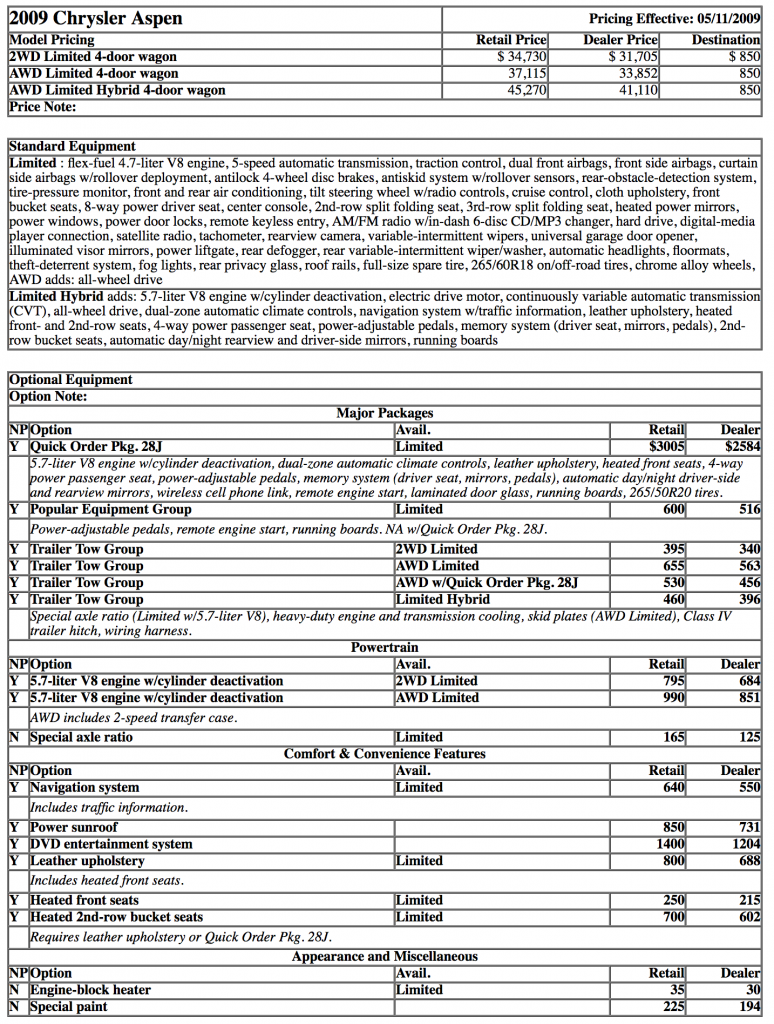 Aspen may appear little more than a dressed-up Dodge Durango, but reduced noise levels and markedly upscale cabin trim make it a more enjoyable vehicle. Aspen's reasonable pricing means it doesn't cost much more than a comparably equipped Durango. The Hybrid gives up little towing capacity and no passenger space to its conventional sibling. However, it lacks smooth throttle response and suspension sophistication that one would expect in a premium-class vehicle. Shoppers who can use the towing and hauling utility of a traditional SUV, but don't covet the mass of a Cadillac Escalade or Lincoln Navigator would be best served by looking at a conventional Aspen.
The "RainTrail Ascendavadavoy-X": Six General Motors Trucks in One