It's getting hard to sell cars. And when I say cars, I mean cars specifically, because automakers are having no trouble at all moving crossovers. Take last year, for example. In an overall market that was down slightly, car sales slipped a significant 11 percent, while crossover sales rose a healthy seven percent.
Best Buys for the City Dweller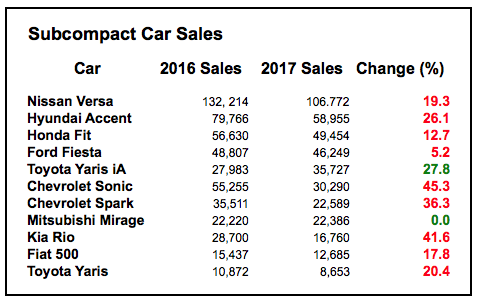 It's getting especially hard to sell subcompact and compact cars, as small-car shoppers are increasingly being lured away by the rugged good looks and implied practicality of small crossovers. Naturally, the automakers have responded in kind—the subcompact crossover segment is one of the fastest-growing around. The category added four new contenders in the last twelve months or so, and the new Hyundai Kona and Nissan Kicks are slated to hit dealerships in the near future.
So what of small cars? What can be done to whip up sales in a declining market segment? One option is to simplify the product lineup to help reduce dealer inventory, a tack being employed by Hyundai and Kia with their recently redesigned Accent and Rio models.
The strategy that interests me most, however, is Chevrolet's recent game plan to bolster the sales of its Spark subcompact hatchback. For the 2017 model year, Chevy rolled out the Spark Activ, a mid-line Spark trim level outfitted to look like a small crossover.
To my eyes, the Activ mostly succeeds in emulating the general appearance of a little ute. With an MSRP of $18,970 with automatic transmission, the Activ slots into the Spark lineup between the midlevel 1LT model ($17,725) and the top-level 2LT ($19,225).
For the $1245 bump over the 1LT, an Activ buyer gets contrasting wheel arch moldings, a beefier-looking rocker-panel treatment, front and rear "skid plates," unique front fascia with integrated fog lamps, and roof rails. To complete the crossover makeover, Activ models also enjoy unique 15-inch alloy wheels and a half-inch increase in ride height.
Consumer Guide's Subcompact-Car Best Buys
Upon first seeing a Spark Activ on an auto-show floor last year, I was generally impressed by the makeover. If I had been pressed to predict the take rate on the Activ trim level, I would have guessed about 30 percent—and I would have been very wrong. Per Chevrolet, fewer than five percent of Spark shoppers are opting for an Activ.
So, what does this all mean? If I had to guess, I'd say that it's the customers who might have cared enough about appearances to purchase an Activ that have been wooed away by real crossovers. Those shoppers who are still in the small-car market are likely an especially frugal bunch, and they're unlikely to spend more than $1000 on equipment that doesn't really serve a practical purpose.
I applaud the Chevy design team for making good-looking lemonade out of sales lemons. The Activ looks good in person, and the crossover treatment comes off as something more than the sum of its parts.
Sadly, with such a low take rate, the Activ may not see the 2019 model year—which will make it an especially rare (and arguably underappreciated) bit of automotive history.
If you've ever seen a Spark Activ on the road, tell us about it. As of yet, no one on the Consumer Guide team has spied one in the wild.
Best Selling Vehicles of 2017 by Brand