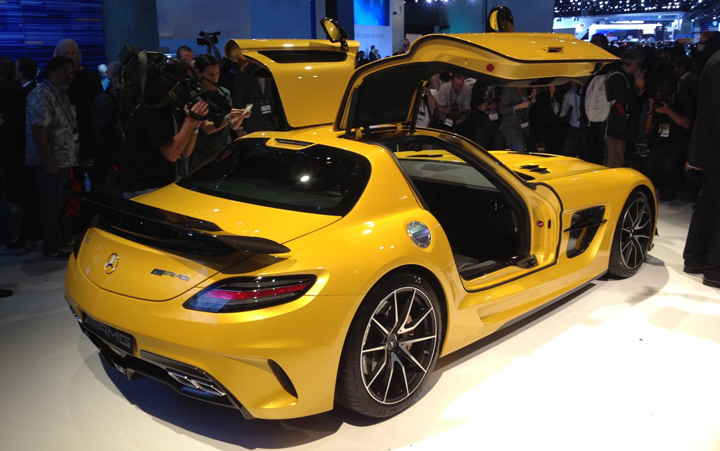 Mercedes-Benz introduced a diverse collection of vehicles at the 2012 Los Angeles Auto Show, including a high-performance SUV, a new low-production version of the SLS AMG "gullwing" sports car, and a design study showing what a model-year 2025 version of the brand's iconic G-Class might look like.
The 2013 Mercedes-Benz GL63 AMG is powered by a 550-horsepower 5.5-liter turbocharged V8 engine. It can reach a reported top speed of 174 mph. Other specific equipment includes an AMG-tuned air suspension as well as a transfer case for the standard all-wheel-drive system that distributes torque in a 40:60 front/rear split.
The 2014 Mercedes-Benz SLS AMG Black Series is the latest version of the brand's 2-seat sports car. It boasts a 622-horsepower 6.3-liter V8 engine that can accelerate the car from 0-60 mph in 3.5 seconds. Other highlights include standard carbon-ceramic brakes, adaptive performance suspension, 20-inch forged alloy wheels, and newly developed Michelin Pilot Sport Cup 2 tires. It will go on sale in the U.S. in the summer of 2013.
The final introduction is the Ener-G-Force Concept. This possible SUV of the future is based on a police car concept the company designed for this year's Los Angeles Design Challenge. Strictly a design study, the Ener-G-Force was imagined at the Mercedes-Benz Advanced Design Studio in Carlsbad, California.
CG Says: The normally staid German automaker made quite a splash in L.A. The GL63 and SLS AMG Black Series should be brutally fast entries, while the Ener-G-Force is an interesting interpretation of the brand's military-grade G-Class SUV. We highly doubt a 2025 model will look anything like that, but check back with us in 13 years on that one.