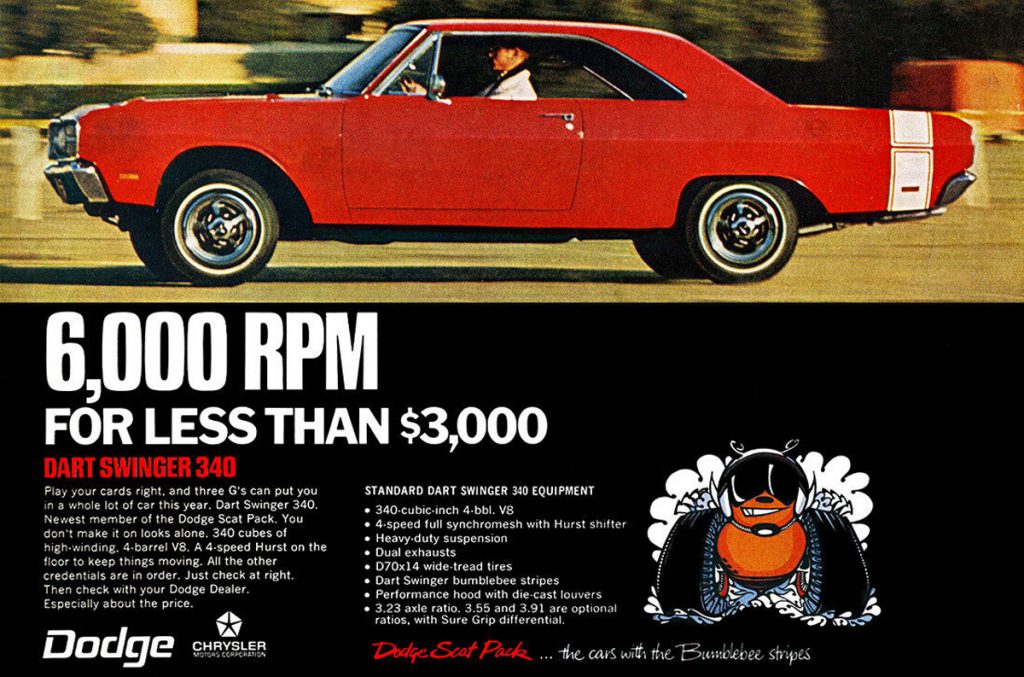 The muscle-car era was very much about numbers. While stats are figures varied by the discussion, the big metrics of the era were engine displacement, horsepower and torque output, and quarter-mile trap times. One particular number that didn't come up often was revolutions per minute (rpm). As most drag-race ready muscle-car engines tended to produce most of their torque at relatively low rpm, that particular stat never really brought much to the conversation. That's why the ad seen here is so interesting.
Introduced for 1968, the Chrysler Corporation 340-cubic-inch V8 was unique among the maker's performance engines. The 340 was really the only Chrysler sporty V8 that was not tuned specifically for acceleration, but for performance underway.
As seen in this price-special Dodge Dart Swinger 340 ad, the 275-horsepower engine could be had with a fairly numerically low axle ratio, something which would provide a higher top speed, and better performance on a track, but not necessarily optimal drag-strip showings.
The 340 was based on the maker's popular 318-inch V8, but was treated to a larger bore, special cam, unique cylinder heads, and boasted a 10.5-to-1 compression ratio, which meant filling up with premium gasoline.
We love this advert because it must be the only muscle-car-era ad to feature the engine's rpm limit, but not horsepower. Indeed, the 340's power output is never mentioned in the text. While the Dart, regardless of engine, was not really a muscle car—as a compact car it might be considered a "junior" muscle car—it was available with much of the same performance equipment as the Dodge Challenger and Charger.
The Swinger 340 seen here seems to have been a midyear addition to the Dart lineup, offered at a special price. A GTS model, featuring many of the upgrades listed in this ad, was already available, but listed for a couple hundred dollars more than the Swinger.
This author laments the fact that he has never had the opportunity to experience the free-revving 340-inch engine, and would love to drive a car equipped with it and a manual transmission.
Regardless, the sporty, high-output small-engine compact proved no match for the primary momentum of the muscle-car movement, which leaned heavily on huge V8s and prodigious torque ratings. But for us, this cool ad, boasting rpm and not torque figures, reminds us that the muscle-car era was not as entirely one dimensional as we might remember.
Listen to the Consumer Guide Car Stuff Podcast
1968 Dart Swinger 340 Gallery
(Click below for enlarged images)