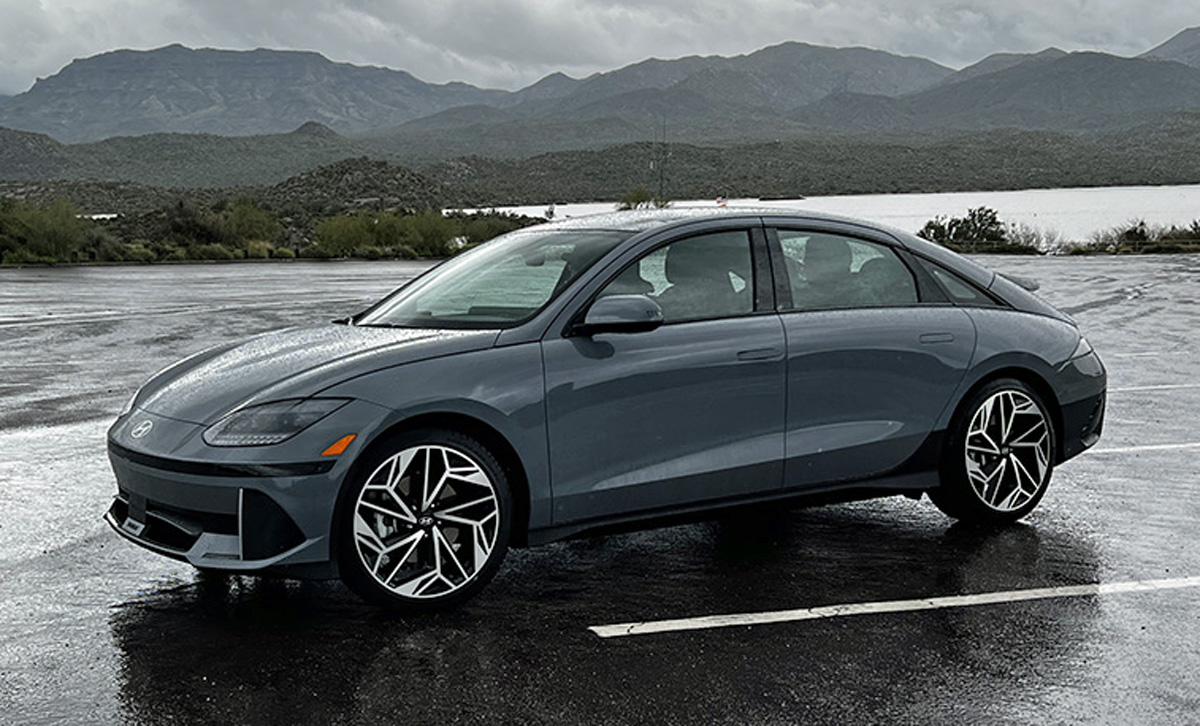 If you are familiar with the Hyundai Ioniq 5, the design of the 2023 Ioniq 6 is, initially, a bit of a puzzler. The two vehicles look nothing alike. And if you see the renderings of thecoming Ioniq 7, you'll see another completely unique vehicle that bears little family resemblance to the other two vehicles. So why don't Hyundai's electric-vehicles look more alike?
2023 Hyundai Ioniq 6
Hyundai did that on purpose.
According to Hak Soo Ha, head of the Hyundai Design Center, the Ioniq design strategy is like looking at a chess board – no two pieces look alike. So, no, you won't see a family resemblance, instead, you'll see a thoughtful design for each vehicle that reflects the targeted customers' lifestyles.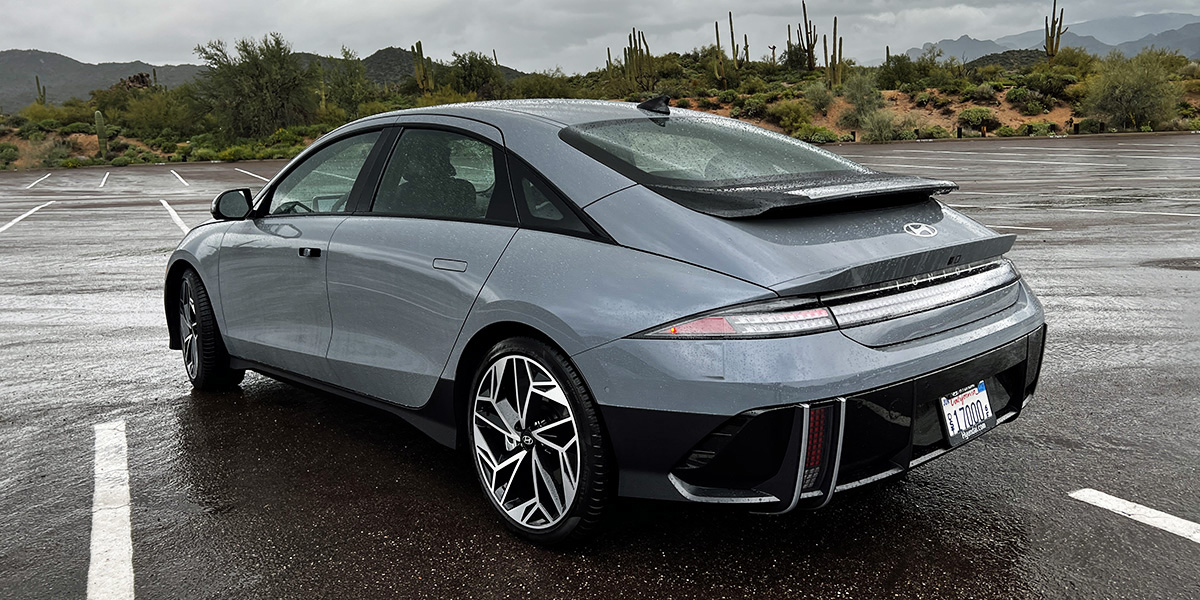 The one element that connects the all-electric lineup: pixels.
The little square dots peppered throughout both vehicles gives both flair and family bond.
Test Drive: 2022 Hyundai Ioniq 5 Limited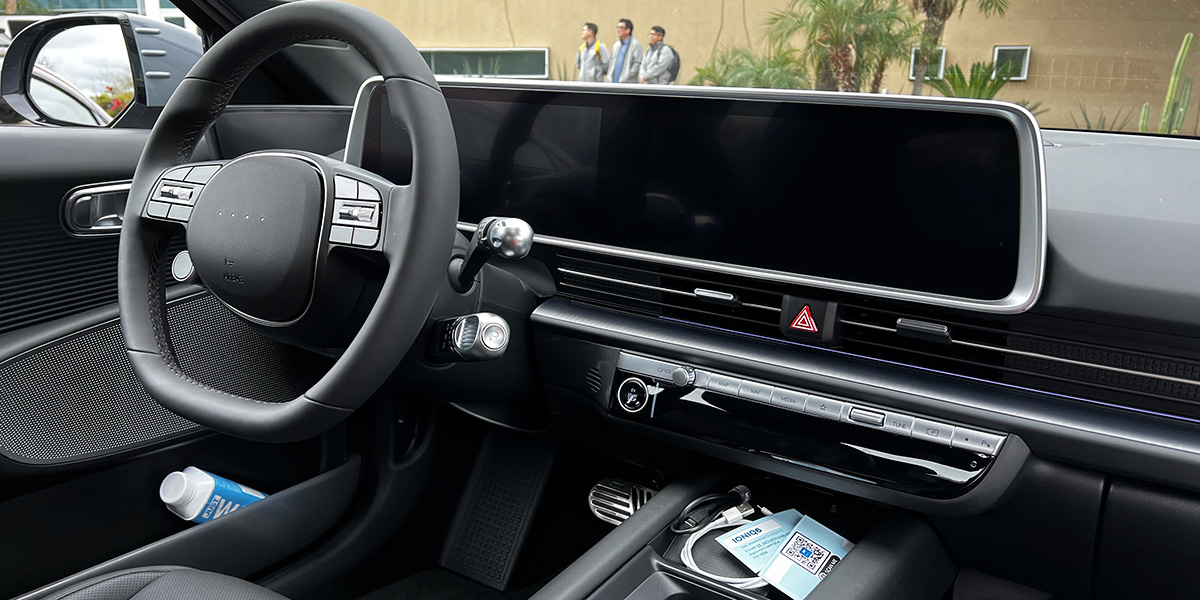 While the Ioniq 5 uses the pixels judiciously, the Ioniq 6 has more than 700 pixels throughout the vehicle. You'll find them everywhere from the extended brake light on the rear spoiler to the Sport Mode gauge display to the rubber mats lining the stowage spaces. And lest you think Hyundai radically departed from having the "H" logo on the steering wheel, we'll point out the four pixel dots that take its place are actually the morse code symbol for, you guessed it, an H.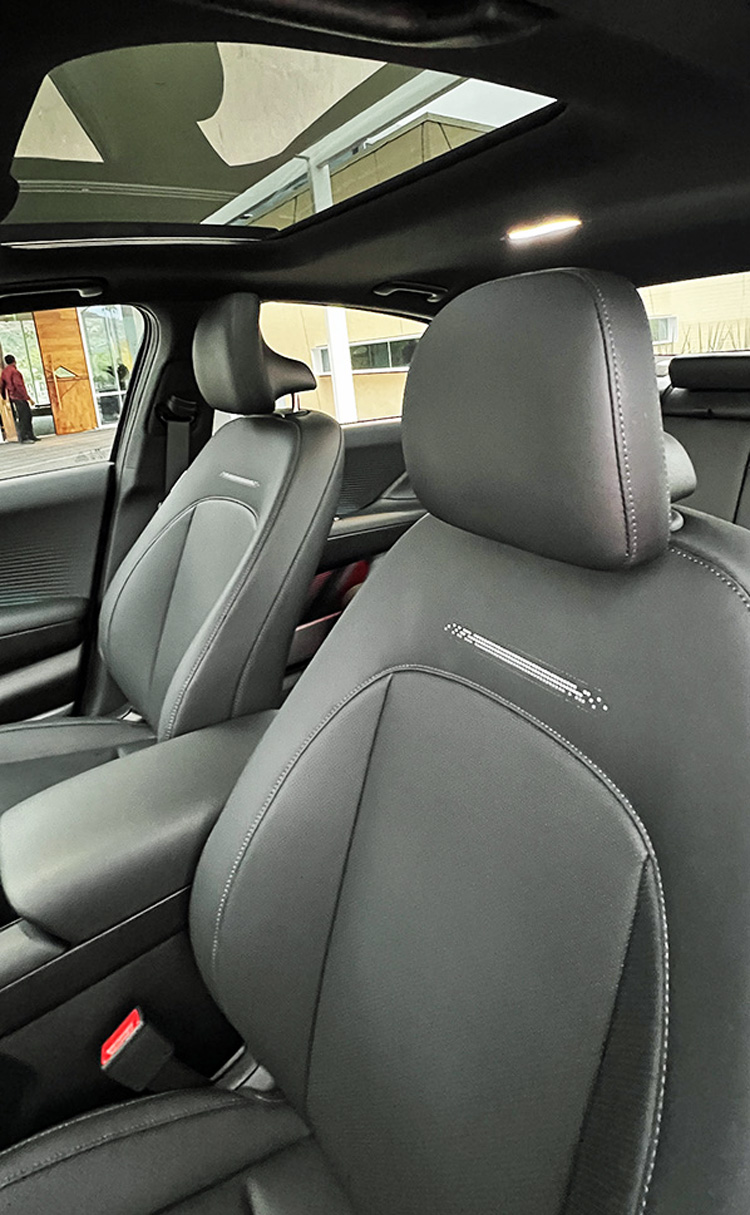 The interior of the 2023 Ioniq 6 does share the same single swath of glass housing both the digital gauge cluster and infotainment screen we see in the Ioniq 5, but it has a floating console instead of a movable one, which is better suited to the midsize sedan's size. The interior is on the minimalist side with strong horizontal lines sweeping across the dash.
While many equate the exterior to a Porsche 911, the inspiration actually came from the 1940s-era Art Deco Stout Scarab, but it shares a similar footprint to the midsized Sonata. It is longer, wider and taller than both the Polestar 2 and Tesla Model 3, it's two closest EV competitors.
What's more, the interior is actually comfortable. During our day-long drive the seats didn't fatigue me or cause cramping, and the heated-and-ventilated seats on our Limited test model were put to good use by me and my drive partner. Plus, all the buttons and touch screen menus are within easy reach.
The only quibble I had with the driving position is a short-person's problem: I wish the seat height adjusted up another inch or two.
Since our test vehicle was equipped with the long-range battery and all-wheel drive, we also benefited from the highest power output drivetrain available for the Ioniq 6, with 320 horsepower and 446 pound-feet of torque. Thus equipped, the car is a joy to drive, with fast off-the-line accelerations and a nice burst of speed for highway passing. The 2023 Ioniq 6 also maneuvers well on fast curves and in tight parking lots.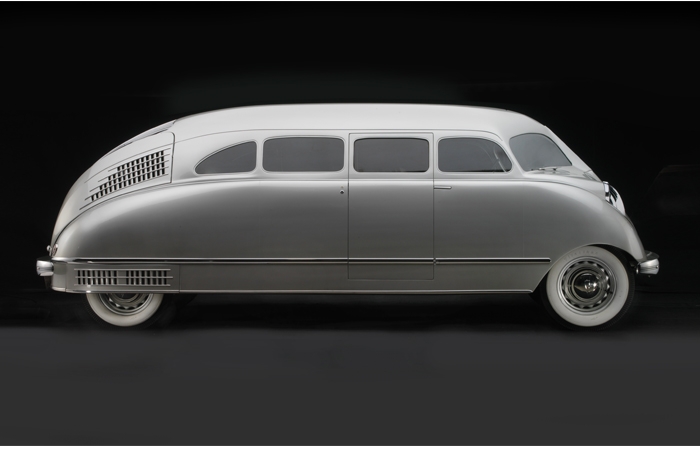 Whether you opt for the 53.0 kWh standard- or 77.4 kWh long-range battery, all Ioniq 6 sedans are capable of 400V or 800V fast charging and can go from 10 to 80% charge in as little as 18 minutes – depending on the type of charger used. On a similar charger, it would take the Tesla Model 3 30 minutes to do the same.
The standard-range battery is only available in the entry SE trim with rear-wheel drive, but the long-range battery is available across the entire trim lineup with both rear- and all-wheel-drive options.
The trim breakdown and pricing is as follows:
SE w/ standard-range battery ($41,600): This is a RWD-only model with 240-miles of range, equipped with a heat pump, charging prep pre-conditioning, LED projector headlights, cloth seats, 18-inch alloy wheels, Apple CarPlay/Android Auto, power driver's seat, USB-C charge ports, dual automatic climate control and parking sensors.
How Much Does it Cost to Charge an EV?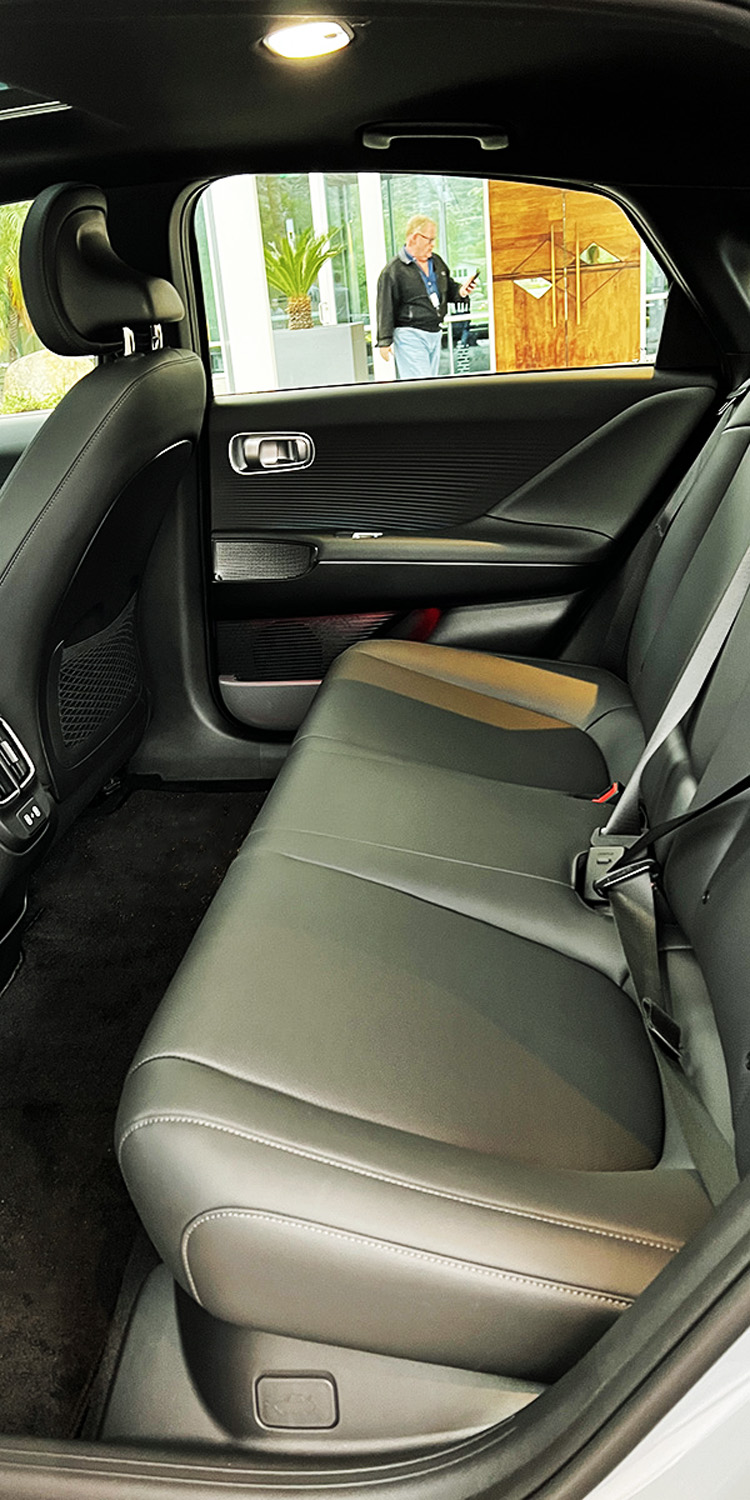 SE ($45,500 RWD, $49,000 AWD): This model has all the same equipment of the base SE, but it adds the long-range battery and comes with both RWD and AWD availability, with a range of up to 361 or 316 miles, respectively.
SEL ($47,700 RWD, $51,200 AWD): Range for this model goes up to 305 or 270 miles, respectively, and it adds 20-inch alloy wheels, leatherette seating surfaces, dual-color ambient lighting, auto up/down front windows, the ability to use your phone as a key, wireless phone charging, lane centering with lane change assist functionality and blind-spot collision-avoidance assist.
Limited ($52,600 RWD, $56,100 AWD): This is an all-in model with a range up to 305 or 270 miles, respectively. It adds high-end features such as a power sunroof, smart park, 360-degree camera views, digital blind-view monitor, Bose premium audio, power front passenger seat, heated-and-ventilated front seats, heated steering wheel, a vehicle-to-load second-row power outlet, front and rear automatic braking for parking assistance, and EV Active Sound Design that pipes acceleration activated sound into the cabin.
Coming Soon: 2025 Buick Electra E5
–
While I generally liked my first taste of the 2023 Ioniq 6, there are a couple quirks of note, however. First, while CarPlay and Auto are standard, they are not wireless. You must wire in with a USB-C cord to access them. Second, the steering-column-mounted gearshift will take some getting used to with its twist tab on the end.
Overall, this new electric sedan from Hyundai is agile and spacious as well as comfortable and quick. Plus, with a top range of 361 miles, you have an electric vehicle that might just quell the persistent range anxiety as we wait for the infrastructure to become more robust. The 2023 Hyundai Ioniq 6 is being shipped to dealers as we speak, with later summer 2023 availability for the base SE with the standard-range battery.
Coming Soon: 2023 Hyundai Ioniq 6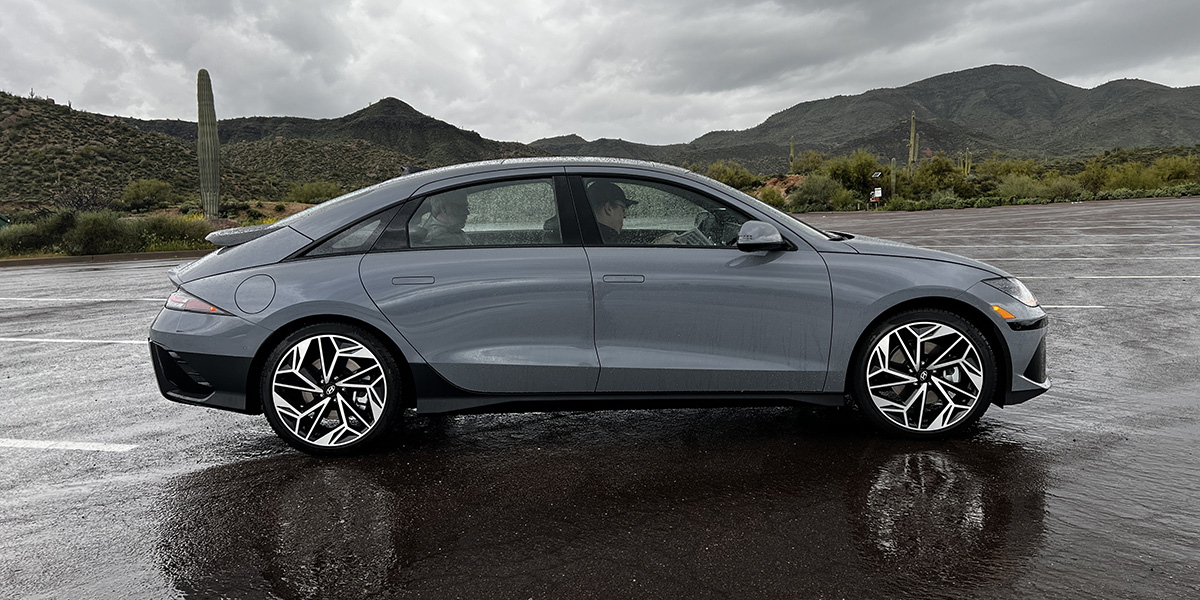 Listen to the Consumer Guide Car Stuff Podcast
2023 Hyundai Ioniq 6 Gallery
(Click below for enlarged images)