By Don Sikora II

Note: The following story was excerpted from the February 2015 edition of Collectible Automobile magazine.
Since the modern-day Dodge Challenger arrived for the 2008 model year, an SRT model with a naturally aspirated V-8 has stood atop the lineup. Even for the updated 2015 models, such an SRT 392 model continues with a 6.4-liter Hemi newly upgraded to 485 bhp. 
The thing is, the 392 isn't the ultimate '15 Challenger. That title goes to the SRT Hellcat, a complete monster that's arguably defined by one thing—a 707-bhp supercharged 6.2-liter Hemi V-8. Today's mightiest Chevrolet Camaro, the supercharged ZL1, is rated at "only" 580 ponies. The 2014 Shelby GT500 Mustang was rated at 662. Even Dodge's 640-horsepower SRT Viper sports car is upstaged.
More from the pages of Collectible Automobile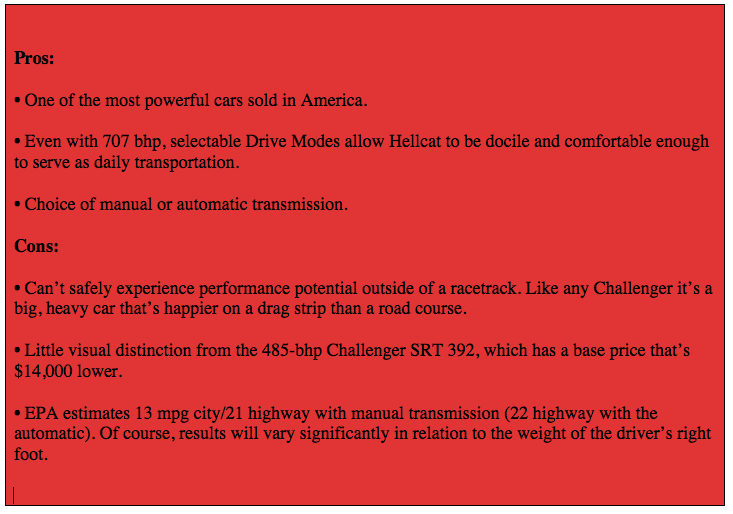 Dodge says Hellcat is the most powerful muscle car ever. It's one of the most powerful cars sold in the U.S. If you need more power, you have to shop a very select group including the Ferrari F12 (730 bhp) and the gas-electric-hybrid Porsche 918 Spyder (887 bhp). 
Hellcats don't look all that different than other SRT Challengers. There is a unique grille that does not share the other models' new split-grille theme inspired by the 1971 Challenger. Hellcats also boast an aluminum hood with a pair of air-extractor vents flanking the central scoop, a specific front fascia with splitter, larger rear spoiler, and "Supercharged" badges on the front fenders. Interior tweaks include red gauge lighting and engine-turned aluminum trim.
The supercharged Hemi is related to the 392's unblown 6.4-liter mill, but Dodge says the engines actually share fewer than 10 percent of their parts. Hellcat upgrades include a specific cast-iron block, forged-steel crankshaft, forged-alloy pistons, forged powdered-metal connecting rods, and specific alloy heads.
Cheap Wheels: 1987-88 Nissan Pulsar NX SportBak
The twin-screw supercharger gulps air from a port integrated into the driver's side inboard "headlamp." Other enhancements are an upgraded fuel pump, .5-inch diameter fuel lines, high-capacity engine-oil cooler, and two intercoolers to help control intake-air temperatures.
A six-speed manual transmission with an external oil cooler and a heavy-duty clutch is standard. A new heavy-duty eight-speed TorqueFlite automatic is optional. It comes with steering-wheel-mounted shift paddles.
Chassis upgrades extend to the driveshaft, rear axle, and half shafts. Bearings and rear-axle gears are also upgraded to handle the Hellcat's fury. Up front there are new 15.4-inch Brembo-brand brake rotors with six-piston calipers. Hellcats ride on 9.5-inch-wide 20-inch wheels wrapped in speed-rated Pirelli tires.
Driver-selected "Drive Modes"—Default, Sport, and Track—control engine power, traction control, automatic-transmission shift speed, and suspension stiffness. Enthusiasts can mix characteristics from the modes via a Custom setting. There is also a Launch Control feature to help get all 707 ponies to the ground as efficiently as possible.
Hellcats come with two keys. The red one accesses the car's full performance potential. A black key limits engine output to around 500 bhp. A Valet setting further restricts performance.
Muscle cars—especially ones with 707 bhp—and the drag strip are made for each other. Hellcat can lay down a National Hot Rod Association-certified quarter-mile run of 11.2 seconds on the stock street tires or 10.8 seconds with drag radials. Motor Trend reports a 0-60-mph time of 3.7 seconds with the automatic and a second-gear start.
This gloriously ridiculous machine starts at $59,995. The handful of options includes the automatic, upgraded leather upholstery, red seat belts, navigation, and a flat-black hood. 

Keeping it Classy: The Return of Dodge Material