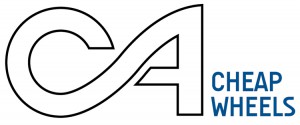 By Don Sikora II
Note: The following story was excerpted from the February 2015 edition of  Collectible Automobile magazine.
The Nissan Pulsar NX arrived in America for 1983 as a wedge-shaped subcompact notchback coupe that proved surprisingly popular. However, it's the quirkier second-generation 1987 NX that poses a more intriguing choice for the seeker of cheap wheels. 
The '87 NX was the first Nissan designed at the company's studio in San Diego. Gerald Hirshberg's design team came up with the unusual idea of a very flexible Pulsar that could be transformed from a sporty hatchback into an open-air sportster, a small pickup truck, or even a practical station wagon. The variations were made possible by the new Pulsar's removable T-top roof panels along with a removable—and interchangeable—hatch–back panel.
More from the pages of Collectible Automobile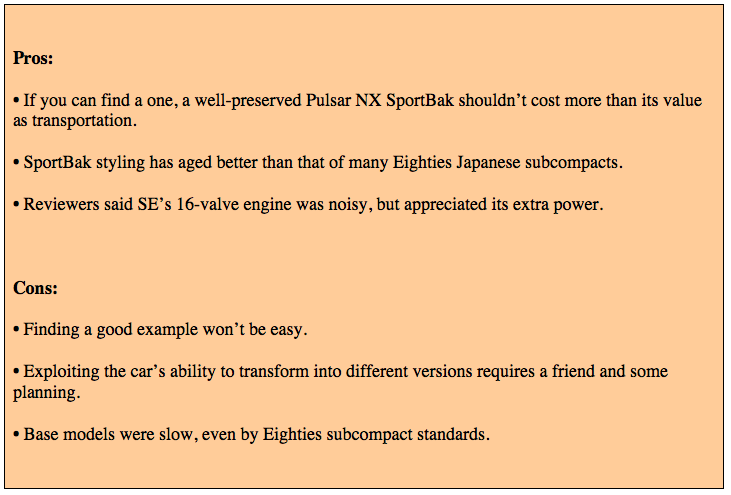 Buttoned up, Pulsar was a notchback coupe. With the roof panels and hatch removed, the car approximated a convertible. Removing the hatch and folding the very small rear seat flat created a mini pickup. 
What, then, about the station wagon? For that, customers needed to buy a dealer-accessory "SportBak" fiberglass roof section that could be used in place of the standard hatch. The add-on roof came painted gray and included side and rear windows. Once installed, it opened just like the base hatch. A Pulsar with the SportBak looked a bit like a pint-sized version of Nissan's new-for-1986 Pathfinder two-door sport-utility vehicle. 
That raises an important question: How difficult was it to switch between versions? At the time, little was said about the process. Motor Trend didn't describe the conversion in contemporary reviews; Consumer Guide® mentioned only that removing the hatch was a two-person job. Here, at last, is all you need to know:
Remembering the Nissan Maxima Wagon
The T-top panels were steel and could easily be stored in the car's cargo area, but the hatch sections were trickier. Nissan supplied a tool kit that two folks would need to undo two small hinge covers on the roof, remove a handful of bolts, and disconnect the gas support struts for the hatch. All of this had to be done while holding the hatch open, preventing it from latching shut, and making sure it didn't slip and damage the car. Installation worked in reverse.
Then, there was another problem. What to do with the hatch panel once it was removed from the car? Presumably, hatch removal was done at home or some other place where the part could be stored until needed again. We've seen an apparently Japanese-market brochure that detailed other hatch-related Pulsar accessories including a support rod to aid hatch removal and a wheeled metal storage cart that presumably held either style hatch. We aren't sure if these useful items were sold in the U.S., but wouldn't be surprised if they were. 
Mechanically, Pulsar was very similar to Nissan's front-drive Sentra. There were base XE and sportier SE models. The base engine was a fuel-injected 69-bhp 1.6-liter four-cylinder. It paired with a five-speed manual or three-speed automatic. SEs had a 113-horsepower 16-valve 1.6-liter, available only with the five-speed stick. Prices started at $10,599.
The SportBak returned in 1988, but Nissan started offering "factory-assembled" versions priced $550 more than the "regular" hatchbacks. (No matter the body color, the SportBak roof was still gray.) SportBak roof sections were also available separately for $925. Other changes were few. Notably, the SE received a 16-valve 1.8-liter engine with 125 ponies, plus an optional automatic transmission. The Pulsar NX soldiered on through 1990, but the SportBak quietly faded away after 1988.

Landau Madness: The Best of After-Market Vinyl Tops