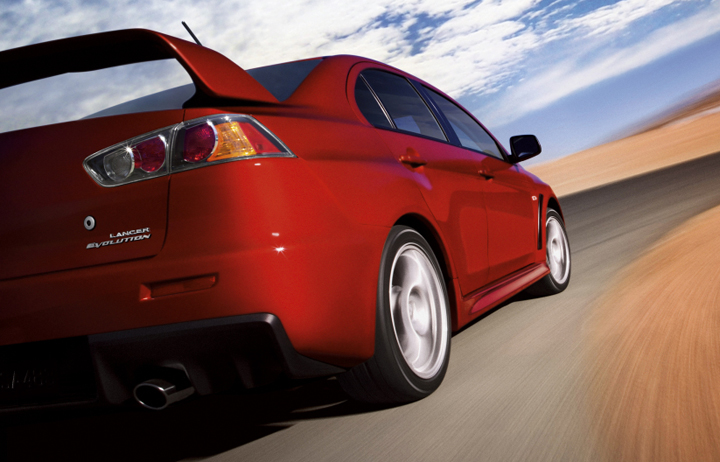 We recently welcomed a 2012 Mitsubishi Lancer Evolution GSR into our fold for a short-term evaluation. It might be more accurate to say that I welcomed it, as I enjoy this car much more than most of my colleagues.
It's certainly fair to say that the "Evo" has more things you can criticize than praise. After all, this is still a Lancer at its core. It's not a car we're especially high on, and the Evolution exacerbates many of its benefactor's faults. We say, "The Evolution's sporty exhaust note can't compensate for a crude-sounding engine." Also: "Materials are nothing special, and there's very little to distinguish the Evolution from its 'lesser' Lancer siblings. The doors close with a tinny clang, making this very pricey performance car seem econobox-cheap."
We need to talk about the price, too. When the Evo first hit the U.S. in 2003, it was on the pricey side at about $30,000. A similarly equipped GSR model today comes perilously close to cracking $40,000. The top-line Evolution MR can blow through that barrier with a sticker price that can exceed $42,000.
Fuel for Thought: What Matters Most to Car Buyers?
And that's just the cost of the car. What you need to do to keep your baby happy will make your bank account cry. Oil changes requiring Mobil 1 synthetic lube, a tire rotation, and assorted visual inspections run about $90 a pop at a dealership and need to be done every 3,750 miles. Transmission and transfer case oil changes will add hundreds more. The stock summer performance tires might last 20,000 miles if you're lucky and would be at least $400 apiece to replace. If you need winter treads, that's another $1,000 for a set.
You'll also need to reserve plenty of pocket change for the premium-grade fuel this car gulps down like a Japanese kid in a hot dog eating contest. We average well under 20 mpg. Combine that mileage with a small 14.5-gallon gas tank, and you're looking at a real-world driving range of less than 250 miles.
This sounds harsh, but if I had the cash, I would happily spend whatever is necessary to buy and maintain an Evo. Some of my fondest driving memories are of flogging Evos around the legendary Road America racetrack.
It's a rally-bred racecar for the road. Its 291-horsepower turbocharged 4-cylinder engine is a little firebreather, regulated by a highly sophisticated all-wheel-drive system. It's an absolute dynamo on the track, exhibiting tenacious grip with sharp steering.
If you live in an area that experiences its fair share of snow (like we do here in Chicago), driving this with appropriate winter tires is some of the most fun you can have in the front seat of a car. You can bring along three friends in reasonable comfort, lug home your groceries, and haul a weekend's worth of luggage in the trunk. On a more personal note, I think the current-generation Evo looks awesome—yes, even with the gigantic wing protruding off the rear.
The Mitsubishi Lancer Evolution is a car that demands a lot of attention from its owners. At the same time, it gives a whole lot in terms of raw performance. You might not think it's worth it, but I sure do.