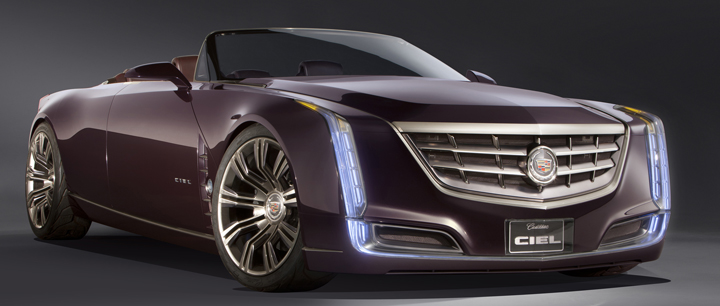 General Motors is said to be developing a new platform for the possible late-decade launch of the largest Cadillacs in recent memory, including a long-rumored "flagship sedan." According to a recent Car and Driver report, this "Omega" architecture will take over from the Sigma platform, which dates from Cadillac's original 2003 premium-midsize CTS, and is being engineered along the lines of the rear-drive Alpha structure that debuts with Cadillac's 2013 ATS premium-compact sedan. C/D notes that while both architectures are scaleable, Alpha is limited to compact and midsize vehicles comparable to the BMW 3-Series and 5-Series, whereas Omega-based models can be made somewhat wider and stretched to around 207 inches overall, a footprint similar to that of BMW's long-wheelbase 7-Series premium-large sedan.
2017 Detroit Auto Show: Audi Q8 Concept
Like Sigma, the Omega architecture will accommodate rear-drive and all-wheel-drive powertrains and will be exclusive to the Cadillac brand. However, it's being planned so that any Omega derivative can be built alongside Alpha-based models at the company's Lansing Grand River facility, a provision that increases manufacturing flexibility as a hedge against sudden market swings.
And it does appear that Cadillac is in for more than one Omega product. For starters, the platform is already being eyed for the follow-up to the 2013 XTS premium-large sedan, which uses the company's front/AWD Epsilon structure and hasn't even gone on sale yet. Assuming that car hangs around for the usual five years or so, its replacement should arrive in 2018 or '19. C/D says styling will morph from somewhat blowsy notchback to sleek fastback a la Audi A7.
Planners are also said to be giving serious thought to one or two Omega-based crossover SUVs and an all-out "flagship" sedan, the latter fulfilling a notion that GM has been toying with since the extravagant 2003 Cadillac Sixteen concept. The top-tier sedan would probably be smaller and less ambitious than the Sixteen, but it could be close in both size and appearance to the grand 2011 Ciel 4-door concept convertible. There is even talk of a companion Ciel-like 4-door coupe and/or convertible to revive the spirit of Cadillac's personal-luxury Eldorado. As for the crossovers, one could eventually replace or partner the truck-derived king-size Escalade, while a smaller, second model would sit above the newly downsized SRX as a "large midsize" equivalent to the Lambda-platform Buick Enclave, Chevrolet Equinox, GMC Acadia. In the meantime, C/D expects that Cadillac will belatedly get its own Lambda model, perhaps by 2014.
Buick Avista Carts Home Concept-Vehicle Award
However the Omega architecture is used, it's expected to be engineered with a scaled-up version of the Alpha platform's 4-wheel independent suspension. That means front-strut and rear-multilink componentry made of weight-saving aluminum and high-strength steel and carried on noise-isolating front and rear subframes. Electro-mechanical steering assist can be taken for granted. Ditto large 4-wheel disc brakes with ABS and an integrated stability system with traction control.
Engines are the big question mark for these larger future Cadillacs. Car and Driver talks of a new-design "mystery" V8 that would presumably be available for senior Omegas and maybe the junior ones, too. The magazine also reports that the second-gen XTS will have a standard 310-horsepower version of GM's 3.6-liter V6 and that a "low-pressure, torque-biased" twin-turbo variant may be listed for that car and perhaps other Omegas. In addition, C/D expects one or more members of this family to offer a clean-sheet redo of GM's "two-mode" hybrid drive, as the platform is being designed to incorporate the propulsion batteries and system electronics. Understand, though, that ultimate engine offerings will depend a great deal on vehicle weights, engine outputs, and how those square with each model's projected sales versus escalating federal fuel-economy standards. Yet whatever engines are ultimately specified, they are expected to team solely with an 8-speed torque-converter automatic transmission, hybrid included.
If nothing else, the Omega program suggests that GM is still very determined to challenge major premium import brands in every market class where they compete—and that it's prepared to spend big for Cadillac to succeed. But however good-old-days rosy this may sound, the first Omega Caddys are still a good five years off, and a lot of things could happen between now and then to drastically alter the program or even kill it altogether. For now, though, GM seems to be firing on all cylinders, and that bodes well for Cadillac's return to "livin' large."
That's all we know now, but keep checking back with The Daily Drive for more information as it becomes available. Also check Consumer Guide Auto's main site for in-depth Future Car reports on all the Omega-platform Cadillacs and other upcoming new cars and trucks.