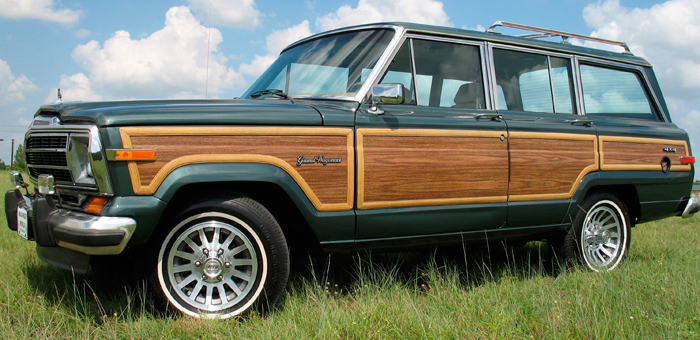 Whether you're "old money" with funds that have ripened for generations or you're "new money" and your ship has just come in, you're faced with the same need to secure motor vehicles that reflect your ability to experience the good life. It turns out that for a portion of the "smart set," that just-right ride is a Jeep that hasn't been made for more than 20 years.
According to the gearheads at Vanity Fair magazine, the Jeep Wagoneer has become a fashion accessory for the well-turned-out driveway. In the conspicuously consumptive "Fanfair" section of VF's March 2013 issue, there was a Wagoneer, pictured amid organic hair products, retro Cartier jewelry, pricey casual clothes, and a Bernese mountain dog. Stated the caption, "The first true luxury S.U.V. There's a high rate of Internet trading for low-mileage, refurbished models. Popular markets include Nantucket, the Vineyard, and the Hamptons."
The Wagoneer pictured in Vanity Fair was a 1990 model—by then it was known as the Grand Wagoneer—replete with old-school, station wagon pretend wood on the bodysides along with alloy wheels, the Selec-Trac four-wheel-drive system, leather upholstery, and power assists for just about anything a driver would care to adjust. By then, though, the Wagoneer was a relative old coot, with a basic design decades old. And it certainly didn't end up where it started.
More Jeep: Why I Want Another CJ-7
In this year of significant automotive golden anniversaries—Chevrolet Corvette Sting Ray, Buick Riviera, Porsche 911, to name a few—memories of the Jeep Wagoneer's debut might have flown under the radar. Nonetheless, it has proved to be another of the new-for-1963 vehicles that have stood the test of time. Originally a product of Willys Motors of Toledo, Ohio, the 110-inch-wheelbase Wagoneer was conceived as a replacement for the company's existing utilitarian station wagon with a Jeep-inspired front that dated to the 1940s. Industrial designer Brooks Stevens' Wagoneer would undergo numerous detail changes over the next 28 years, but the essential profile would remain defiantly constant.
While a leap forward from the old Willys wagon in room and riding comfort, the first Wagoneer was still a far cry from the Grand Wagoneers from which purebred Bernese will poke their heads on the ride to Martha's Vineyard. Instead of a V8 and automatic transmission, the inaugural Wagoneer came with a 230-cubic-inch ohv inline six that made 140 horsepower. A 3-speed manual transmission was standard; a 3-speed automatic cost extra. Semi-elliptic leaf springs were used at all four corners, but the front springs could be swapped at extra cost for front torsion bars for a better ride. Two- and four-wheel-drive and two- and four-door models were available, and base models had rubber floormats and no bright trim on the door posts. Power steering and brakes? They cost extra. So did a pushbutton radio (AM only), electric clock, and power tailgate window—not to mention seatbelts and back-up lights.