Anybody who follows the Emmy-winning cable series Mad Men, which just concluded its sixth season, knows that the fictional '60s advertising agency at the center of the show recently picked up a significant, but challenging, new account: a car known by its cryptic code name, XP-887. Anybody who's a fan of postwar American cars (or anyone who follows Mad Men fan sites) knows that the XP-887 is the star-crossed Chevrolet Vega.
As does any work of historical fiction, Mad Men mixes the imagined with the real. That explains how the never-was Sterling Cooper & Partners (the firm changed names more often this season than womanizing lead character Don Draper changed female companions) came to win the account for the strange-but-true Chevy subcompact. The recently completed season was set primarily in 1968 and, according to the storyline, Chevy has given SC&P a stringent schedule to follow into 1970, when the car will be launched. This matches up well with the actual Vega's development timetable. In fact, the division had full-sized clay models of an early version of the XP-887 completed by late 1967; the photograph of the styling mock-up that appears atop this article is dated September 11, 1968. However, there was still a lot of styling, engineering, and marketing work ahead before the car the world would come to know as the Vega came to be.
The 7 Cheapest American Cars of 1972
In real life, the print campaign for the first Vega—prepared by longtime Chevy ad firm Campbell-Ewald—started months in advance of the car's September 10, 1970, showroom debut. A flurry of ads appeared even before the vehicle was named. The ads explained various aspects of Chevy's plans for its impending subcompact. Without a car to show, they featured cartoonlike illustrations that portrayed the points being made in the lengthy text, but the type fonts selected for headlines and body copy would serve throughout the 1971 model year. The cartoon concept continued after the new car's name became public in mid-1970, but the word Vega replaced the promissory "You'll See." in the lower right corner. Once the car was finally out, color photographs of the real thing supplanted the cute drawings.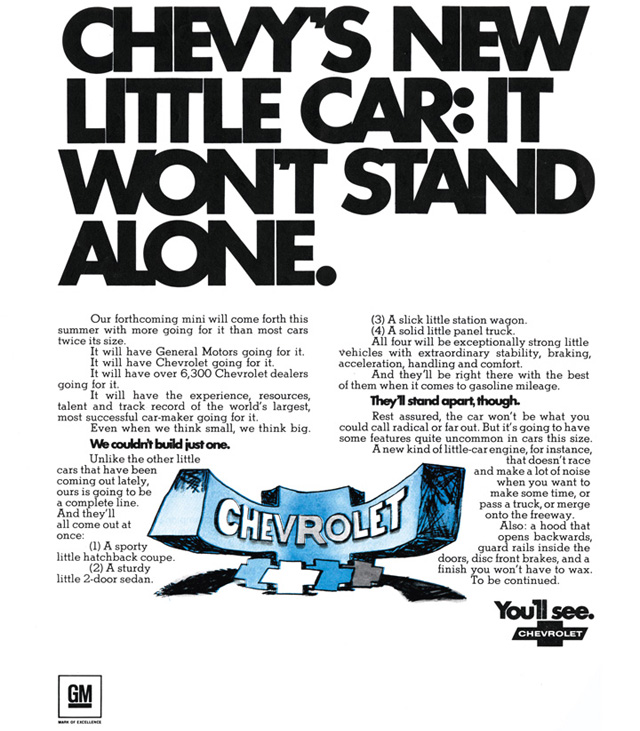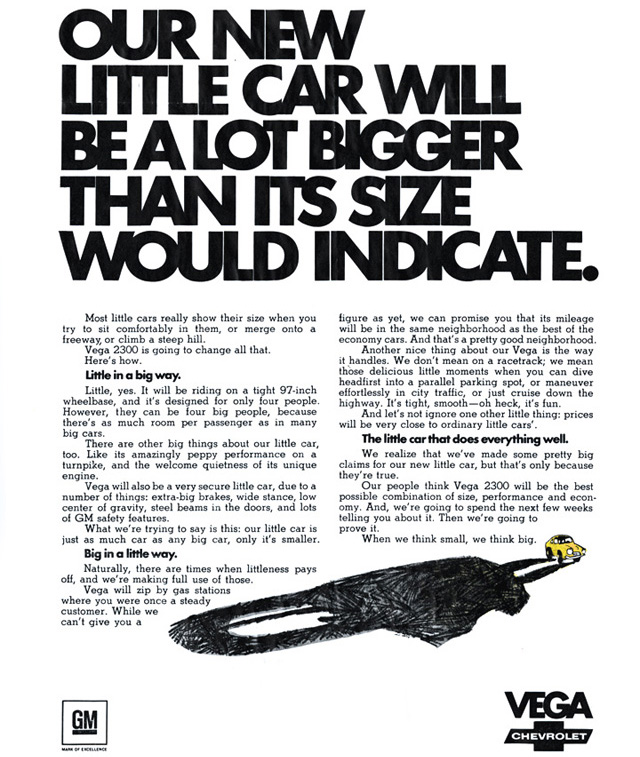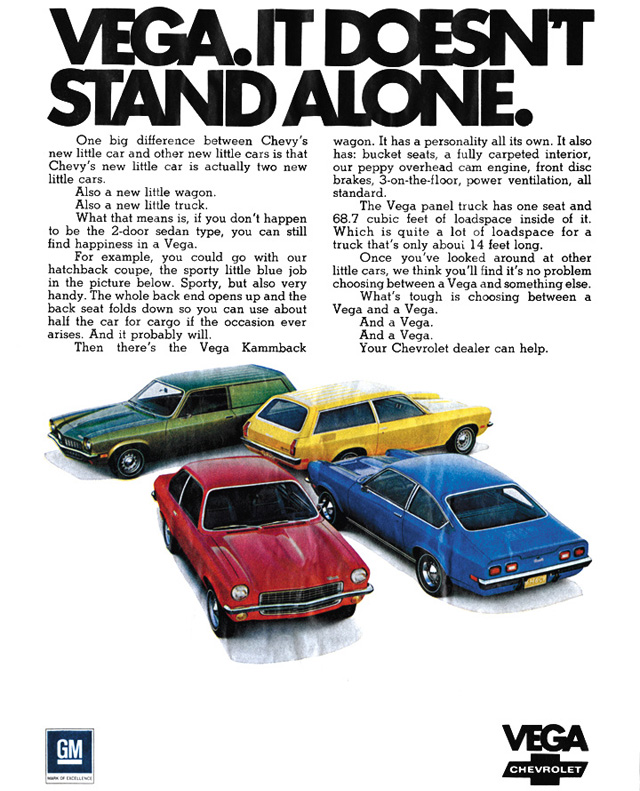 Ranchero Sequel: Remembering the Short-Lived Ford Durango