The Bentley Continental GTC Speed is one of the most luxurious vehicles on the planet, and as such, it has a key to match its opulence. After all, a chintzy plastic fob would dilute the ownership experience (we're looking at you, BMW M5).
Because it is owned by Volkswagen Group, Bentley uses components from the VW parts bin. The Continental GTC uses the same platform and a version of the W12 engine found in the Volkswagen Phaeton large car that was sold in the U.S. from 2004 to 2006. As you can see from the pictures here, it also uses a version of the company's switchblade-type key fob, used on most Volkswagens and Audis when equipped with keyless engine start. However, the Bentley's is heavier and feels much more substantial.
The flanks of the key are pieces of real metal with a crosshatch pattern molded into the sides; down the middle is a strip of rubberized coating. Notice that the base of the metal key has silver metal and black rubber visible whether it's open or closed so it does not interrupt the overall design. On one side is the Bentley winged badge, and on the other are the buttons for lock, unlock, and the trunk release.
The key is suspended by a keychain that has a universal joint in it that allows the key to spin freely from its mount. This may keep it from getting tangled on a key ring. Whenever a button is pushed, a green LED flashes on the upper right side of the key.
Our test car's key came with two leather keychains, and, though likely optional, they were well made and much nicer than anything you're likely to find in a mainstream brand's accessories catalogue.
A few years ago, we had the pleasure of test driving a 2010 Aston Martin DBS Volante, and the key fob was unlike any I've ever seen: It has a thick piece of glass attached to the end of the key that illuminates when you put it into its slot on the dashboard. Its composition and the block of glass make it a relatively heavy chunk to behold. Though it is an impressive piece of hardware, the Bentley's key is not as "exotic" as those of other similarly priced cars.
Light, Color, and Luxury: A Look Inside the 2017 BMW M760i (Gallery)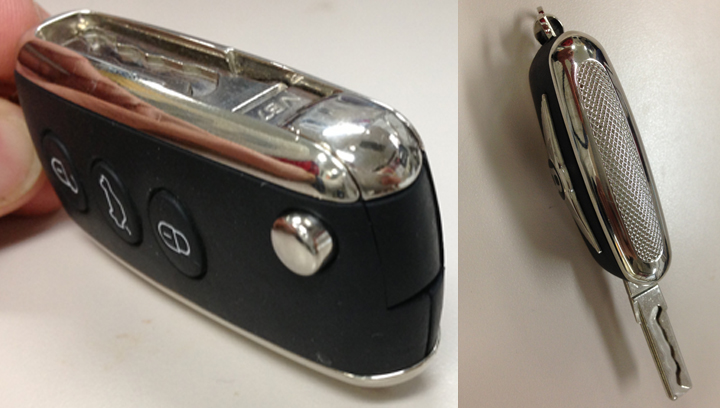 More giant car keys
The Keymaster: Jaguar XJL Supersport
The Keymaster: Porsche 911 Carrera S