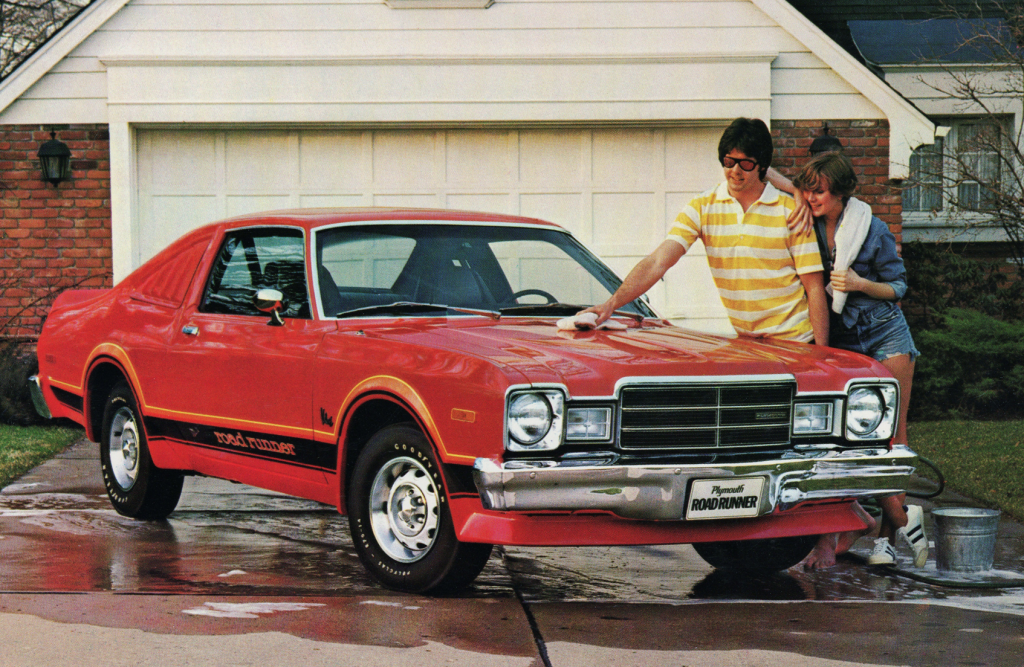 Stephen Stills wasn't thinking about the American automotive "Malaise Era" when he wrote "Love the One You're With," but for enthusiasts of the time, the sentiment was apt: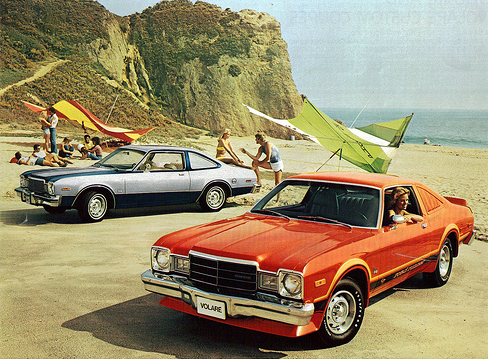 Well there's a rose in the fisted glove
And the eagle flies with the dove
And if you can't be with the one you love honey
Love the one you're with, Love the one you're with,
Love the one you're with, Love the one you're with.
Indeed for many of driving age at the time, the Malaise Era—generally defined as the model years between 1973 and 1983—may not have afforded us the same performance as the muscle-car era, but there were plenty of passable alternatives that rivaled muscle offerings in spirit, and arguably style, if not actual performance.
Two such offerings were the 1976-1980 Dodge Aspen R/T and Plymouth Volaré Road Runner. The simple injection of the names Aspen and Volaré into the monikers of classic muscle machines is enough to make some purists cringe, but the cars were not without their charms, and for the period were strong performers.
Based on Chrysler Corporation's F-Body unibody architecture, the Aspen and Volaré replaced the venerable Dart and Valiant/Scamp models in the respective Dodge and Plymouth lineups for 1977, after having been sold alongside them for 1976.
As the Aspen and Volaré were nearly identical, save for minor trim and pricing details, the R/T and Road Runner packages were likewise the same.
1976 and 1977
Available only on two-door models, and only with V8 engines, the R/T and Road Runner packages came available for the 1976 model year and went unchanged for 1977.
The package ($196 R/T, $205 Volaré for 1976) included E70-14 wheels and tires (roughly equivalent to 215/70R-14 tires today), heavy-duty suspension with rear sway bar, and unique trim elements.
Nearly all R/Ts and Road Runners were ordered with a separate décor package that brought with it rear side-window louvers, bodyside stripes, dual remote mirrors, unique headlamp trim, and a unique horn.
The R/T and Road Runner package required ordering either a 318- or 360-cubic-inch V8. The 2-barrel 318 was good for 145 horsepower and could be had with either a 4-speed manual or a 3-speed automatic transmission. The 4-barrel 360 was good for 170 horsepower, but could be had only with the automatic.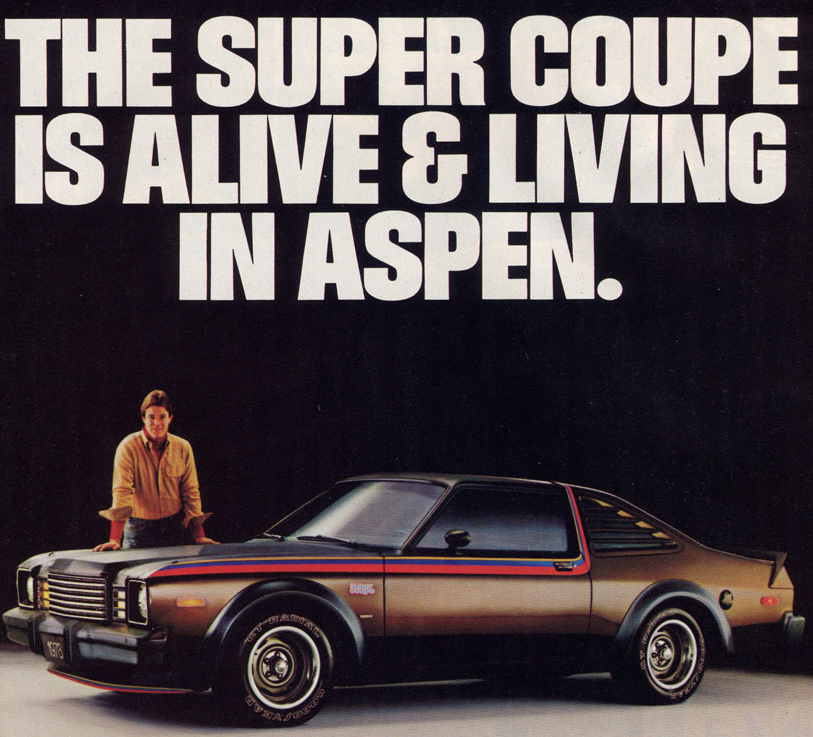 1978 Dodge Aspen Super Coupe
1978
For 1978, enthusiasts could take things up a notch and order the Super Coupe. Available on both the Dodge and Plymouth side, the Super Coupe included everything in the R/T and Road Runner packages, and added 15-inch wheels and tires, a more aggressive sport suspension, and unique trim elements including exaggerated fender flares and "Super Coupe" decals.
The Super Coupe could be had only with the 360-inch V8, which was good for 175 horsepower for '78. Super Coupes are pretty rare, with only 521 Dodge and 494 Plymouth examples having been sold. The Super Coupe was discontinued after 1978.
Regular R/T and Road Runner models with the 318-inch engine picked up 10 horsepower for 1978, to 155.
5 Most-Powerful American Cars of 1977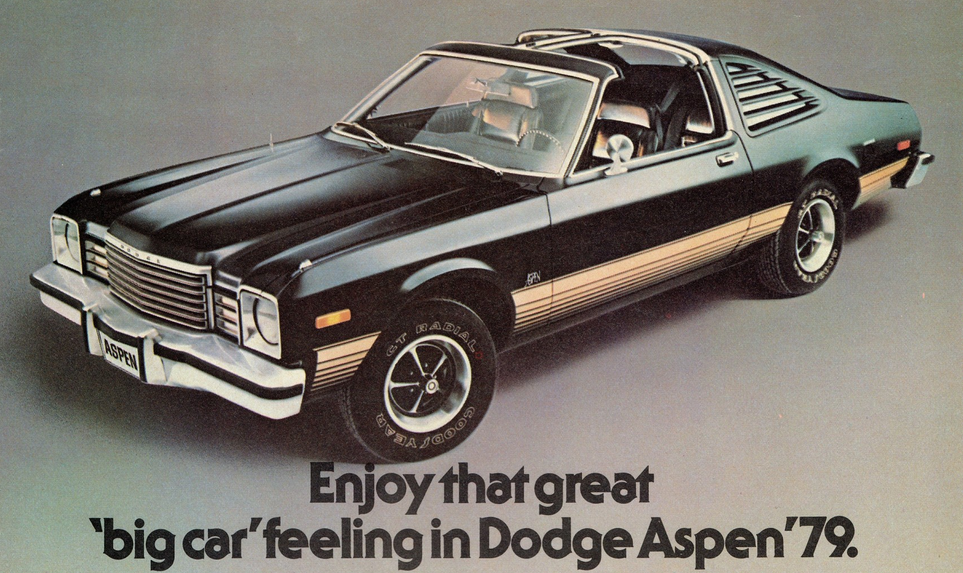 1979 Dodge Aspen R/T
1979
The R/T and Road Runner were almost unchanged for 1979, save for the 318-inch engine sliding down to just 135 horsepower, and the 360 beefing up to a respectable 195. In non-functional trim news, the rear side-window louvers were now aligned horizontally, not vertically as they had been on 1977-78 models with the décor group.
1980
The Aspen and Volaré would disappear after 1980, taking the neo-muscle R/T and Road Runner with them. In a sad farewell, the '80 editions of these sportsters would make do without the 360-inch engine, which was discontinued, leaving just the 318, which had been detuned to just 120 horsepower.
Though underpowered relative to earlier examples, 1980 R/Ts and Road Runners are sought after by collectors for their relative rarity. Just 285 R/Ts were sold for 1980, and only 496 Road Runners.
Whether or not these cars register historically as performance cars is largely irrelevant. They were legitimately quick for the day. In fact, a 1978 Super Coupe tested by Car and Driver recorded a 16.7-second quarter-mile time, coming in two tenths of a second quicker than a Pontiac Firebird Trans Am tested by the magazine that same year.
Still, a 120-horsepower Dodge Aspen may not be the first vehicle to spring to mind when you think high performance. But fans of Stephen Stills understand, if you can't have the muscle car you want, love the one you can—or could—buy in 1980.