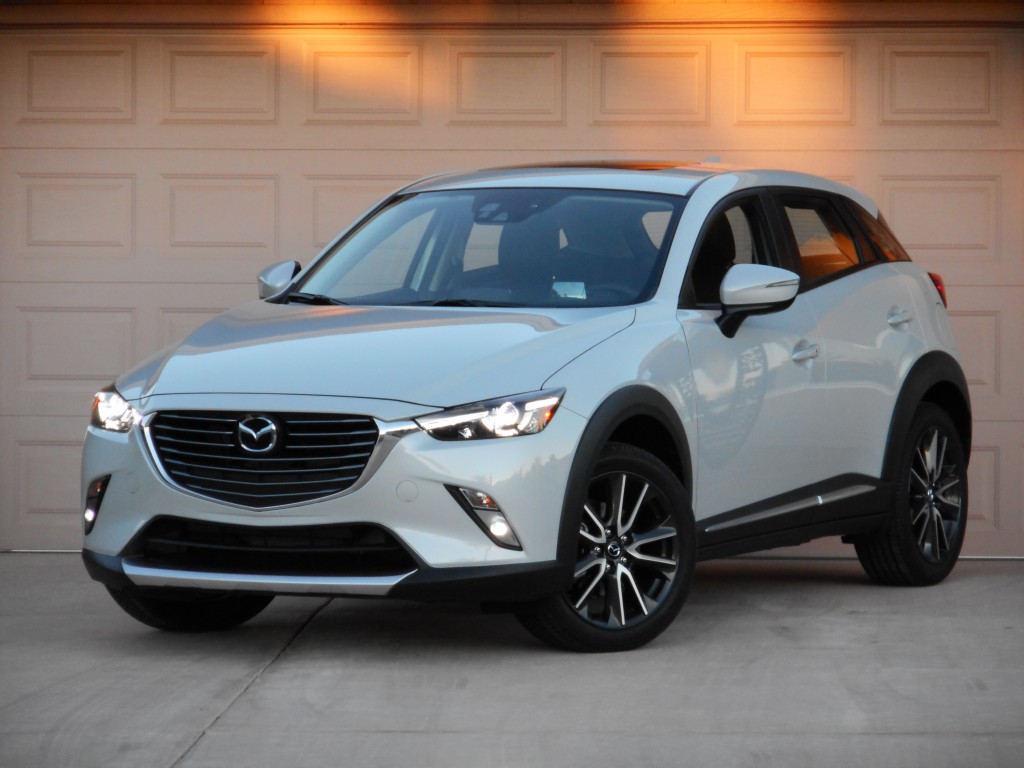 2016 Mazda CX-3 Grand Touring AWD 

(First Look)

Class: Subcompact Crossover 
Dates tested: 11/18/2015 – 11/25/2015
Miles Driven: 519
Fuel Used: 16.7 gallons
Real-world fuel economy: 31.1 mpg
Driving mix: 20% city, 80% highway
EPA-estimated fuel economy: 27/32/29 (city, highway, combined)
CG Report Card
Report-card grades are derived from a consensus of test-driver evaluations. All grades are versus other vehicles in the same class. Value grade is for specific trim level evaluated, and may not reflect Consumer Guide's impressions of the entire model lineup.
Room and Comfort
C+
Power and Performance
B+
Fit and Finish
B+
Fuel Economy
A
Value
A-
Base price: $26,240 (not including $880 destination charge)
Options on test car: Mazda Mobile Start ($550), i-ACTIVESENSE Package ($1920)
Price as tested: $29,590
Quick Hits
The great: Responsive powertrain, fuel economy, available high-tech safety features
The Good: Sporty handling, interior materials
The not so good: Control layout, cargo room
Check out our Compact Crossover Best Buys
Rick Cotta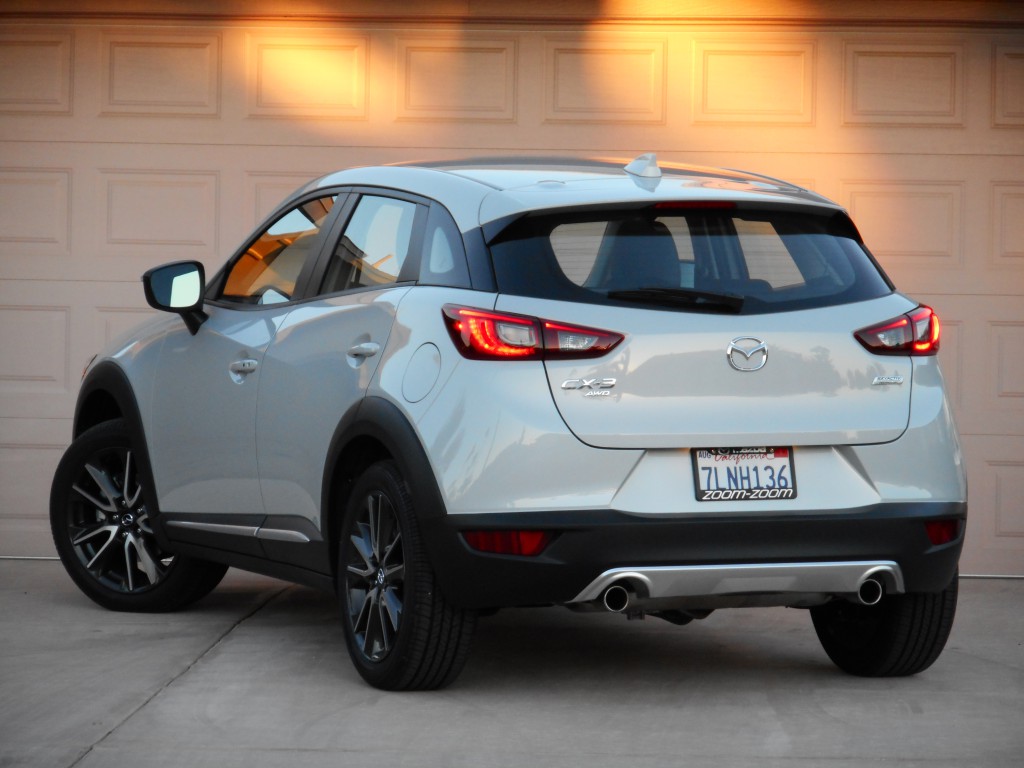 After I came away quite impressed with Mazda's new subcompact SUV at its press preview last summer, my colleagues had a chance to test a midline CX-3 Touring version back in October. In November, I got a crack at a top-line Grand Touring down in Arizona that was fitted with Mazda's i-ACTIVESENSE package of high-tech safety features (only offered on the Grand Touring), many of which are rare or exclusive to the class.
In most ways, the Grand Touring is much like the Touring model already covered; they share the same responsive powertrain, sporty handling traits, and nice-looking interior, while being a bit short on passenger and cargo space for the class. But I noticed a few things during this 500-mile test that I didn't at the preview.
Test Drive: 2016 Mazda CX-3 Touring
During a preview drive, we don't get a chance to measure fuel economy, but we keep careful track of it during a local test. After 517 miles of 80 percent highway driving — most with a 75-mph speed limit and much of it in hilly country — the CX-3 averaged a very impressive 31.1 mpg. Despite the conditions (which remember, also included 20-percent city driving), that just missed the EPA's highway estimate of 32 mpg. Supporting this is that my colleagues averaged 29.1 mpg in 60-percent city driving, beating the EPA's 29-mpg combined rating. As such, the CX-3 is certainly among the thriftiest in the class while also having one of the most responsive powertrains — an impressive feat.
Test Drive: 2016 Mazda CX-3 Grand Touring (Second Look)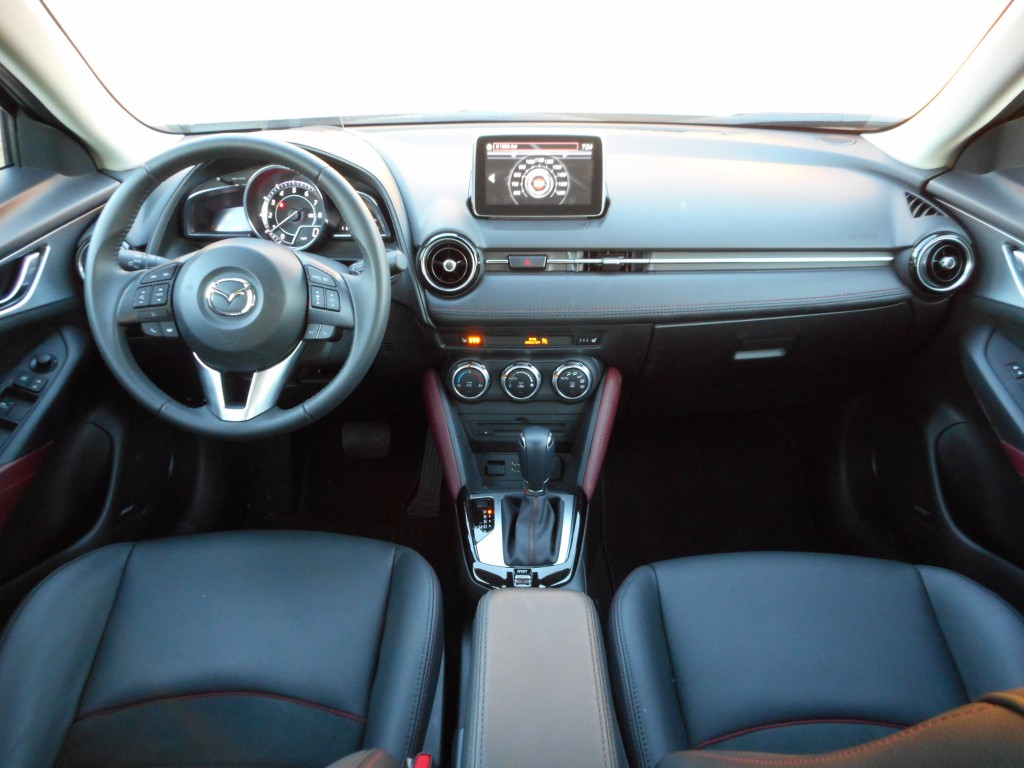 Another thing I really liked about the test vehicle was its head-up display, which projects a digital speed readout and other information on a small screen atop the dashboard. It's exclusively available in the Grand Touring, and I don't think any other vehicle in the class offers it. Also appreciated was the 180-degree wide-angle backup camera (another feature that's rare for the class, as most only provide a 140-degree view), which not only allows you to see both ways down a parking-lot aisle when backing, but also displayed an impressively bright image at night.
But not all was rosy. I'm not a big fan of Mazda's current touchscreen/console control knob infotainment interface, as it often takes too many steps to make simple adjustments. But adding to the problem in the CX-3 is that the folded-down center armrest restricts access to the control knob and especially the volume knob, though some of their functions are duplicated on the touchscreen or steering wheel. Furthermore, that armrest also covers the two cupholders, which are already inconveniently located at the rear of the center console. Of course, you can always just fold it up, but besides being useless as an armrest, that looks a bit … untidy.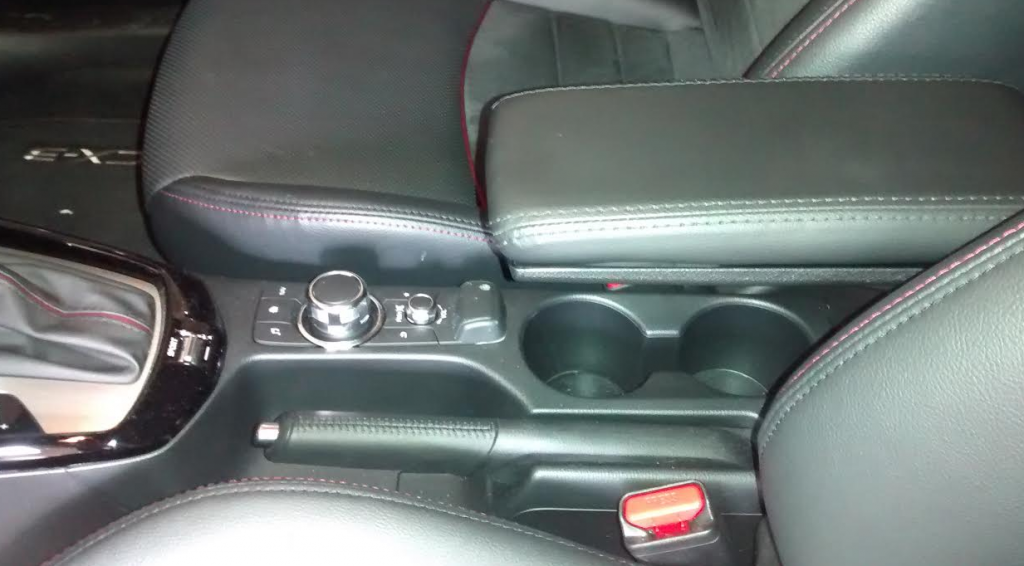 Along with its sporty demeanor and great fuel economy, a strong selling point of the CX-3 is the Grand Touring's available high-tech safety features. Grouped into the $1920 i-ACTIVESENSE Package, these include forward collision warning and mitigation, lane-departure warning, and high-beam control. Also part of the package is active cruise control (which I certainly used and appreciated on my long highway drive) and rain-sensing wipers. But there were some snags.
It's important to note that none of the modern high-tech safety features — on any car — are going to work flawlessly 100 percent of the time. Climatic conditions can affect some functions, as can darkness or bright sunlight. And sometimes, they just get fooled by weird circumstances that a human can easily detect, but a computer cannot (yet). But there were numerous occasions when the CX-3's lane-departure warning didn't work as intended.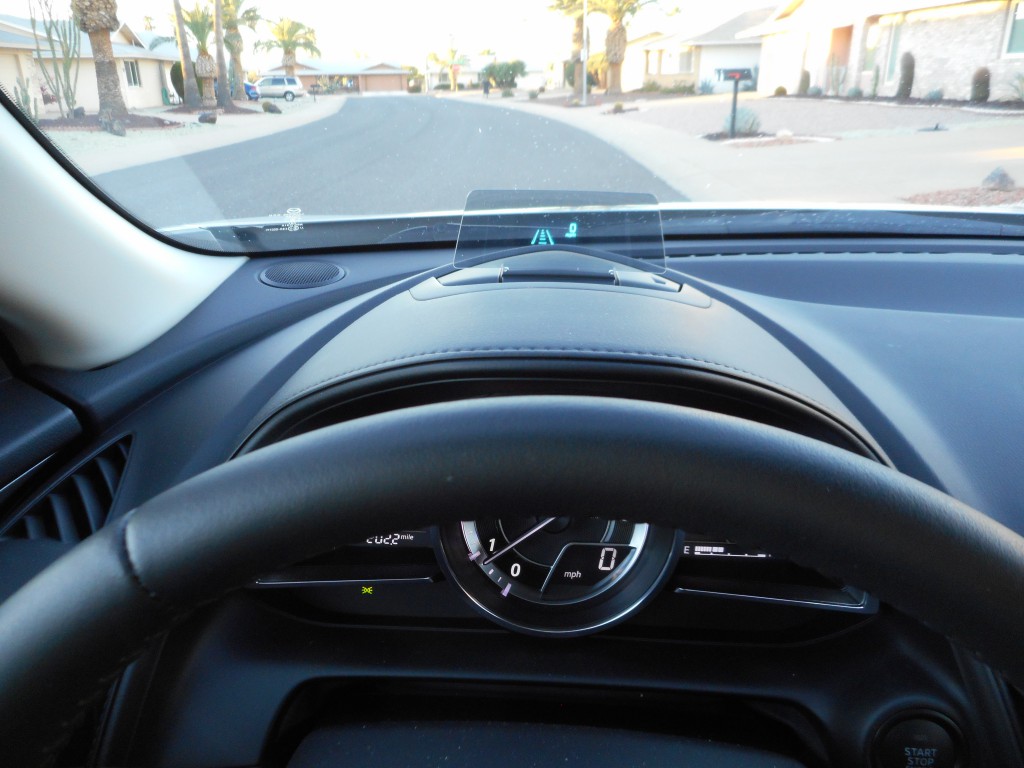 All lane-departure warning systems use cameras — usually mounted at the top of the windshield behind the rearview mirror — to "see" the stripes on each side of the lane, sending out a warning if you cross one without first activating your turn signal. The system won't work, of course, on roads without side stripes (such as some country roads), while longitudinal cracks can set them off unintentionally. It not only seemed the CX-3's system was sending out a bit more than the usual number of false alarms (at first I couldn't figure out what that subtle "humming" noise was), but it often didn't detect when a stripe was crossed even when it seemed it should. (After the first time it happened — or more precisely, didn't happen — I tested it numerous times.) Maybe it was a quirk in this particular vehicle, and it's certainly better than no warning at all, but it seems this system may need a bit more tweaking.
Other than that, however, I came away just as impressed as I was at the preview. And in fact, we have since made the CX-3 a 2016 Best Buy, as it's a must-see for anyone favoring the "sport" side of the subcompact sport-utility segment.