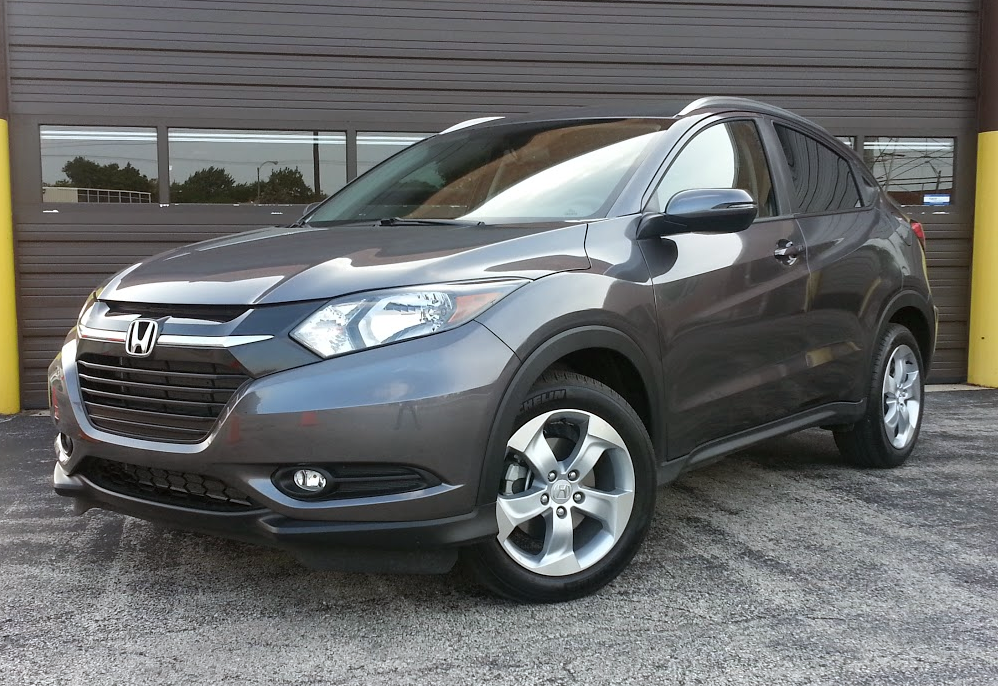 2016 Honda HR-V EX-L with Navigation  

Class: Compact Crossover
Miles Driven: 243
Fuel Used: 9.0 gallons
Driving mix: 75% city, 25% highway
Real-world fuel economy: 27.0 mpg
EPA-estimated fuel economy: 27/32/29 (city, highway, combined)
Base price: $25,840 (not including $880 destination charge)
Options on test car: None

Price as tested: $26,720
Quick Hits
The great: Outstanding cargo volume for the size, efficient packaging, sporty handling

The Good: Decent rear-seat space for adults

The not so good: Limited power for highway merging and passing

More HR-V price and availability information
Damon Bell
Judging by the rate at which the subcompact SUV category is expanding, it's clear that there are scores of new-vehicle shoppers who are looking for sport-utility capabilities in a pint-sized package. The Buick Encore, Mini Countryman, and Nissan Juke were early entries in this segment, and they've been followed by the Chevrolet Trax, Fiat 500X, Jeep Renegade, Mazda CX-3, and our topic here: the Honda HR-V.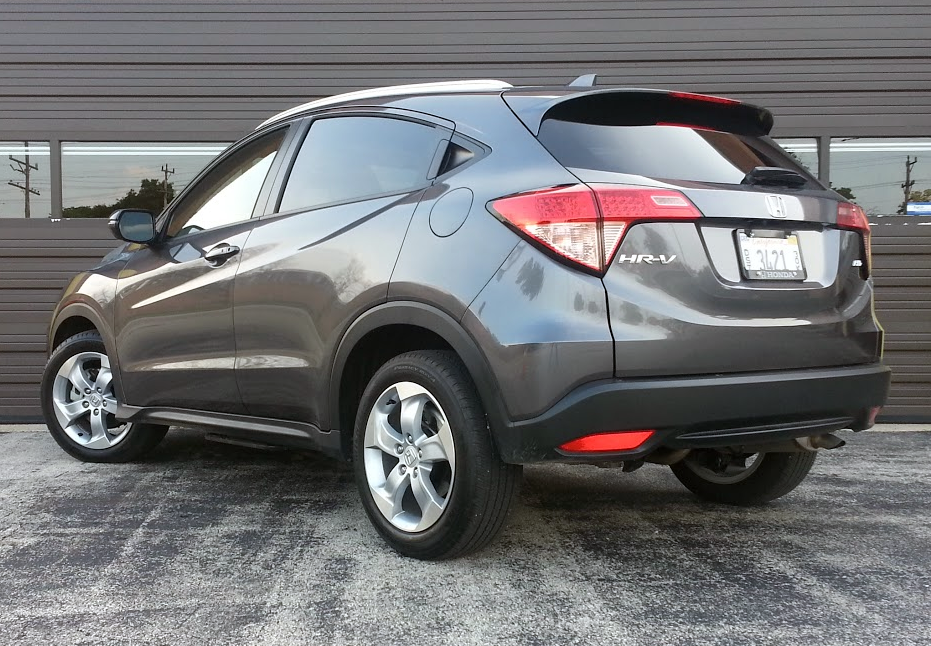 Our HR-V tester was a top-line all-wheel-drive EX-L with Navigation. The sticker price was a somewhat steep $26,720, but that money buys a good number of upscale features, such as leather upholstery, leather-wrapped steering wheel and shift knob, heated front seats, 7-inch Display Audio screen with integrated navigation system (with Voice Recognition and Honda HD Digital Traffic), SiriusXM radio, keyless entry and starting, and an auto-dimming rearview mirror.
Dynamically, the HR-V mostly lives up to the promise of its swoopy styling. The handling is lively and crisp, with little body lean in corners. And the nimble moves come at minimal cost to ride quality—though the HR-V is plenty "active" over rough pavement and sharp bumps, it's quite compliant overall for a subcompact-sized vehicle.
However, the HR-V's sporty-feeling chassis is let down a bit by its powerplant. The 141-horsepower 1.8-liter 4-cylinder is fine in around-town driving, but acceleration is lackluster on the highway. Getting up to freeway speed or executing a passing maneuver requires a heavy dose of the throttle pedal, which raises quite a ruckus from the engine. And since the continuously variable transmission holds the engine at maximum RPM in foot-to-the-floor acceleration, the racket is exacerbated. Road noise can grow quite pronounced in highway driving as well. The upside of the middling power is respectable fuel economy: I averaged 24.2 miles in city driving—a touch under the EPA estimate of 25, but still not bad for an all-wheel-drive vehicle.
Test Drive: 2015 Honda CR-V Touring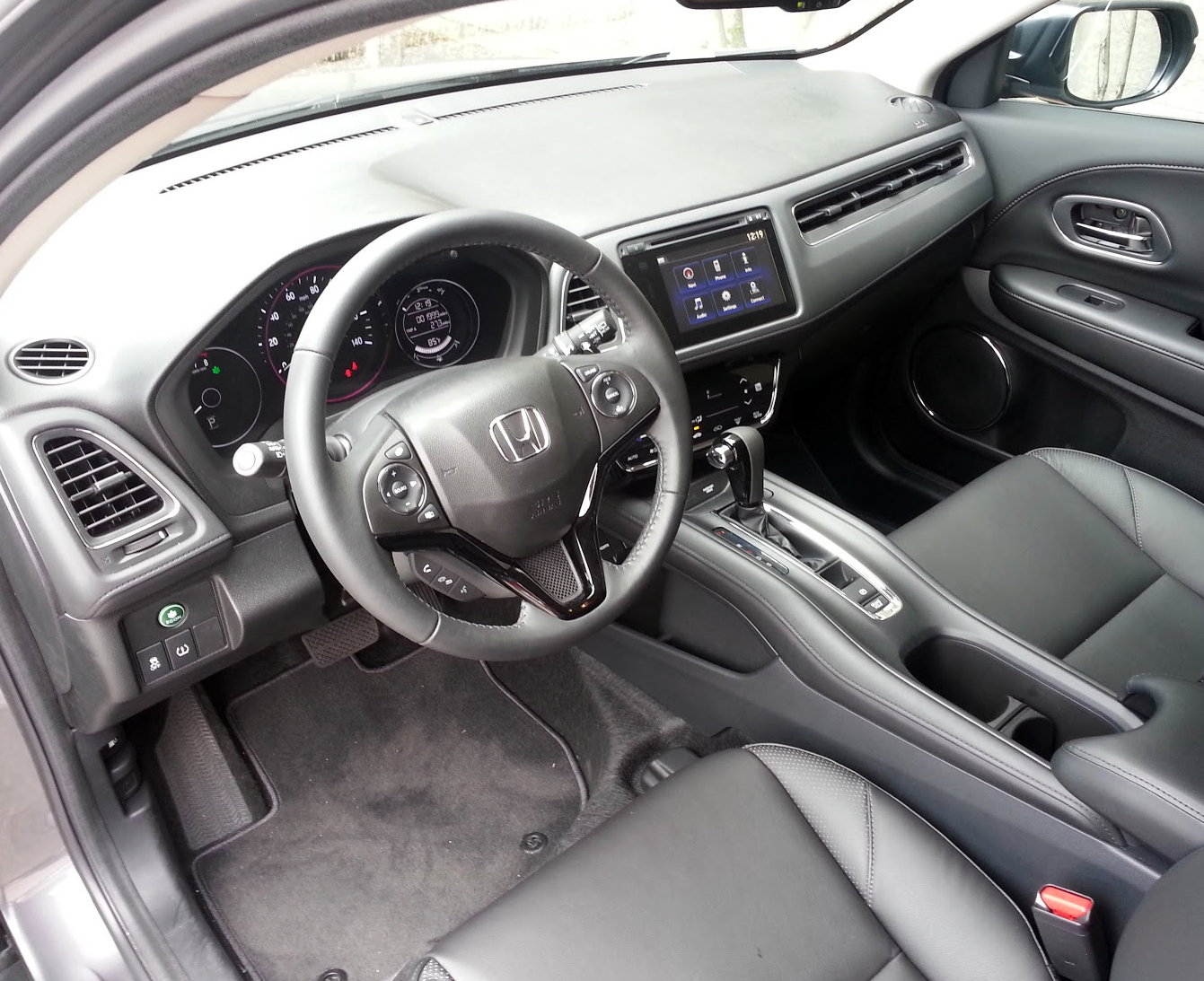 The HR-V's biggest strength is its incredible cargo-space efficiency and versatility. Like the Honda Fit, the subcompact car with which the HR-V shares some basic structural elements, the HR-V can carry a surprising amount of stuff for a vehicle its size.  
The rear cargo area boasts an impressively low load floor, and the second-row seats fold down in a jiff to open up 58.8 cubic feet of cargo volume—that's reaching into compact-SUV territory. Plus, those second-row seatbacks fold perfectly flat, which makes it easy to slide in long, large items without getting them "hung up" on the seam between the seatbacks and the floor. The second-row seat bottoms can also be flipped up, which turns the second-row foot well area into a storage space that's longitudinally narrow but extra tall—handy for hauling things like a big flat-screen TV box, a tall potted plant, a set of golf clubs, or perhaps a small bike.
Small-items storage isn't as outstanding, though. The center-console bin under the thinly padded armrest is rather stingy, and the semi-hidden shelf under the forward console is too small to carry much more than a tiny handbag. One clever touch: The center-console cup holders have flip-up bases that make them more versatile—flip the base up, and the cup holder is deep enough to carry an extra-tall bottle or Big Gulp cup; flip it down for an average-sized cup holder and a bit of hidden storage space (maybe enough for a set of keys) below.
Steve and Johnnie Video Road Test: Mazda CX-5
Interior materials are solid and well assembled, but they come off as a bit bland and monotone, even in top-line EX-L trim. Like all of Honda's latest models, the HR-V uses the central touchscreen for almost all climate and audio functions. I often find these virtual buttons more difficult to use when driving than traditional buttons and knobs, but at least the HR-V's were responsive and worked without any real issues during my test.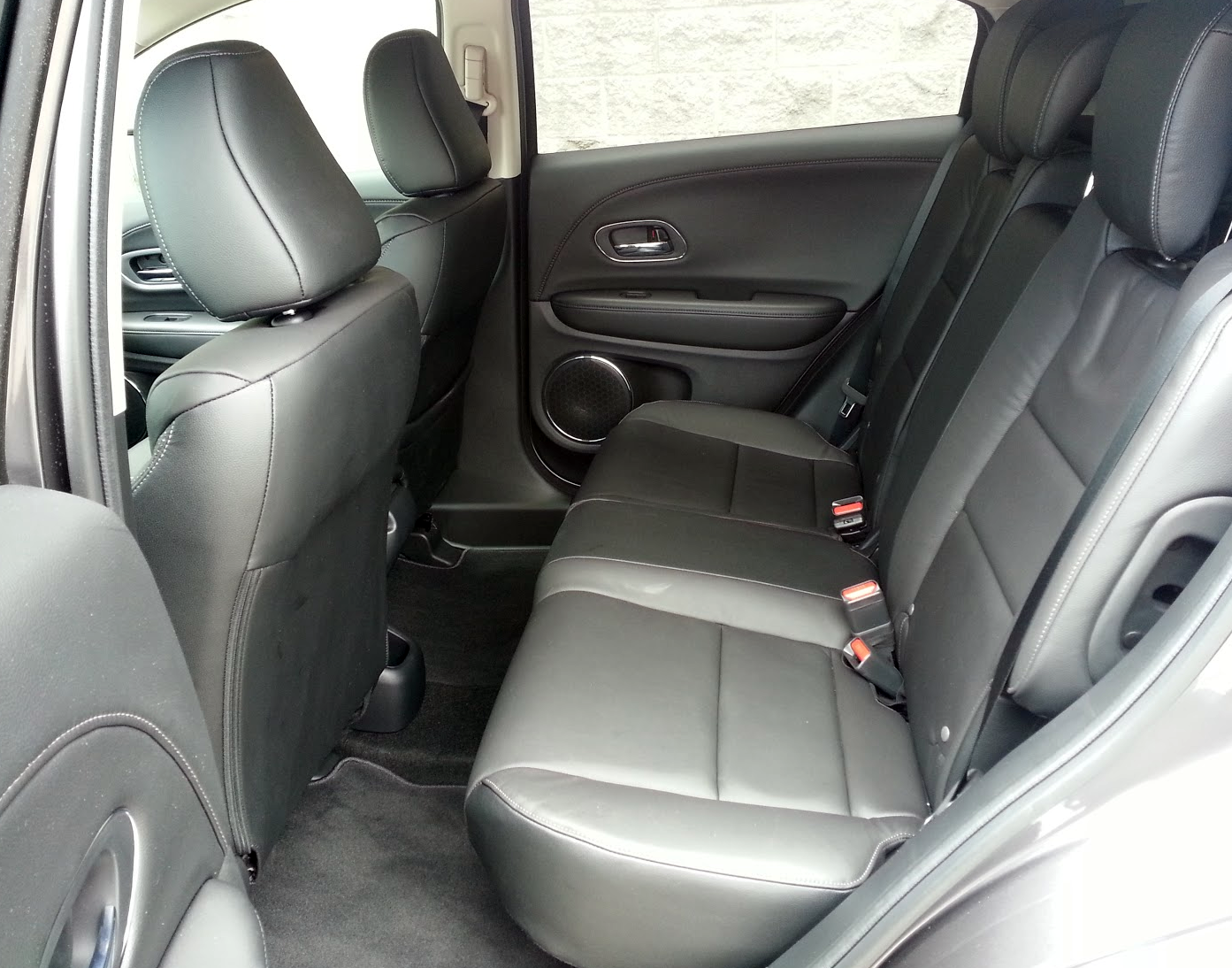 The HR-V's front and rear passenger room is quite good for its class. Accommodations should be fine for most average-sized adults, but large occupants might feel a bit too cozy for comfort in terms of both headroom and legroom. Broad-shouldered folks will be especially conscious of the narrow cabin as well. When the front seats are adjusted all the way back, they unveil a pronounced step—around 3 or 4 inches tall—at the back of the foot well. I frequently bumped this ridge with the heels of my shoes, which was a bit of an annoyance.
Thanks to the upright driving position and generously sized windows, the HR-V's visibility is generally excellent, though the noggins of rear-seat passengers (or just the rear headrests in their raised position) really cut into the view out the rear window. Thankfully, a rearview camera is standard on all HR-Vs. EX and EX-L models also come standard with Honda's LaneWatch camera, a welcome safety feature that displays a view of the right-side blind-spot area on the dashboard screen whenever the right turn signal is on. The camera can be activated manually as well, and the display includes handy guidelines that make it clear how far behind trailing vehicles are (and how quickly they might be closing the gap).
It's easy to see the appeal of the new wave of subcompact SUVs. They're affordable, space-efficient, easy to get in and out of, easy on gas, and all-weather capable when equipped with all-wheel drive. The Honda HR-V checks all those boxes, and a few more. Despite its shortcomings, the HR-V's class-leading cargo room and sprightly driving personality make it worth checking out.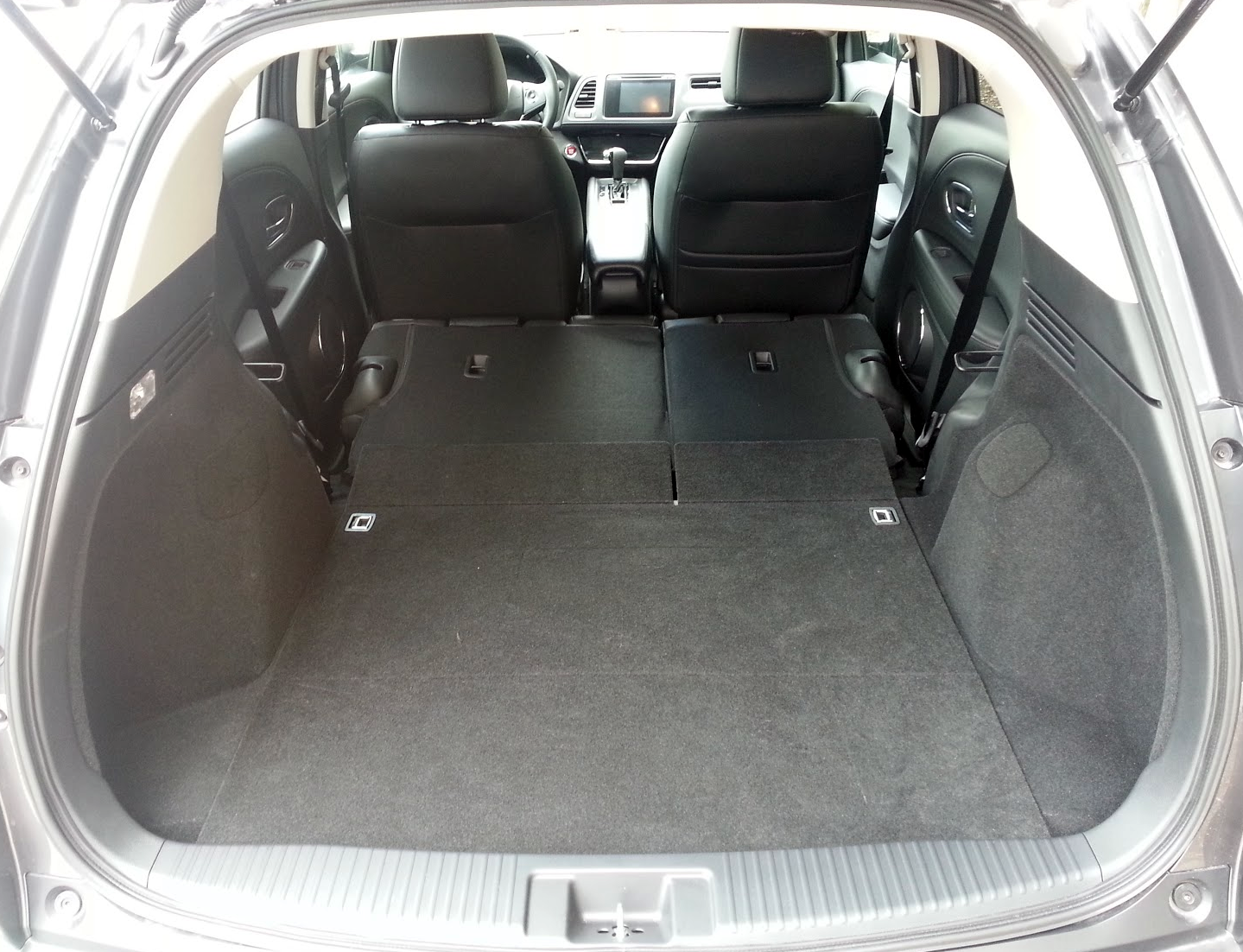 Tom Appel
Of the entire crop of new tiny utes, it is in the HR-V that I find myself the most cramped behind the wheel. However, if you're not over 300 pounds, I wouldn't spend much time worrying about this. Otherwise, I found this new micro Honda a delightful ride, wanting only for a little additional power. Unless you're a seriously overweight hot rodder, I'd suggest adding the HR-V to your test-drive list.
Sport-Utility Yuck: The Ugliest SUVs and Crossovers of the Past 25 Years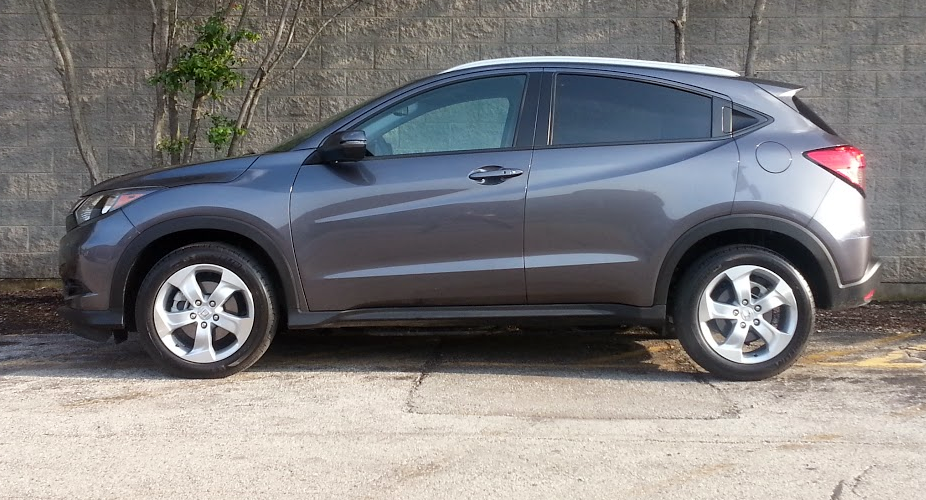 Test Drive: 2018 Honda Fit EX-L