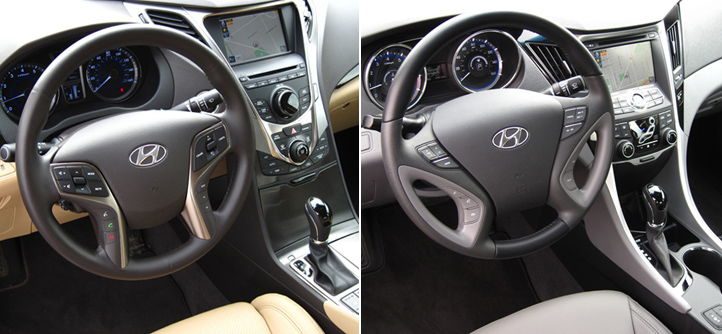 As luck would have it, the Consumer Guide test fleet contains both a 2013 Hyundai Azera and a 2013 Hyundai Sonata Limited this week. The former is Hyundai's entry into the "near luxury" large-car segment; it competes against the Chevrolet Impala, Kia Cadenza, and Toyota Avalon. The latter is the ritziest trim level of Hyundai's mainstream midsize car. We thought it would be enlightening to examine these stablemates side-by-side to see exactly what the Azera delivers over the Sonata.
Our Azera tester is essentially loaded. It's equipped with the $4,000 Technology Package, which includes high-end features such as a panoramic sunroof, Infinity audio system, HID headlights, rear park assist, and power rear sunshade with manual side sunshades. The total sticker price? $37,225.
Our Sonata Limited is technically not the true top-of-the-line model—it has the 198-horsepower 2.4-liter 4-cylinder engine, not the available 274-hp turbocharged 2.0 four. However, it is otherwise loaded. It's equipped with the $2,900 Premium Package, which adds a panoramic sunroof, navigation system with backup camera, and Infinity audio system. Its sticker price checks in at $29,655. (The 2.0 Turbo version adds 18-inch wheels in place of 17s and tacks on another $1,750 to the bottom line.)
After a thorough comparison, we concluded that the Azera offers enough of an upgrade in pretty much every category to justify its $7,570 price premium—and that both cars offer a pretty good value for the money. Our walk-around photos highlight the basic differences, but the "luxury gap" between the two is more apparent in person . . . and also behind the wheel, where the Azera's smooth V6 outshines the Sonata's 4-cylinder.
Cadillac Versus Hyundai: The $70,000 Battle No One Saw Coming
Electric Shavers and Complicated Cupholders: Inside the BMW M5