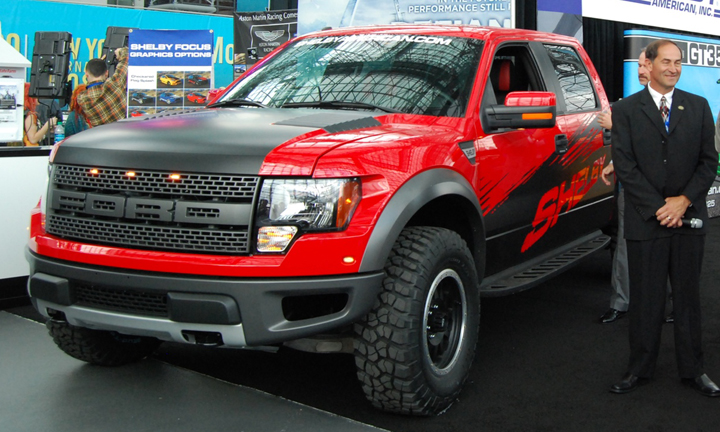 Shelby American, purveyor of specially tuned Ford cars, unveiled a specially tuned truck at the 2013 New York Auto Show.
The Las Vegas-based firm takes a standard 2013 Ford SVT Raptor and gives it a high-performance bent. The stock truck employs a 6.2-liter V8 engine that produces 411 horsepower. Shelby bolts on a supercharger and a free-flowing exhaust system to increase output to 575. Additional tweaks come in the form of a revised suspension and body kit, all designed to maintain the truck's off-road credentials while giving it a leaner street presence.
The 2013 Shelby Raptor is a package offered by the company at a cost of $17,995. That, of course, does not include the price of the donor vehicle. Production will be limited to 100 units annually. Interested parties can place their orders now.
CG Says: We're sure this is a perfectly capable performance truck. Selecting the SVT Raptor as the base was probably an obvious choice. However, the Raptor is designed to be an off-road-ready rig, rather than a vehicle that can burn rubber on a drag strip. You can order the 6.2-liter V8 engine on a standard F-150. Maybe the next step for Shelby will be to make a true high-performance street truck. We can always hope, right?