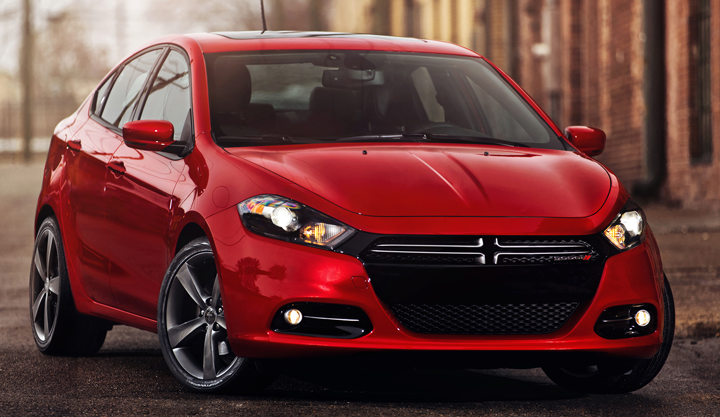 Test car came equipped with: 6-speed PowerTech automatic transmission, Technology Group, Premium Group, UConnect infotainment system, satellite radio, 17-inch polished aluminum wheels. Total MSRP with $795 destination = $24,695.
Should I Buy A Used Car From Enterprise?
Powertrain: 2.0-liter 160-horsepower 4-cylinder engine, 6-speed automatic transmission, front-wheel drive.
Acceleration: Our friends at Car and Driver report 0-60 mph acceleration at 9.2 seconds, but this tester felt closer to 10 seconds. Either way, such "performance" must be near the bottom of the compact-car heap. Midrange passing response is equally mediocre. The automatic only aggravates matters with tardy downshifts—some seem to take at least a second—a result of mpg-oriented programming that also has the transmission racing for top gear even at very light throttle. Thank goodness for the manual-shift facility, which can help compensate for the torque deficit and sluggish downshift response, but family cars shouldn't require stirring an automatic for max go-power.
There are several problems here. First, the 2.0-liter Tigershark four is a bit shy on torque, and that isn't fully available until 4600 rpm—too high for a small-displacement engine pulling automatic transmission in a relatively weighty car. The economy-biased shift strategy is problem number two. The third bugaboo is a soft, spongy, long-travel gas pedal that doesn't seem to do much unless it's pinned to the floor. With all this, the 2.0-liter/automatic Dart strikes me as too-often tedious and frustrating to drive.
Fuel economy: Circumstances prevented putting on as many miles as I usually do, but let the record show that we averaged 22.8 mpg in a fairly even city/freeway mix. That's not stellar, all considered, but it is fairly close to the EPA's 24-mpg city estimate, if way off the averages my Chicago colleagues report.
Ride quality: I noticed some structural tremors over various bumps, not just transverse ones, so structural rigidity obviously isn't all it should be, and that's another disappointment. So is the ride, which I found rather busy and lumpy, especially for a family compact; the suspension traces bumps and dips instead of absorbing them. There's also a bit of unwelcome fore/aft pitch. FYI, this tester came on all-season Continental ContiProContact tires, size 225/45R17-91H.
Should I Buy a Certified Pre-Owned (CPO) Vehicle?
Steering/handling/braking: I think more low-end power would make for a more entertaining drive, which is another way of saying that the Dart is underpowered with this drivetrain. At least it handles in predictable, safe front-drive fashion, though the steering needs better road feel. The tester's brakes were slightly grabby, thus requiring fairly delicate footwork, but stopping power seemed fine in routine driving.
Quietness: The engine isn't exceptionally smooth for a small 4-cylinder and, as the report says, it doesn't sound that nice, especially at high rpm, where it becomes thrashy and strained. So yet another disappointment.
Controls: This Limited had the nav system with 8.4-inch touchscreen and the "virtual" gauge cluster. Both scored points with me for their vivid, highly legible graphics. I'd forgotten that the gauge cluster is configurable on some models, but if the tester had this feature, it was well hidden. I didn't play much with the nav system, but I had no issues about the climate-system ergonomics. The audio interface, though, was anything but intuitive, as some functions aren't labeled clearly, at least by my logic. Worse, the entire infotainment system needs a separate "back" button covering all functions, not just on certain menus. The standard single-disc CD player is secreted in the center console bin, a semi-awkward location that was chosen, I suspect, to facilitate assembly-line installation, not user convenience. Perhaps this is another sign that CDs will soon disappear from cars like tape players have. That same bin also contains the USB port and other media plug-ins, again not very convenient.
Details: Structural shudders notwithstanding, the tester's interior showed good detail fit/finish, and I was pleased to note the abundant soft-touch surfacing on this Limited. Still, even this high-line leather-upholstered treatment didn't seem any nicer than a top-trim Chevy Cruze or Ford Focus interior, and some fairly cheapo plastics lurk in the lower regions of the dash, console and seats. The power-window switches had an indistinct action that made it difficult to adjust the side glass precisely.
Room/comfort (front): Limited's standard rearview camera is probably more useful than the available blind-spot and cross-traffic alerts.
Cargo room:Door pockets are oddly shaped and not very large, so not all that useful.
CP Says. . . This Dart disappointed me for performance, ride, dynamics, refinement, and structural solidity, and that's a lot of significant shortcomings for a brand-new car. I hope Chrysler addresses these deficits post-haste, because the Dart could be so much more satisfying—not to mention more competitive. It's not a bad car as it is, but it's nowhere near as compelling as it needs to be in a very hard-fought class.