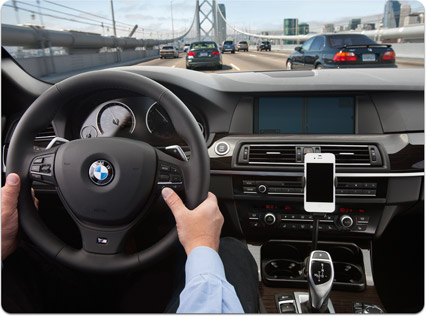 Apple recently announced that its voice-recognition application for iPhone, known as Siri, will be integrated into the cars of at least seven major manufacturers.
5 Cool Things About the Cadillac User Experience (CUE)
Siri lets a user control many of the iPhone's functions simply by speaking the request into the phone in normal, colloquial language. Such functions include making calls, playing music, hearing and writing text messages, finding directions, and various other features, including the ability to ask a question and receive a relevant answer.
So far, BMW, Chrysler, GM, Honda, Jaguar, Land Rover, and Mercedes-Benz have confirmed that they'll incorporate Siri into their infotainment systems, and Audi and Toyota are said to be working with Apple, as well. According to an article in trade publication Automotive News, the 2013 Chevrolet Spark and Sonic will have this feature.
A new Apple iPhone application called Eyes Free makes it possible. Eyes Free will link the iPhone to a compatible car's voice-recognition system. It will use the existing voice button on the car's steering wheel and the car's built-in microphone to access the Siri app. The user won't have to handle the phone while driving, which is considered distracting. Additionally, the iPhone's screen will remain off during the interaction to curb visual distractions. Eyes Free will debut as part of the company's reveal of iOS 6, the new operating system for Apple mobile devices, including iPhone, iPod Touch, and iPad.
I think this is a great integration of smartphone technology. iPhone users already know how to use the Siri software, so they won't have to learn a new set of specific commands to use their car's voice-recognition system. Since it is one of the most popular smartphones, the investment on the part of the automakers may pay dividends. Like Ford's Sync, this feature could be the tipping point that causes a buyer to choose a certain vehicle over one from competitors.
It will be interesting to see if Android and Blackberry, the two major competing smartphone operating systems, will follow suit and chase after automakers with similar technology.