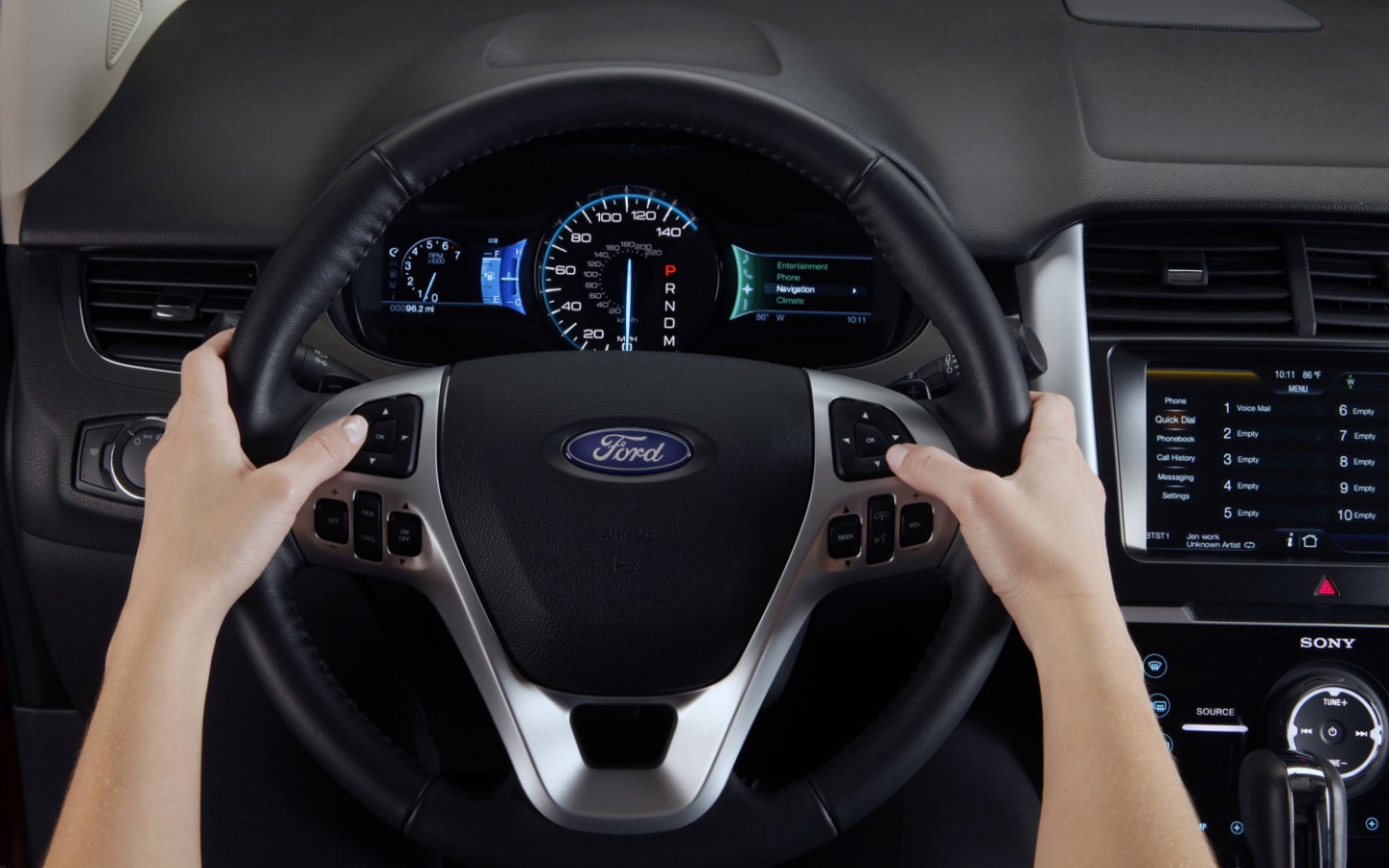 Note: In 2013, Ford is still struggling with glitches and consumer complaints regarding its MyFord Touch interface control system, available in all of its cars and SUVs as well as the Ford F-Series. Presented here is a MyFord Touch-related article from August 2011 that we feel is still relevant today.
On the day that Google used high-tech graphics to honor Lucille Ball's 100th birthday, auto-technology expert Jason Vieau had a lot of esplainin' to do about MyFord Touch.
5 Cool Things About the Cadillac User Experience (CUE)
The controversial interface control system is so sophisticated, and has generated so much consumer frustration, that Ford dealerships have begun to stage technology workshops to explain it all. Arlington Heights (Illinois) Ford held two of them on the morning of Saturday, August 6, 2011.
Seven Ford customers, all in their 50s or older, arrived for the 10:30 tutoring session. Don Lane, a white-haired grandfather originally from Georgia, knew he had a lot to learn about the MyFord Touch system in his new Ford Edge. "It's a bit overwhelming, to be honest with you," he said.
On a humid, overcast morning, Vieau invited Lane into a Ford Explorer that would remain parked in the lot (with the air conditioning on, thank God) throughout the training session. Bruce Smith, a bespectacled 50-something who would take detailed notes with his pen and paper, climbed into the back seat with me.
Vieau, a cheery, rapid-talking North Carolinian, demonstrated and explained the MyFord Touch system as quickly and efficiently as he could. It took him one hour and 18 minutes. Had he possessed the SD card that was needed to operate and demonstrate the navigation system, it would have taken even longer.
A disconnect between the young, tech-savvy Vieau and Grandpa Lane was evident during their discussion of music. Lane bemoaned that he could no longer get an in-dash 6-disc CD changer.
"But let's say I've got two 80-gig MP3 devices," Vieau replied. "That's 160 gigs. I have a 30-gig SD card—that's 190 gigs. And I got another MP3 device—that's 80 gigs again—plugged into my AV input jack. That's 270 gigabytes of available memory for music. If I filled all that up, I could drive to and from the moon without listening to the same song twice."
Lane stared back helplessly. "But I got 300 CDs," he said.
Thankfully, Lane and Smith were amiable gents with lots of patience and a sense of humor—all of which were needed during the 78-minute workshop. Neither man criticized the MyFord Touch system, which put them in a seeming minority.
In J. D. Power and Associates' Initial Quality Study, Ford plummeted from fifth place in 2010 to 23rd place among 23 automakers in 2011. The freefall was blamed on consumer complaints about Ford's technology. That included Sync and the more sophisticated MyFord Touch, which debuted in 2010.
Tech Trouble: Surprising Number Of Drivers Confused By Auto Safety Features
MyFord Touch: How to Use It
MyFord Touch (and MyLincoln Touch) integrates steering-wheel controls, touchscreen inputs, a wireless cell-phone link, voice commands, and wireless Internet connectivity. In addition to the conventional center-stack controls, MyFord Touch-equipped vehicles include a touchscreen that offers a seemingly endless array of options, including those related to voice commands and a navigation system. In addition, buttons on both the left and right sides of the steering wheel allow you to scroll through two other displays located on the driver-side dash.
MyFord Touch is so sophisticated, it has changed how Ford dealerships conduct business. "I used to hire car salespeople," said John Guido Jr., general sales manager for Arlington Heights Ford. "Now I don't hire car salespeople. I hire people who are good with technology and teach them how to sell cars."
In addition to his techy sales staff, Guido has brought in consultants to stage Saturday-morning workshops. While conducting the 10:30 demonstration, Vieau was extremely sharp and offered truly helpful advice—particularly when it came to voice commands.
Many newbies don't know what words to use as voice commands. "But the one voice command I'm going to tell you guys," Vieau said, "the only command y'all will ever need to know, is this one: 'What can I say?'"
With those four magic words, a list of basic-category words will pop up on your touchscreen. You can say one of those basic words, such as "Climate," to take you to something more specific, such as setting the temperature of your vehicle.
"So what's the biggest voice command you should know—the most important one?" Vieau reiterated.
"What can I say?" Smith said.
"That's right."
Vieau also taught us to think in colors. All the phone controls, be it on the driver-side dash or on the touchscreen, were in yellow. Radio/entertainment controls were in red, climate controls in blue, and navigation controls in green.
Vieau insisted that MyFord Touch-equipped vehicles are actually easier to use than those of a few years back—just like an iPhone is easier to navigate than a cheap cell phone. "It's more intuitive," he said. "In the past, you had all these buttons sitting there and you were like, 'What do I do next? How do I access that information? How do I get here?' You had to bring out the manual to get to it. Now, you can almost get to it just by fiddling with it."
Vieau gave an example: "To sync a phone to our more-conventional vehicles, you've got to take out your manual. To sync a phone to this, I turn my car on and it says, 'Add phone.' It couldn't be any easier."
Information Overload
While it may be true that MyFord Touch makes some functions easier, the system still seems to suffer from information overload. To wit:
When asked how many ways there were to get to your favorite radio station, Vieau counted them out: "One, two, three . . . four," he said.
While demonstrating a way to switch incoming calls from the vehicle's speakers to a private conversation, Vieau reached for a button (one of several) on the steering wheel and tapped the top part of the button—twice. How were we supposed to know that?
Both Lane and Smith complained that the hazard-light touch button shouldn't be beneath the touchscreen. Each said that when they had pressed touchscreen buttons with their fingers, they tended to accidentally touch the hazard-light button with the bottom of their palms, setting off the lights accidentally.
Some of the MyFord Touch options fell into the "who cares?" category, such as "Adjust Ambient Lighting" and "Edit Wallpaper."
The system can contain so much of your personal information that Ford added "Valet Mode," which allows you to type in a four-digit number to prevent the valet (or a family member you don't trust) from stealing your information. (As Lane advised, "Don't have any mistresses' phone numbers in your phonebook!") Laughs aside, one wonders if customers—with all the cell phones and online accounts they have to be responsible for—want to add their car's computer to the list.
Despite the preponderance of complaints, Ford is trying hard to make the systems work. According to Ford spokesperson Alan Hall, the company has been updating the MyFord Touch software with each new vehicle launch, including Ford Edge and Lincoln MKX in August 2010, Explorer in November 2010, and Ford Focus in March 2011.
"The July [2011] software release was the latest update," Hall said, "and it improved the system performance in several areas that some customers are experiencing. Some customers were seeing the clock not keeping the time between ignition cycles. And, we continue to reduce the chances of [unwanted] system reboots due to improved device compatibility."
The dealers' workshops should also help reduce complaints. The hard part for the dealers is getting their customers to find time in their busy lives to show up. At Arlington Heights Ford, Guido sends an email to each new customer inviting him or her to the next technology seminar. "And if they don't show up at that one," he said, "they keep getting emails saying, 'Hey, more workshops coming up.'"
As their tutorial wound down, Lane and Bruce said that their session with Vieau had been time well spent. Smith in particular had experienced a number of "ahhh" moments, and he jotted down notes each time. "I think this has been very good—very informative," he said at the end of the workshop.
And with that, we climbed out of the Explorer and stretched our limbs. The 10:30 workshop was over, and it was time for lunch.
Performance Madness! Engine Technology in Classic Ads