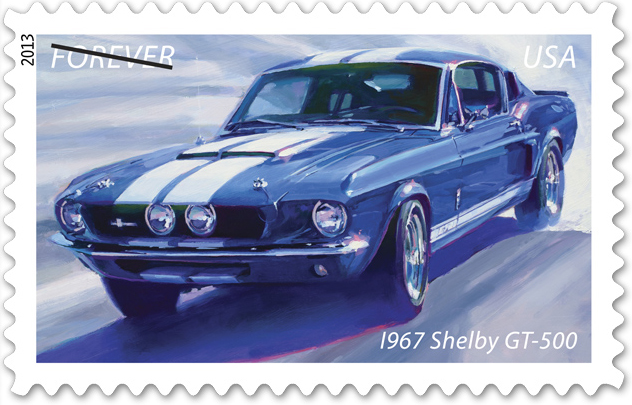 We don't know if they'll actually speed up delivery of your mail, but the latest offerings in the U.S. Postal Service's "America on the Move" commemorative-stamp series sure look like they could.
The postal service has released a run of five stamps that depict tire-smoking muscle cars and ponycars from the period of 1966 to 1970. These icons of the days of classic muscle include a 1966 Pontiac GTO hardtop, a Ford Mustang-based 1967 Shelby GT500, a 1969 Dodge Charger Daytona, a 1970 Chevrolet Chevelle SS convertible, and a 1970 Plymouth Hemi 'Cuda hardtop.
Featuring the work of Newbury Park, California, artist Tom Fritz, the muscle car stamps make up the third automotive-themed run in the "America on the Move" series. The previous two issues showed various cars of the 1950s drawn by Art Fitzpatrick, famed illustrator of award-winning Pontiac magazine advertisements in the '60s.
The stamps are being issued as Forever stamps, which are individually equal in value to the current First-Class Mail one-ounce postage rate whenever used. The self-adhesive stamps come 20 to a sheet and include four copies of each of the five designs. The back of the sheet includes brief, accurate capsule descriptions of the vehicles depicted on the stamps.
The muscle car series was introduced on February 22 at the Daytona International Speedway in Daytona Beach, Florida, and "first day of issue" postmarks from Daytona Beach are available for 60 days after the introduction. The muscle car stamps are available for purchase at local post offices, online at usps.com/shop, or by telephone at (800) STAMP-24 (782-6724).
Why This 50-Year-Old German Radio is the Ultimate Automotive Accessory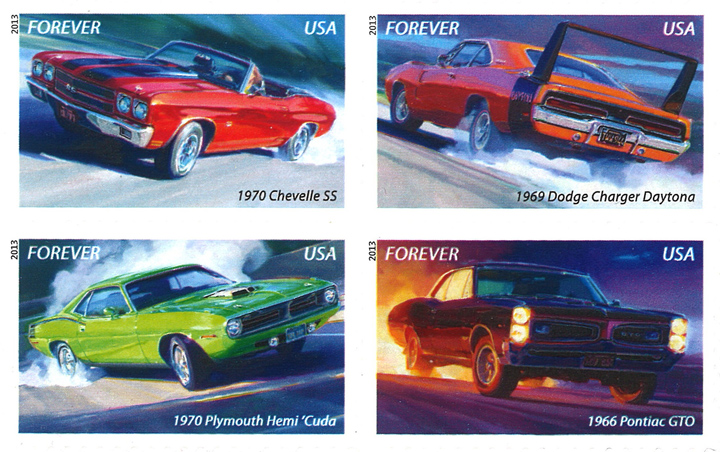 Future Collectibles: 3 Vehicles I Boldly Predict Will Soon Appreciate in Value