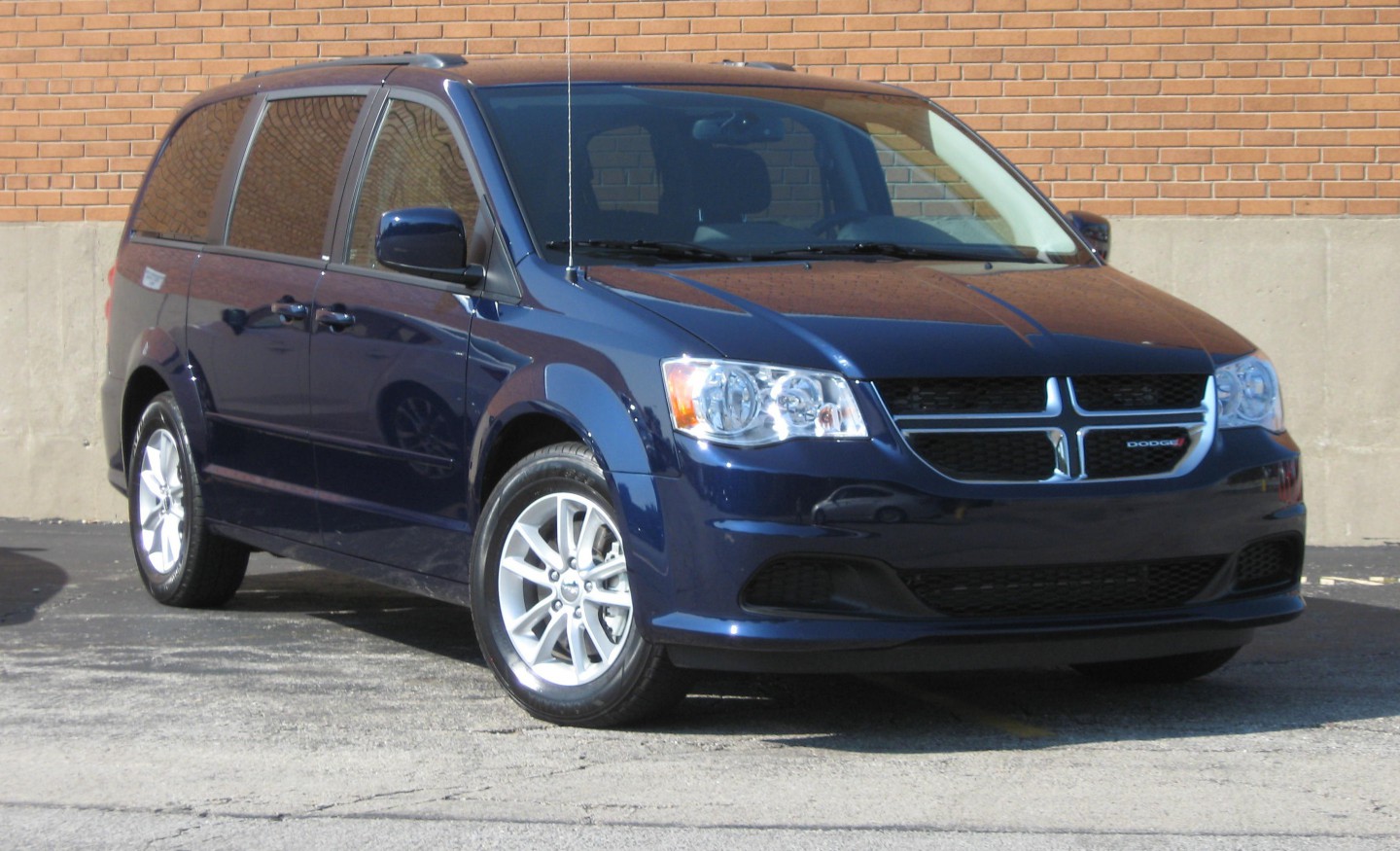 2013 Dodge Grand Caravan SXT

Dates tested: 8/29/2013-9/12/2013
Miles driven: 200
Real-world fuel economy: 18.9 mpg
Driving mix: 65 percent city, 35 percent highway
Base price: $26,695 (not including $995 destination fee)
Optional Equipment: Customer Preferred Package ($515), Security Group ($395), Dual-DVD Entertainment ($2490), Power Driver Seat ($295), Navigation System ($1490)
Price as Tested: $32,875
Quick Hits
The great: Strong, responsive drivetrain, luxury-level ride quality
The good: Quiet cabin, lots of space, decent fuel economy
The not so good: Limited headroom–especially with available sunroof
John Biel
How long has it been since the family car stopped being a car per se? Probably about as long as Chrysler has been making minivans—which is almost exactly 30 years now. (Assemblies started on November 2,1983, in case you're keeping score.) After all this time, the Chrysler Town & Country and Dodge Caravan are still the homey, substantial "comfort food" on the family car table.
The 2013 Grand Caravan SXT that we tested recently was familiar, comfortable, and functional. But it wasn't plain. Stickering at $32,875 delivered, it was plumped up with $5185 in extras that included the Uconnect Hands-Free Group with Bluetooth connectivity and satellite radio, remote start, a power liftgate and sliding side doors, a DVD/Blu-Ray entertainment system with roof-mounted screens for second- and third-row passengers, a back-up camera, power 8-way driver's seat, navigation system, and more.
Still, it didn't put on airs. Textured black cloth seats were nice (front and middle seats had built-in pull-down arm rests), but unpretentious. One of the option groups added a leather-wrapped steering wheel and shifter knob, and light-gray side panels and headliner played off the black dash and seats for some tonal variety, but surfaces are mostly sturdy plastic. The extra-cost power sliding doors and liftgate added some welcome convenience, but they granted access to an easy-flowing "floor plan" for the movement of passengers and their stuff throughout the vehicle.
Even with the third-row seats up, rear cargo space is pretty generous, augmented by a well in the floor. But by pulling on a series of four numbered straps, the split-folding third seat quickly retracts into the well to create an utterly flat load bed that's ample even with the middle-row captain's-chair seats still in place. Front- and middle-row passengers enjoy great head and leg room while sitting on supportive seats with a commanding view of the road. The cushion on the lower-set third-row seat is angled up somewhat sharply and leg room is not nearly as spacious. Storage for passenger incidentals includes cup holders and small covered bins in the console between the front seats, floor-level net pockets in both sides of the instrument-panel center stack, and door map pockets. A cup holder for each of the middle-row passengers is molded into the sliding doors (but very low, however), and third-row occupants can avail themselves of cup holders and open bins pressed into the side panels.
Controls are, for the most part, accessible and legible. Climate controls use a mix of dials (for temperature and fan speed) and buttons (for direction of air flow). In the test vehicle, audio functions were displayed and operated through a 6.5-inch touchscreen that was included in one of the DVD/Blu-Ray option package. It is easy to program and use.
From a performance standpoint, the Grand Caravan's 3.6-liter V6 delivers solid standing-start grunt for prompt launches that, at times, were actually on the verge of chirping the front drive wheels. In a city-biased stint (71 percent of the 117.6 miles driven), this driver averaged an unremarkable 17.88 mpg.
Except when under brisk acceleration, the engine operates quietly. There's some sense of hollow drumming in the big, open body shell, but road and wind noise are generally well managed. Steering is light with just enough feedback to remind you that you're driving, and braking action is predictable and easy to modulate. Our tester came with optional power-adjustable pedals that should make it possible for just about any driver to find a confidence-inducing relationship to the brake pedal. Fitted with 17-inch wheels, the tested Grand Caravan's ride was fairly smooth and well-composed.
Tom Appel
I had to laugh when first entering our test van. After years of building minivans with cheap-looking cabins, Chrysler now seems incapable of building a van with a down-market interior. Our decently equipped mid-level SXT should represent the minivan "sweet spot" when it comes to sales, and should sport a pleasant but not especially luxurious passenger area. Alas, despite its cloth seats, our SXT's wood-look trim and bright-bit highlighted dash area come across as decidedly top-of-the-line.
That's okay, though, as the drivetrain follows suit. Chrysler's "Pentastar" V6 is especially silken, and plays well with the standard smooth-shifting six-speed automatic. There's plenty of power for merging and passing, and fuel economy is decent, too. We saw 19 mpg in mostly city driving, about 4 mpg more than most minivans could muster just a few years ago. Other Grand Caravans we've tested have averaged over 21 mpg in more-balanced driving.
Our tester feels like a strong value at its as-tested price of about $33,000, and would look like an awesome deal without the $2500 DVD entertainment system–which I realize some families regard as a godsend.
The truth is, the minivan market has shrunk in recent years, and with it the number of vans available. What's left is a few excellent products, all of which deserve shopper test-drive attention. And for refinement, fuel economy, and features for the money, the Grand Caravan and sister van Chrysler Town & Country need to be on the short list.