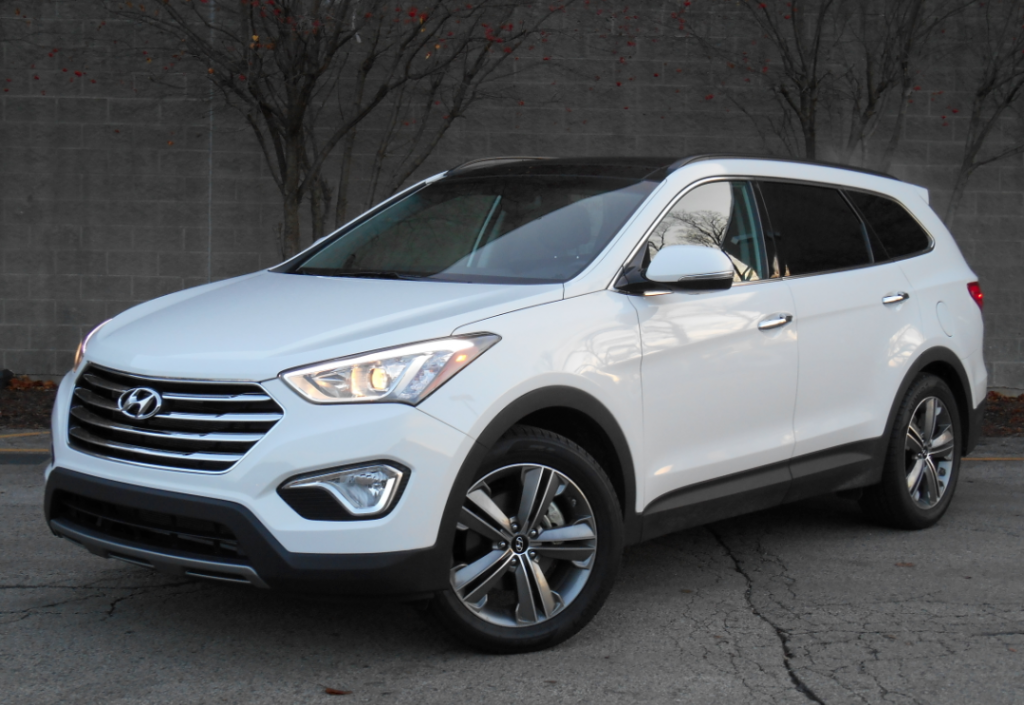 2013 Hyundai Santa Fe Limited FWD
Dates tested: 11/22/2013-12/02/2013
Miles Driven: 275
Fuel Used: 13.8 gallons
Real-world fuel economy: 19.9 mpg
Driving mix: 15% city, 85% highway
Base price: $33,100 (not including $845 destination charge)
Options on test car: Technology Package ($2900), Carpeted floor mats ($135)
Price as tested: $36,980
Quick Hits
The great: Plenty of first and second-row people space
The good: Good power, decent fuel economy
The not so good: Fast-start torque steer
Rick Cotta
Although the names "station wagon" and "minivan" each carry their own negative connotations in today's automotive lexicon, "midsize SUV" suffers no such stigma. Seeing as the last is essentially a combination of the very functional other two, that's not only odd, but perhaps a good explanation for why midsize SUVs have proven so popular.
The midsize SUV class can be broken down into two groups: those with two rows of seats for 5-passenger capacity, and those with three rows of seats for 6- to 8-passenger capacity. Like many other manufacturers, Hyundai has chosen to go after both audiences.
In the redesign that appeared last year, Hyundai brought out the 3-row Santa Fe as well as the shorter, 2-row Santa Fe Sport. The larger Santa Fe has a 290-horsepower 3.3-liter V6, while the smaller Santa Fe Sport comes with a choice of two four-cylinder engines: a 190-hp 2.4-liter, or a turbocharged 264-hp 2.0-liter. Both come in front- and all-wheel-drive versions.
What we tested was the larger Santa Fe in top-line Limited trim with front-wheel drive.
In what has become a fairly large (and heavy) vehicle, the 3.3-liter V6 proved entirely adequate. It provides a decent jump from a stop, though with some torque steer under full throttle (it would probably be a bit quicker and more composed with all-wheel drive, as the front tires on our tester would spin a bit) and good passing power. Hitting the gas while underway kicks the 6-speed automatic down to a lower gear quite quickly at highway speeds, but it seems to lag a bit at around-town speeds. In a 275-mile test comprised of about 80-percent highway driving, the Santa Fe averaged almost exactly 20 mpg. That seems reasonable for a two-ton, three-row, V6-powered SUV, even if it's not quite up to the vehicle's 18 city/25 highway EPA rating.
In other dynamic measures, the Santa Fe also fares well. The ride is quite composed (something that has often challenged Hyundai in the past), handling is reasonably adroit, and steering is light but with enough road feel to keep it from seeming numb. Note, however, that sheer size prevents the Santa Fe from slotting easily into parking spots. Bumps are absorbed quietly, there's only moderate wind and road noise at highway speeds, and the engine never makes much more than a muted whine under acceleration.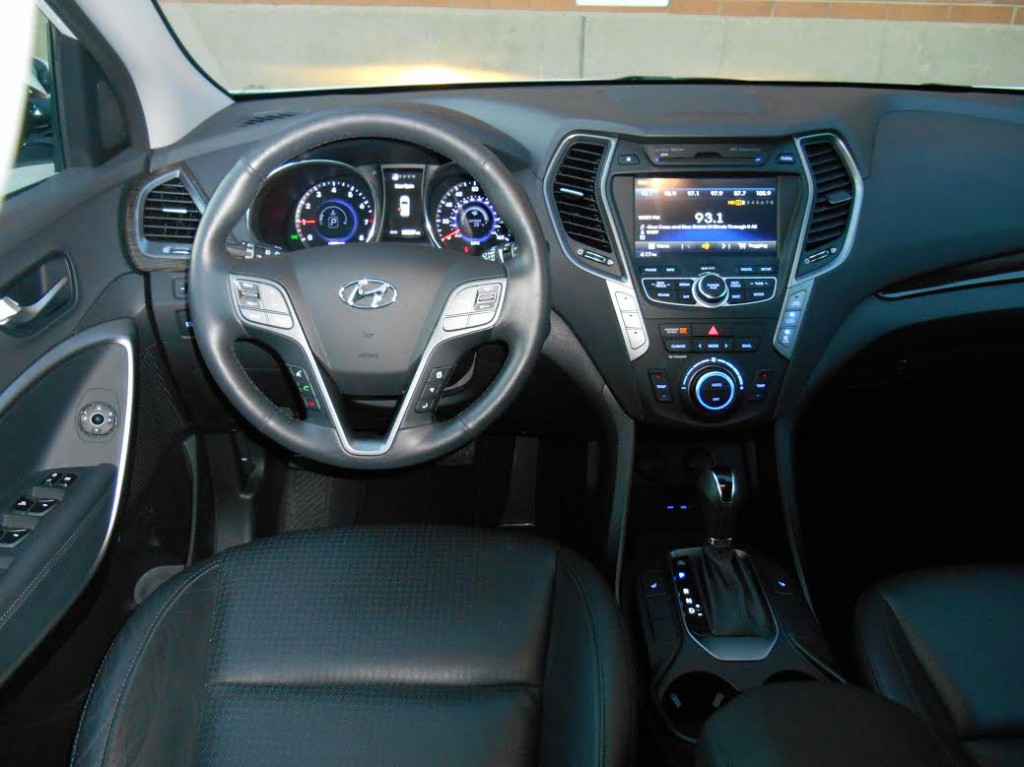 The inside is mostly impressive, with the (now) usual caveats. Our tester's dark interior was highlighted with several swaths of bright trim and a couple of woodgrain panels, and the dash top, door tops, and armrests boasted thin padding.
Although the Limited model doesn't come standard with a navigation system, our tester had one as part of its optional $2900 Technology Package, which also includes a panoramic sunroof, upgraded audio system, heated steering wheel, and rear side-window sun shades. As with most navigation systems, this one absorbed many audio controls, turning them into touch-screen virtual buttons. It also complicates their use by demanding multiple steps to perform some simple functions. Ditto for the climate system, which uses tedious repetitive-step pushbuttons for all functions except temperature, which is controlled by a nice rotary knob. On the positive side, all controls were mounted high, within easy reach.
There's plenty of headroom and legroom in front, as there are in the 2nd-row bucket seats fitted to our tester. The 2nd-row seats slide fore and aft a few inches to allow more cargo space behind or more legroom for the 2-passenger 3rd row, in which there's enough space for an average-size adult. Ingress/egress is easy except to the 3rd row, which takes some contortions to access. At least in the Limited, 3rd-row occupants get their own temperature controls. Driver's visibility is quite good to the front corners and sides thanks to thin roof pillars, and what the rear pillars block in back is covered by a 180-degree (wide-angle) rearview camera.
Both interior and cargo-area storage are also fairly impressive. The cabin features a small glovebox, large 2-tiered console box, two console cupholders, a small console bin, a large forward-console bin with 12-volt/USB/audio jacks, and door map pockets. In back, there's a good-size cargo area along with some under-floor storage, and both the 2nd– and 3rd-row seat backs fold to create a flat load floor.
With the aforementioned Technology Package, floormats, and destination, our test vehicle listed for $36,980. Opting for the all-wheel-drive version would add another $1750. That may seem like a bunch for a midsize SUV, but this is a good one that includes not only a lot of equipment, but also Hyundai's industry-leading 5-year/60,000-mile bumper-to-bumper warranty and 10/100 powertrain warranty. All of which is enough to make it a worthy addition to your shopping list.
We drive the Hyundai Sonata Limited
Flat Out Funk: The Hyundai Veloster Turbo's Matte Gray Paint Option