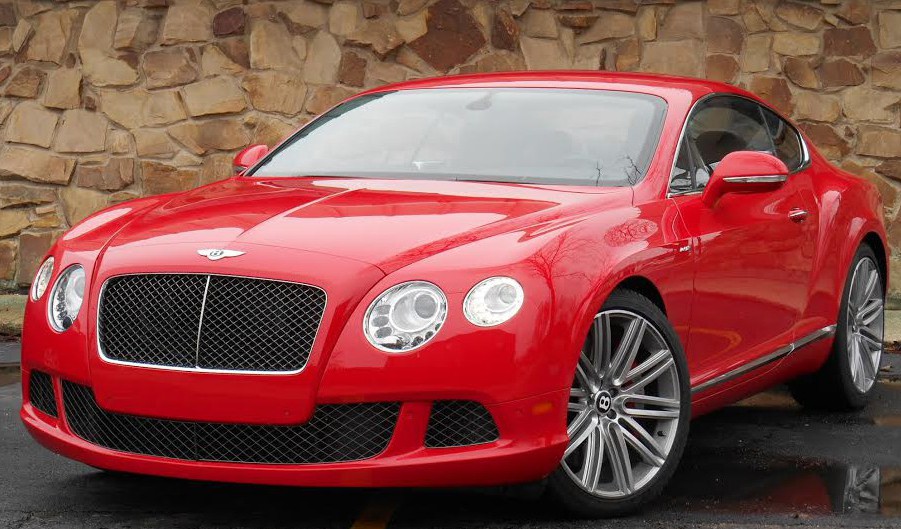 2014 Bentley Continental GT Speed
Dates tested: 4/01/2014-4/04/2014
Miles Driven: 144
Fuel Used: 8.5 gallons
Real-world fuel economy: 16.9 mpg
Driving mix: 60% city, 40% highway
Base price: $217,000 (not including $2725 destination charge)
Options on test car: Contrasting cabin-leather stitching ($1905), Carbon-fiber dash panels ($1635), Red brake calipers ($1495), Rearview camera ($1215), Leather gearchange paddle covers ($710), Heated, leather-wrapped steering wheel ($480), Valet key ($275), Contrasting stitching on steering wheel ($200), Gas Guzzler Tax ($1700)
Price as tested: $229,340
Quick Hits
The great: Awesome power, beautiful cabin
The good: Sports-car-like handing, impressive ride quality
The not so good: Mediocre fuel economy, limited rear-seat space
John Biel

Of all the majestic things the Bentley Continental GT Speed offers to impress the motorist of abundant means, this may be its most indulgent luxury of all: It permits the driver to drive; he or she doesn't serve as a systems-operating technician.
We are telling no secrets to say the Bentley coupe is a lavishly expensive automobile. The St. James Red one that Consumer Guide® editors sampled for a few days topped off at $229,340, that with "Gas Guzzler" tariff, a hefty destination charge, and $7915 in mostly cosmetic options folded in. What all that money doesn't buy is a built-in tip/tap/twist/toggle joystick-activated video game that requires mastery of successive levels until, having advanced to the stage of Elect Dragonherder, you "win" by finally being able to adjust the speed of the fan that's blowing warm air on your ankles.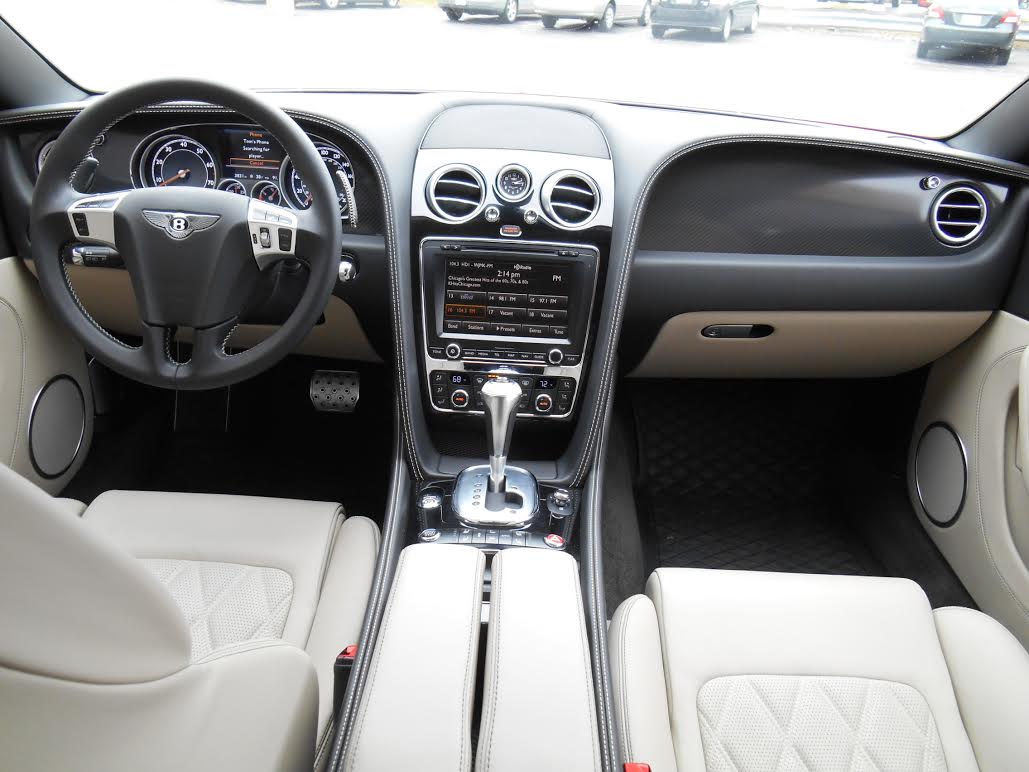 There's none of that. (Don't forget that Bentley's parent is German—the temptation must have been enormous.) To be sure, there is enough technology aboard to be helpful and convenient for the modern user. Eight-speaker audio with satellite radio and traffic service? Check. Navigation system? Check. Electronic media access and storage? Check. Voice-activated Bluetooth telephone control? Check. Multizone automatic climate control? Check. It's not overly complicated, though. Audio and climate selections register on the 8-inch high-resolution touchscreen, but using them is very intuitive and straightforward.
Check out all of our luxury-vehicle coverage here
Not having to fiddle with numerous click-throughs and menus allows the driver to appreciate the awe-inspiring power and carefully crafted appointments of the Continental GT Speed. Power comes from a 616-horsepower 6.0-liter twin-turbocharged W12 driving all 4 wheels with the aid of an 8-speed ZF automatic transmission. Bentley reports 4 seconds for a 0-60-mph run. All this driver knows is that when he tapped the drilled aluminum accelerator pedal to jump into a stretch of open space on the expressway during the evening commute, he got pushed back in the seat instantly. Out poured a basso exhaust note that was profound, not street-racer brash.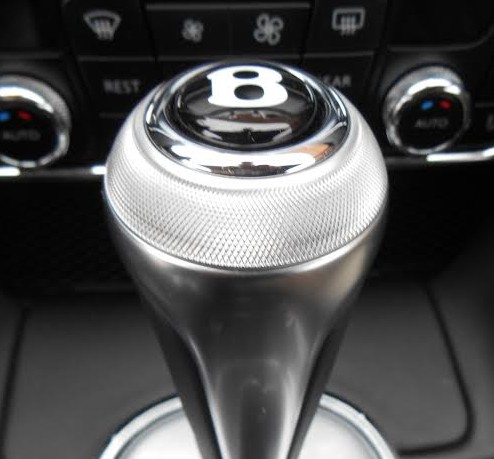 Configurable shock damping has "comfort," "sport," and two intermediate stops. There's a clear difference in ride feel between the extremes, but while comfort is hardly sloppy and sport is nowhere near punishing, either of the two middle settings seems like the ideal for most day-in, day-out driving.
Inside, smooth, supple leather is found on seats and other touch surfaces. Big round "bulls eye" air vents activated by smoothly retracting "organ stop" pulls lend eye-catching brightness about the cabin. The aforementioned exhaust note under acceleration comes through clearly because the interior is otherwise whisper-quiet, thanks in part to noise-stanching glass in side and rear windows.
What's not to like? Seats should have been lounge-chair comfy, but this driver found he was lacking left-side support. The nominal rear seats are fine for computer bags and CG log books, but not really for people. The fastback styling looks fantastic, but the sloped roof impedes over-the-shoulder visibility and causes the view through the rear window to appear to be just inches high.
After 144.4 miles of mixed driving from three of our editors, the Continental Speed GT averaged 16.9 mpg, a figure that would put some nonturbocharged V8 luxury SUVs to shame.
Not that the Bentley owner is going to worry about that so much. He or she likely will be enjoying the drive too much.
Rick Cotta
Seeing as John covered the Continental GT Speed's many qualities quite completely and most eloquently, I can serve only to underline a few that really stood out.
Considering that the mere act of parking the $230,000 Continental GT Speed in my garage more than doubled the value of my property, it didn't take many miles before I loosened my death grip on the steering wheel. As you might imagine, piloting a car of this cost and performance can be a sobering and somewhat scary experience, but particularly for an exotic, the GT Speed seemed to be saying, "Oh, just relax. Enjoy yourself."
And I did.
Whatever effort was put into tweaking the suspension and tuning the exhaust was certainly time well spent. Too many cars of this performance caliber ride like a buckboard on our city's pockmarked streets, but the Bentley was surprisingly supple. It was drizzling the evening I had the car, and the GT Speed seemed remarkably sure-footed during some spirited cornering maneuvers and sharp prods of the throttle (we do have to test it, after all), leaving me with a strong sense of security.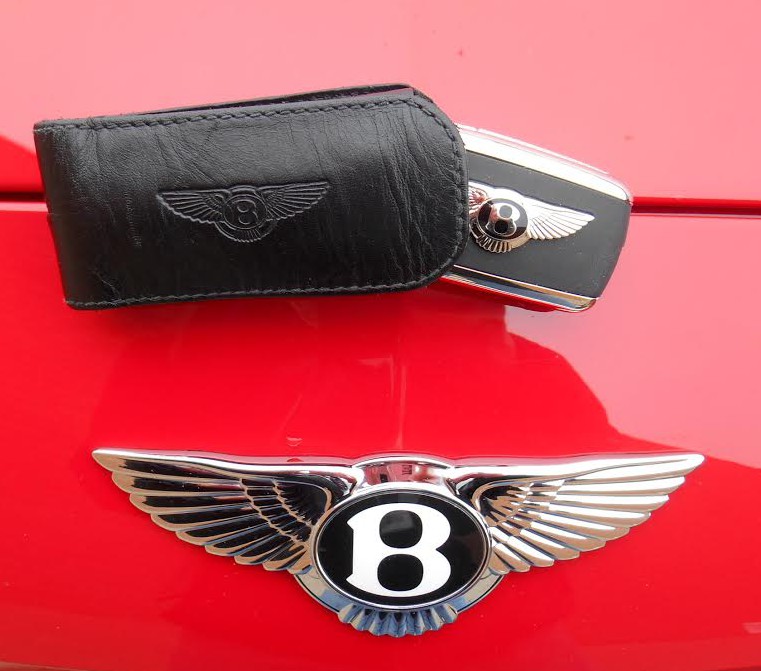 One other thing John pointed out also impressed me, which was the relative ease of use of the controls. However, I only listened to the radio momentarily, because I had other music dancing in my head: namely, the exhaust note. Quiet as the rest of this car is, there's always a hint of rumble in the air, which rises to a mighty roar if you press on the "volume" peddle. Not only does it sound terrific, but that background burble seems to be a constant reminder that there are 616 eager horses at your beck and call should you ever feel the need to spur them. Or if you just feel like wrenching your neck.
While the general wares of autodom have really picked up their materials game of late, few can come close to the interior trappings of a Bentley. The dashboard is beautifully detailed, but the real pièce de résistance is the gearshift lever. Kind of a clunky afterthought in some cars, this one is a smooth-gliding piece of jeweled art that serves as a rewardingly tactile rest for your right palm – enough so as to make your left one jealous, though it takes considerable consolation in the fact it's caressing some supremely supple steering-wheel leather.
So the bottom line is that the Bentley Continental GT Speed is rewarding in ways most other cars aren't. Even those that can equally inflate your property value.
Tom Appel
If any car is worth North of $200,000, it's this one. Let me quickly qualify that statement thusly: If you appreciate what a Bentley Continental GT Speed offers, then you will likely also appreciate the value.
Sure, no one needs a car this powerful, or this refined. And sure, my first mortgage came to less than half of this car's sticker price. All that said, I am damn glad this car exists.
My first exposure to cars over $200,000 was distinctly disappointing. The car in question was beautiful, but it felt dated, wasn't really that powerful considering the engine displacement, and actually suffered from a few squeaks and rattles. It also listed for $50,000 more than this Bentley.
2014 BMW 7-Series goes diesel. Read about it here
I'm sure Bentley marketing types would rather I not describe one of their cars as "low end," but Continentals—coupes or sedans–are the value play in the exotic-car arena. With prices that start right where BMW and Mercedes-Benz products top out, these cars play in a unique niche, and sell surprisingly well as a result.
Regarding our test car, a simple thought: Bentley a struck a deal with Satan. I can think of no other explanation for how this vehicle blends savage power with fine-china refinement.
Power arrives immediately after a stab of the throttle, but that thrust is pure silk. No lurch, no harshness, nothing untoward whatsoever. Yet, the engine isn't silent, as tasked the W12 engine growls politely, enough to let you–and your thrilled passengers—know it's on the job, but not so much that any conversation would be interrupted.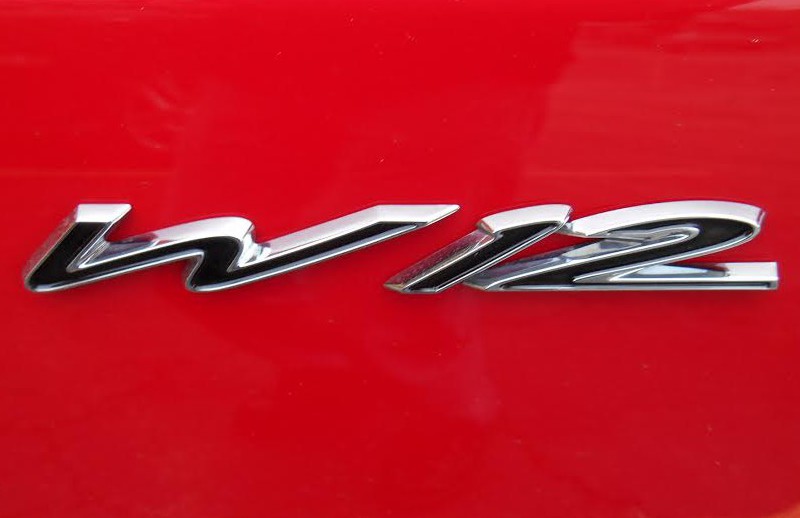 I would not be surprised to learn that Bentley engineers spent as much time tuning the intake noise and exhaust note as they did refining the suspension.
And, how about the suspension? A true gentleman even in the sportiest available setting, the Continental GT Speed informs drivers and passengers alike of road imperfections, but never allows anything approaching harshness to be felt.
Don't get me wrong, in full-on sport mode (there are four suspension settings) this big coupe rides firmly, even very firmly, but it's a good firm. The kind of firm that starts drivers of this mighty Brit thinking that chasing Porsche 911s on exit ramps might not be much of a challenge.
I won't pretend that I don't love almost every Bentley I am fortunate enough to drive. But I will note that if this car listed for $100,000 more than it actually does, I would still be impressed–hence my suggestion that these very expensive cars are something of a value.
Damon Bell
My time in the Bentley Continental GT was (cruelly) limited to a quick jaunt up and down the I-94 expressway. Also, the St. James Red paint puts most fire engines to shame in terms of attracting eyeballs, so I was worried about law-enforcement scrutiny. Still, I was able to determine that the 616-hp W12 engine pulls like the world's classiest freight train once the turbos spool up. The interior is a magically posh place as well. It's a favorite parlor game of ours at the Consumer Guide office to guess the exorbitant optional-equipment prices on these super high-end luxury machines (Would you like contrast stitching in the interior? That'll be $1905. Red calipers on the brakes? That's $1495.), but I guess that's all small potatoes when you're already forking over more than $220K. I guess the nicest thing you can say about the Continental GT Speed is that it's clear where the money went.