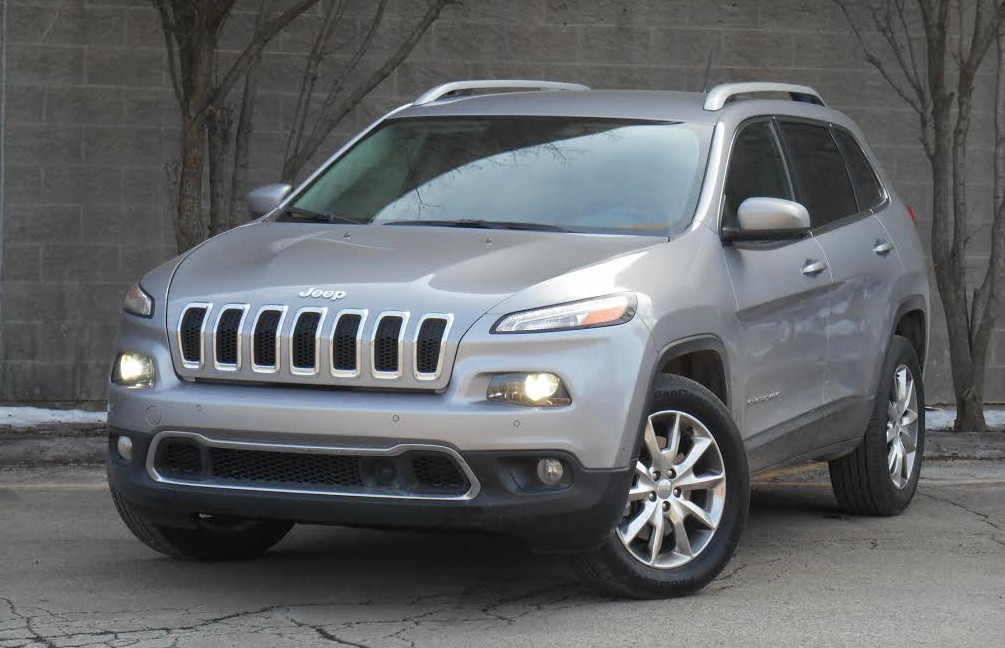 2014 Jeep Cherokee Limited 4X4
Dates tested: 3/12/2014-3/20/2014
Miles Driven: 536
Fuel Used: 24.1 gallons
Real-world fuel economy: 22.2 mpg
Driving mix: 55% city, 45% highway
Base price: $29,995 (not including $995 destination charge)
Options on test car: Technology Group ($2155), Luxury Group ($1595), 3.2-liter V6 ($1495),  Navigation system ($795)
Price as tested: $37,030
Quick Hits
The great: Plenty of smooth refined power with optional V6
The good: Quiet cabin, smooth ride, capable in the snow
The not so good: Audio and climate controls require some acclimation
John Biel
When Consumer Guide® Automotive test-fleet czar Rick Cotta tossed me the keys to the new Jeep Cherokee that had been entrusted to our care, it created the opportunity to fill in a few blanks.
Last September I attended the media preview for the 2014 Cherokee, which gave me instant access to both engines and a couple of the trim levels available on the midsize crossover sport-utility. Of necessity, exposure at those events is brief, often just a few hours, and there's no opportunity to test for fuel mileage. Thus, it was nice to have the chance to spend a few days commuting in a Cherokee on familiar routes, using more of the comfort and convenience features, and, finally, filling the tank.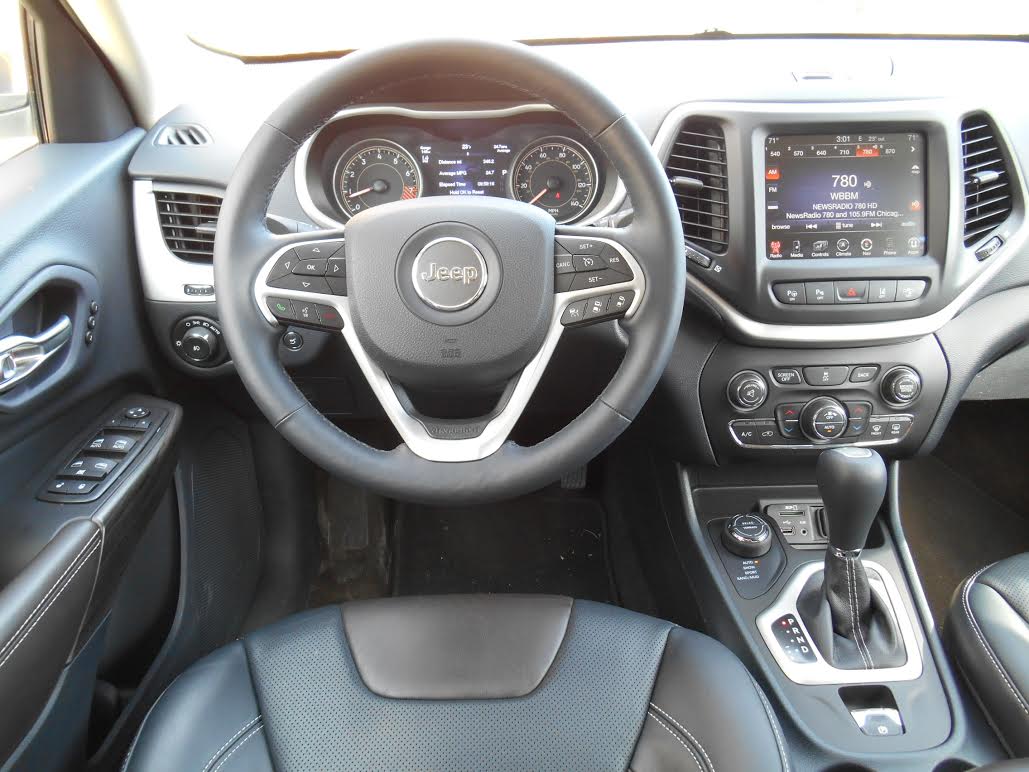 The CG test vehicle was the plushest of the Cherokees, the Limited, kitted out with "Active Drive I" all-wheel drive (a front-wheel-drive version is also available) and the optional 3.2-liter V6, a $1495 upgrade from the standard 2.4-liter 4-cylinder powerplant. Other options, in descending order of cost, included the Technology Group, which includes a parallel and perpendicular park-assist feature; Luxury Group, with premium leather upholstery and a power liftgate; and a navigation system. Together, those goodies tacked another $6040 onto the 4X4 Cherokee Limited's base price of $29,995.
Driving the Cherokee for a few days on our own turf confirmed a number of the impressions that I formed on the preview:
• The 271-horsepower V6 is a strong performer that's quiet, too, except for a bit of a rumble under acceleration; the 9-speed automatic transmission, a first for the segment, is a smooth operator that kicks down promptly when called upon.
• Street and highway ride quality is generally unperturbed by road blemishes; handling is fairly nimble.
• Passenger room is good in front and back rows; interior materials have a nice look and feel.
What I noticed on this second go-round with the new Cherokee started at the gas gauge. Over 176.4 miles, 66 percent of which were under city conditions, the vehicle averaged 20.44 mpg, certainly not bad for a V6 SUV. The EPA ratings for an all-wheel-drive Cherokee with this engine are 19 mpg in the city, 27 mpg on the highway.
Also, while leg and head room are good in both rows (2nd-row seats have 6 inches of fore-and-aft travel), the rear seat effectively holds just two adults. Over-the-shoulder and straight-back visibility are good, assisted by the back-up camera that's standard on the Limited.
Read: '2015 Jeep Renegade: Jeep Gets a Cute 'Ute'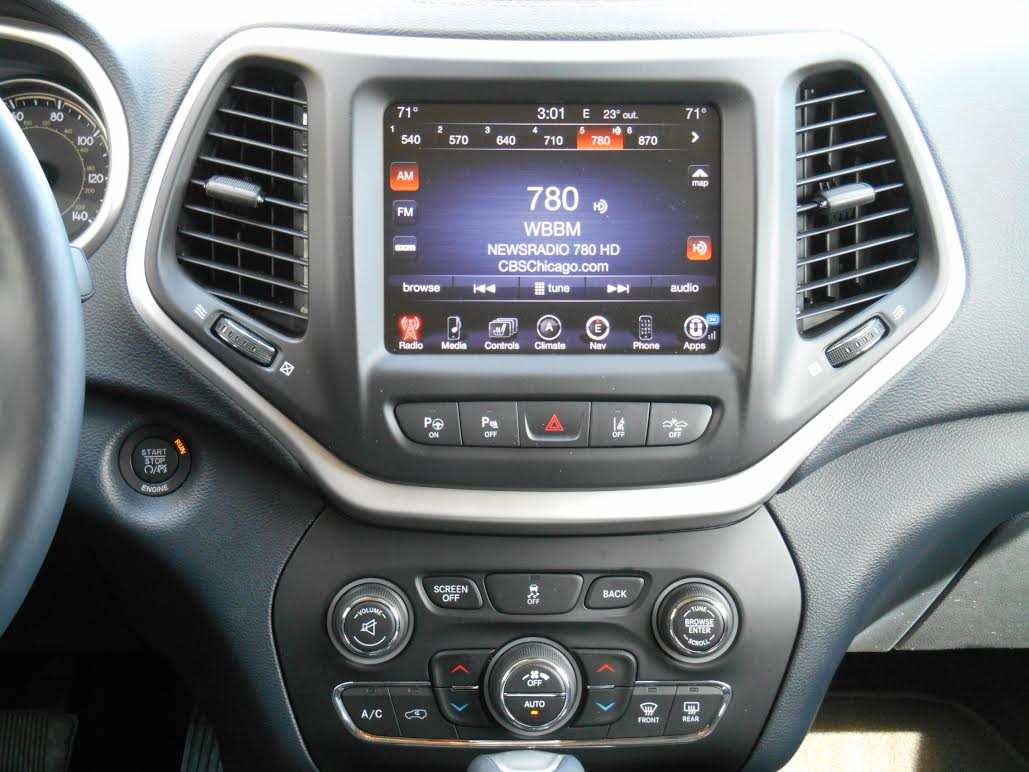 Cherokee interiors provide something of a geography lesson as they are named after locations around the world that inspired their designs and colors. Limiteds come with a choice of three styles; the one in CG's tester was "Vesuvio," rendered in dark Jeep Brown and Indigo Blue leather that imparted a rich, nuanced look. The glove box isn't especially large and door pockets are downright small but there is a shallow covered bin in the center of the dash top, the console arm rest opens to reveal a choice of two differently sized storage options, and there's storage space under the front passenger seat. A pull-down center arm rest in the rear exposes a pair of cup holders.
As for controls, the Limited's 8.4-inch in-dash screen regulates audio and navigation functions, but steering-wheel buttons reduce some of the need to contact the screen. Direct-acting climate-control buttons and dials sit below the touchscreen area and are positioned a little low for truly easy access, but climate settings can also be adjusted on the video screen.
As the well-optioned Limited that we tested shows, a 2014 Cherokee can start to run some money. However, with a choice of 4 models, including the Trailhawk that's tailored for off-roading, and the availability of both engines in three of the four, Cherokee customers have a decent chance at finding a midsize SUV that meets their needs at a price they can afford.
Tom Appel
Allow me to mirror John's impressions with only a couple of exceptions. I think I was more impressed by the ride quality of our test Cherokee, and a little more frustrated by the control situation. On the first point, the Cherokee feels like a larger, pricier vehicle underway, absorbing bumps and ruts better than most of the vehicles in this class. On the second point, I would suggest that Chrysler strained to find ways to fill the Jeep's enormous touch-screen control center. While owners will likely become familiar with the Uconnect interface, first-time and casual drivers will likely find themselves struggling to learn the drill.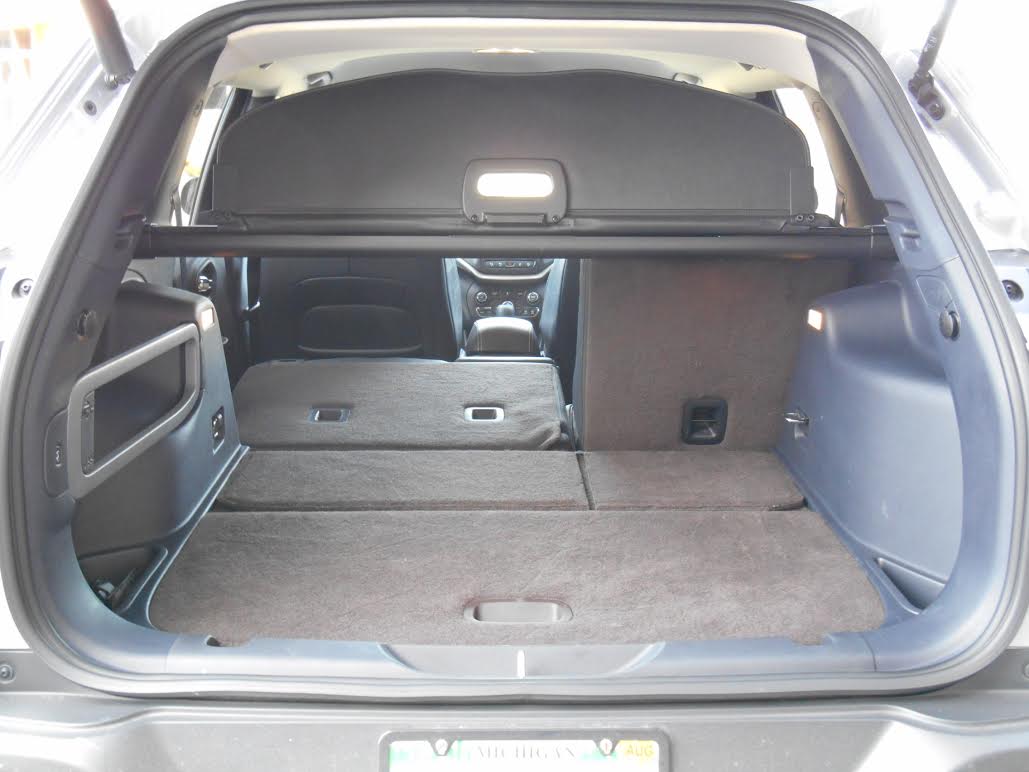 Worth noting is our average fuel economy. Equipped with the V6, and tested during a cold and snowy week, we averaged 22.2 mpg. Many 4-cylinder compact crossovers don't do much better.
Early sales numbers suggest that Jeep has a winner on its hands. Credit striking design, good power, and a fine ride for this new 'ute's solid first impression.