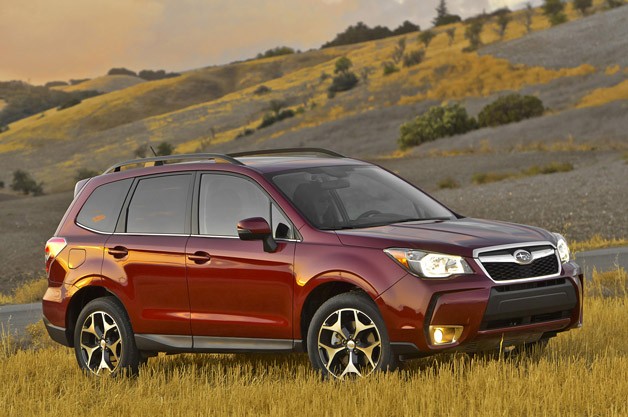 2014 Subaru Forester 2.0XT Premium
Miles Driven: 477
Fuel Used: 19.6 gallons premium unleaded
Real-world fuel economy: 24.3 mpg
Driving mix: 45% city, 55% highway
Base price (manual transmission): $27,995 (not including $755 destination charge)
Price as tested: $28,820
Quick Hits
The great: Roomy cabin, turbo power
The good: Good visibility all around
The not so good: Turbo power comes only on pricier XT models
What's New For 2014
The redesigned fourth generation of the Forester kicks off with new styling, slightly larger dimensions, new powertrains, and a number of first-time features.
Wheelbase has been stretched 0.9 inch (to 103.9), which, with specially shaped front seat backs, contributes to added legroom for rear-seat passengers. They also benefit from a lower driveline tunnel and additional hip and shoulder room. The 2014 Forester is 1.4 inches longer overall and 0.6 inch wider than its predecessor. Cargo space is also increased, by as much as 9 percent.
A 2.5-liter horizontally opposed 4-cylinder engine is continued, but a 2.0-liter turbocharged 4-cylinder "boxer" engine replaces the 2.5-liter turbo engine used previously. They are paired with all-new transmissions: a 6-speed manual, a continuously variable transmission (CVT) that behaves like an automatic, or–for turbo models–a high-torque CVT with steering-wheel paddles that allow for driver-selected shifts.
The top two 2.5-liter models and all turbocharged Foresters incorporate the new X-Mode system, which provides extra control in certain low-traction situations and includes a hill-descent control feature. A rearview camera is now standard for all but base models, and an in-dash navigation system becomes more widely available. Turbo models incorporate SI-DRIVE (for "Subaru Intelligent Drive"), a multimode system that changes throttle response for faster acceleration.
More crossover news and reviews
Model Lineup, Features, and Options
Subaru offers the Forester in 2.5i, 2.5i Premium, 2.5i Limited, 2.5i Touring, 2.0XT Premium, and 2.0XT Touring versions.
The base 2.5i comes standard with all-wheel-drive, 17-inch steel wheels (an inch bigger than on the prior model), 6-speed manual transmission, split-folding rear seat backs, cruise control, air conditioning, power windows/locks/mirrors, and Bluetooth connectivity. A tilt-and-telescopic steering column and in-dash fuel-economy and exterior-temperature display are new base-model standard features.
The 2.5i Premium adds alloy wheels, 10-way power driver seat, HD Radio receiver, rearview camera, body-color mirrors, and roof rails. A color multifunction display monitors additional vehicle systems and serves as the rearview camera screen. Premiums with manual transmission get the All-Weather Package with heated front seats, heated exterior mirrors, and windshield wiper de-icer; those with the optional CVT come with a panoramic sunroof.
The 2.5i Limited adds the CVT, X-Mode with hill-descent control, automatic climate control, leather upholstery, leather-wrapped steering wheel and shifter handle, upgraded instrument cluster, automatic headlights, fog lights, and a cargo area tray. All Limiteds also include the All-Weather Package.
The 2.5i Touring adds dual-zone automatic climate control, a one-touch folding rear seatback, and turn signals integrated into the exterior mirrors. New Touring-level standard equipment includes an in-dash navigation system with a 6.1-inch touchscreen, electroluminescent instrumentation, 8-speaker Harman/Kardon audio system, and a power liftgate that can be programmed to raise to a specified height.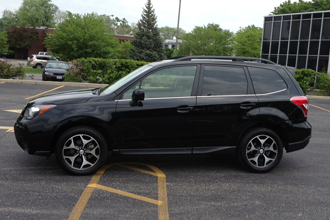 The 2.0XT Premium gets a turbocharged 4-cylinder engine, high-torque CVT with SI-DRIVE (including paddle shifters), X-Mode, a sport suspension with 18-inch wheels and uprated brakes, and leather-wrapped steering wheel and shifter handle. The 2.0XT Touring receives the same amenities included on the 2.5i Touring. Frontal styling of turbo Foresters is slightly different from that of 2.5i models. XTs also sport a body-color rear roof spoiler and dual stainless-steel exhaust tips.
The CVT is available at extra cost for the base 2.5i and 2.5i Premium, and the All-Weather Package is optional on Premiums equipped with the CVT. The in-dash navigation system is an optional for 2.5i Premium and 2.0XT Premium models and the 2.5i Limited. It comes with an upgraded 6-speaker audio system and smartphone integration with the Aha platform that creates access to Internet-based information and entertainment services.
Both Touring-level models can be equipped with a driver-assist technology package. Aside from keyless access and starting and high-intensity discharge headlights, the package extends Subaru's EyeSight system to the Forester. EyeSight provides adaptive cruise control, pre-collision braking and throttle management, and lane-departure warning.
Transmissions, and Drive Wheels
Forester 2.5i models come with a 170-horsepower 2.5-liter 4-cylinder engine that uses Subaru's traditional horizontally opposed "boxer" design. The 2.5i and 2.5i Premium models come standard with a 6-speed manual transmission. A CVT that behaves like an automatic  is optional on those Foresters and standard on the 2.5i Limited and 2.5i Touring.
Our test car, the Forester 2.0XT, came with a 250-horsepower turbocharged 2.0-liter 4-cylinder engine. It also uses Subaru's traditional boxer design. The only transmission available on turbocharged Foresters is a CVT. Note that all Foresters are all-wheel drive.
Fuel Economy
The EPA estimates that the Forester 2.5i with the 6-speed manual transmission will return 22 mpg city and 29 mpg highway. For 2.5i models with the CVT, official estimates are 24 mpg city and 32 mpg highway. Estimates for the turbocharged 2.0XT are 23 mpg city and 28 mpg highway.
Test Drive: 2019 Nissan Rogue SV
Tom Appel
I kind of skipped a generation of Forester love, but I am back. Our test XT is fun to drive, and fairly frugal given the power. I suspect I can do much better than 23 mpg once the allure of great throttle response wears thinner. Subaru did a masterful job matching this engine with the CVT transmission. I frequently forgot that I was working with a CVT, which is about the highest praise you can give a non-fixed-gear transmission. Roomy, sporty, and no doubt still an ace in the snow. Lots here to love.
Rick Cotta
The previous Forester was my personal favorite in the class, and nothing in the 2014 redesign has changed that. Note, however, that our tester was the XT (turbocharged) model, which starts $6000 north of the base 2.5i. Still, that's not out of line with those in the class with similar power, though one of the 2.5i models seems as though it would be a better value.
Damon Bell
A wonderfully airy cabin, great visibility, AWD grip, sturdy (if a bit plain) interior trimmings, and a "just-right" balance of passenger-car and SUV attributes are high points of the redesigned 2014 Subaru Forester. However, the relatively steep sticker price of this 2.0XT tester has me thinking that a 2.5i model would be a better all-around value.
More Forester news and reviews