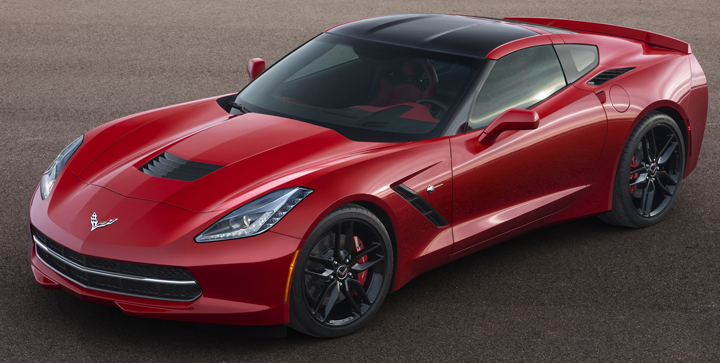 So far, this has been a mild winter in Detroit. But a cold snap just in time for press days at the 2013 Auto Show reminded everyone in town just what January normally feels like.
And like this cold snap, after half a decade of industry turbulence, this year's auto show has a refreshingly normal feel—albeit normal in a very new sense.
It's worth asking: What might be more normal than a Corvette reveal from Chevrolet, an F-150 concept from Ford, or a major Jeep Grand Cherokee freshening?
Superficially, nothing. But let's dig a little deeper.
The new Corvette is more powerful and arguably better looking than its predecessor. But, it's not that much more powerful. Chevy could have shot for the moon and brought us a 500-horsepower base 'Vette, but the car we'll see on lots later this year boasts a more modest 450-horse rating. Instead, thanks to a new all-aluminum substructure, the new Corvette is 100 pounds lighter than the car before it. It's also more aerodynamic. This careful balance of power and restraint proved to be a theme woven throughout this year's show.
The Ford Atlas Concept, a likely styling harbinger of the next-generation F-150 pickup, is as big, burly, and muscular-looking as one might expect a Ford truck to be, but the concept was sold to the media largely on the merits of efficiency. Special note was made of the vehicle's next-generation EcoBoost engine and aerodynamic enhancements.
Likewise, the rock-crunching Grand Cherokee rolled onto the Detroit stage sporting a new, efficient 8-speed automatic transmission and available diesel engine.
Whether this seemingly orchestrated harmonization of power and parsimony was intentional on the part of every maker at the show is for anyone to guess. But it's certainly safe to say that brazen displays of power and mass are likely part of a bygone era.
Nowhere was this yin/yang approach better defined than at the Mercedes-Benz E-Class reveal. Where the German maker might once have made singular noise promoting its uber-power AMG variants, this year it rolled them out in singular fashion, with the line's diesel and new hybrid variants beside them.
It will still be cold here in Detroit this weekend when the public gets its first peek at this year's show, and that's normal. And to most people checking out the new sheet metal, the show should also have a decidedly normal feel. But, one wonders, when the young gearheads-to-be take in the new Corvette, will they be more impressed by the car's thumping, directly injected V8 or its promise of nearly 30 mpg on the highway? It's becoming normal to appreciate both.