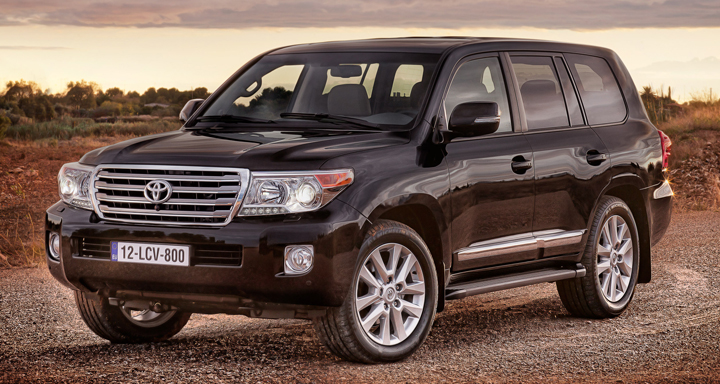 I just spent a few days commuting in an early-production version of the 2013 Toyota Land Cruiser. Though freshened for '13, the new "Landie" feels very much like the old truck, which is mostly a good thing.
One thing that carries over is a staggering base price, now $78,913. Toss in the few available options and you're looking at $80,715.
For those unaware, Lexus hawks a version of this same truck. For less than $3,000 more, shoppers can step up to the LX 570, a vehicle with a good amount of chrome and a proper luxury badge—or at least the kind of badge you'd expect to see on an SUV closing in on $100,000.
For many people, stepping up to the LX is a no-brainer. In fact, in 2011, almost exactly twice as many buyers opted for the Lexus over the Toyota.
So, what of the 1,662 people who went with the Land Cruiser? Kudos to them, I say.
Why kudos? I think we can all agree that the magic "Three P" triumvirate of luxury-vehicle appeal is pretty straightforward: performance, poshness, and pomp—not necessarily in that order. Most successful luxury vehicles will satisfy, to some degree, those basic tenets.
But what if you're that rare shopper for whom all three Ps are not necessary? Odds are you're not going to pass on the nice cabin or extra power, but for you, toning down the bling has special appeal. It is here that the Land Cruiser shines…or doesn't shine, as the case may be.
The truth is, the Land Cruiser gives up very little of actual substance to the better-loved LX 570. Peel off the extra chrome, gently roll back the Lexus five-year warranty to Toyota's staple three-year promise of care, and you've converted your LX to a Landie.
For well-heeled drivers who'd rather not have neighbors, valets, or ill-intentioned hoodlums wondering about their incomes, the Land Cruiser makes all sorts of sense. Even with a less aggressive grille, the Land Cruiser is a handsome beast. Its square-shouldered stance suggests both utility and substance. There's little chance that anyone would mistake a Land Cruiser for, say, a Highlander. Of course, there's little chance the average person on the road would mistake a Land Cruiser for anything, as there's just so few of them. Last year, Toyota's biggest truck made up just .013 percent of U.S. vehicle sales.
So what do you get for $80,000? The satisfaction of owning a very exclusive vehicle that few people can pick out of a lineup. You also get a pretty nice truck.
Mountain of Torque: Remembering the Short-Lived "Big-Block" Chevrolet Avalanche