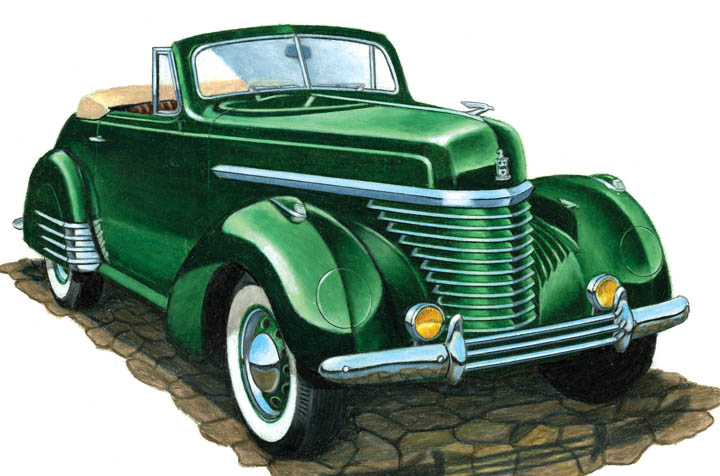 One of the most beautiful automobile designs of the 20th century, the 1936-37 Cord 810/812 was penned by Gordon Buehrig, the design chief for Auburn Cord Duesenberg. This was a clean-sheet-of-paper design, meaning that Gordon didn't have to base his design on an existing frame or body shell.
However, imagine if he were employed by another automobile company and had to apply his Cord design elements to one of their existing frames and bodies. He would have had to follow their perceived notions of what a car should look like.
Below is a photo of the the 1936 Cord 810. Following that are my drawings. In each, I tried to imagine what the Cord 810 would have looked like if built by the corresponding automaker.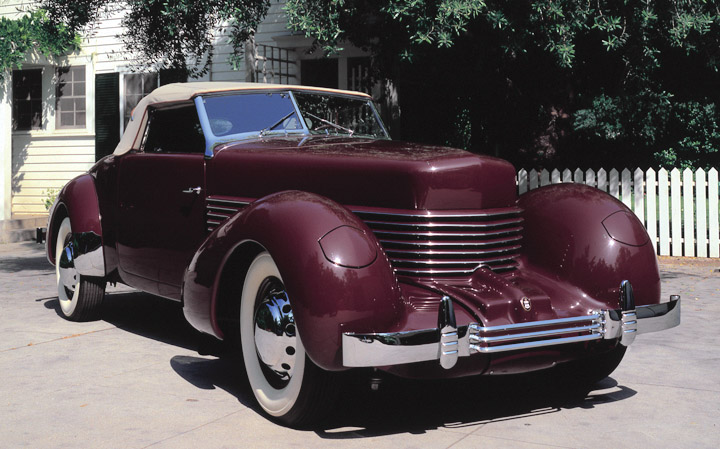 Cord by General Motors
Starting with the body shell, frame, and powertrain used by senior Buicks, Gordon would have had only enough money in the budget to cover the cost of a new front clip (hood, fenders, grille, etc.) and bumpers. Plus, the design would have had to pass the watchful eyes of GM design boss Harley Earl. For that reason, Mr. Buehrig would have had to use lots of chrome while still trying to keep his design as clean and uncluttered as possible. The result is pictured above.
Cord by Hudson
Using Hudson's restyled 1936 models designed by Chief Stylist Frank Spring, Buehrig would have been stuck with a flamboyant, bulbous body shell with which to apply his Cord elements. Again, he would have been required to use a Hudson body, engine, and frame and would have had only enough in the budget for a new front clip. Matching the Cord face to Hudson's flamboyant designs might have resulted in what you see here.
Cord by Chrysler
Faced with working with the formidable team of Chrysler engineers—Zeder, Skelton, and Breer—Buehrig would have struggled to have much say in this Cord design. He would have been stuck with the Chrysler/Desoto Airflow body, frame, and engine, but he might have been able to employ a front-wheel-drive application. That is why the nose of this design extends out forward of the body. Dual-cowl phaetons were on the way out by 1936, but they do add some elegance to the huge Airflow body.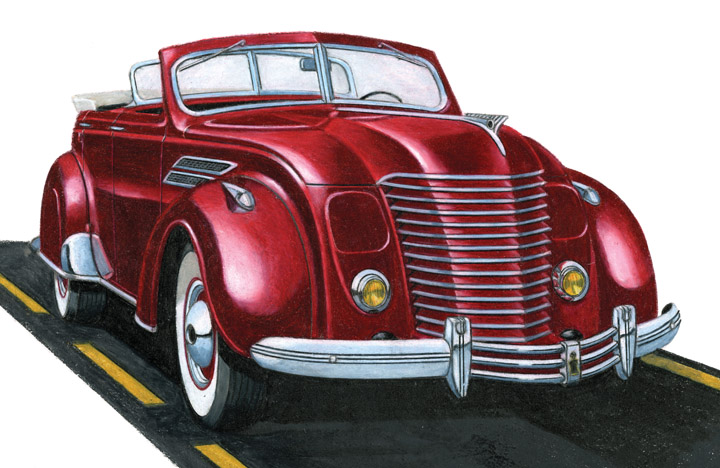 Cord by Ford Motor Company
In terms of design, the Lincoln Zephyr is probably the closest to Buehrig's Cord design as he could have gotten. Its clean, flowing lines are similar to the Cord's, only taller. To make this a front-wheel-drive Lincoln, the wheelbase is extended a good six inches forward of the cowl and the big V12 engine and transmission are turned around. I don't know how well this would have worked, but the long hood line looks cool.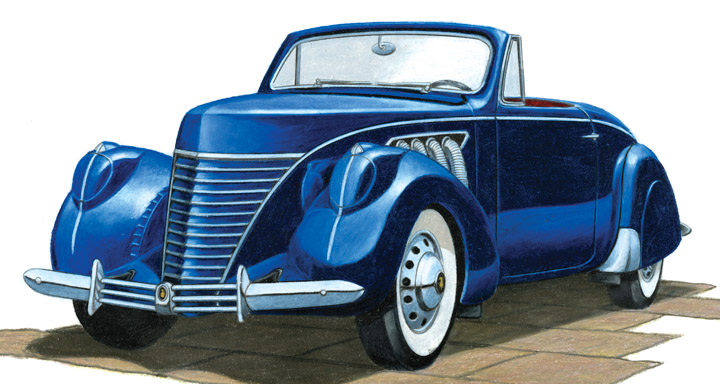 Cord by Studebaker
The 1936 Studebakers were nicely styled cars, but they were not very adaptable to a Cord design. By using the same formula as used on the Lincoln/Cord (extended wheelbase, reversed engine/transmission placement, and all-new front-end sheetmetal), Buehring would have created a very elegant car. Rather than hiding the headlights, these are aerodynamically flared in the hood line with a Cord-like grille wrapping under them.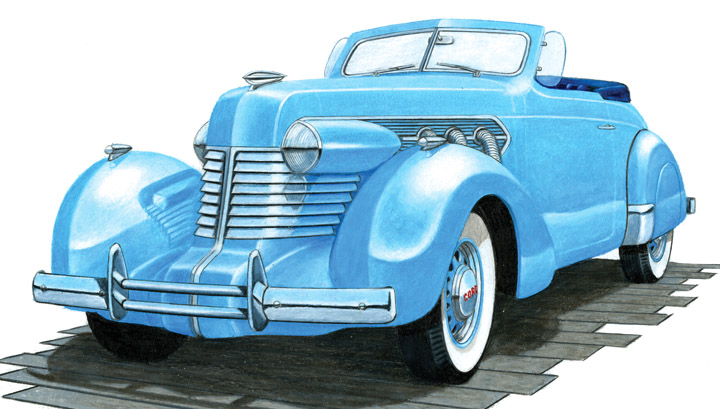 Cord by Nash
This is another front-drive application similar to the Lincoln and Studebaker versions. The nose design employs both Nash styling (lower grille) and Cord louvers. It's a strange mix, but it seems to work.