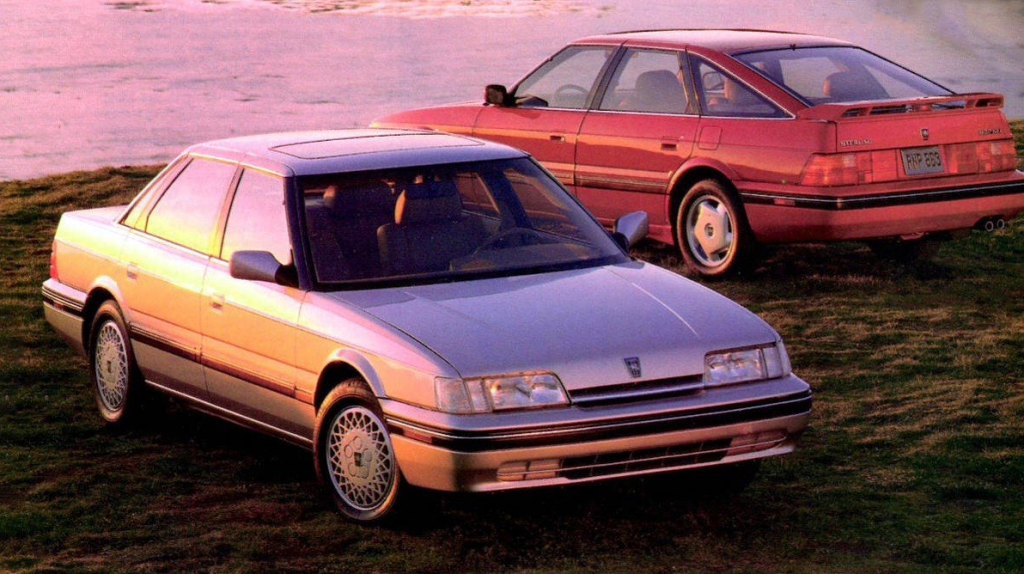 If you're relatively new to driving, there's a good chance you've never heard of Sterling. If you're older and have been looking at the cars around you for a while now, there's a good chance you've simply forgotten that this short-lived brand ever existed. Because, odds are, you've never actually seen a Sterling.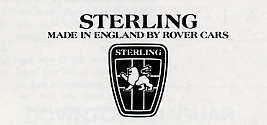 What Was The Volkswagen Golf Harlequin?
Born of the same late-Eighties/early-Nineties automotive landscape that brought American car shoppers Daihatsu, Geo, Merkur, and Yugo, the Sterling brand would prove misguided and short lived.
Sterling was the first–and, as fate would have it, the only–brand marketed by Austin Rover Cars of North America (ARCNA). A wholly owned subsidiary of England's Rover Group, ARCNA was established specifically as a channel to retail Rover products in the United States.
The Sterling brand was established because, for whatever reason, Rover's management felt it better conveyed a luxury image than a Rover badge would have. The Sterling brand was unique to the U.S. and Canada.
Sterling's only product, the 825, was launched for 1987. Assembled in England, the 825 was mechanically similar to the Acura Legend, thanks to a licensing arrangement with Honda/Acura. Not an exact clone of Legend, the 825 featured unique interior and exterior styling, as well a parts sourced through different suppliers. Honda, however, supplied the 825's engines. A version of the 825 was sold in the U.K. and other markets as the Rover 800.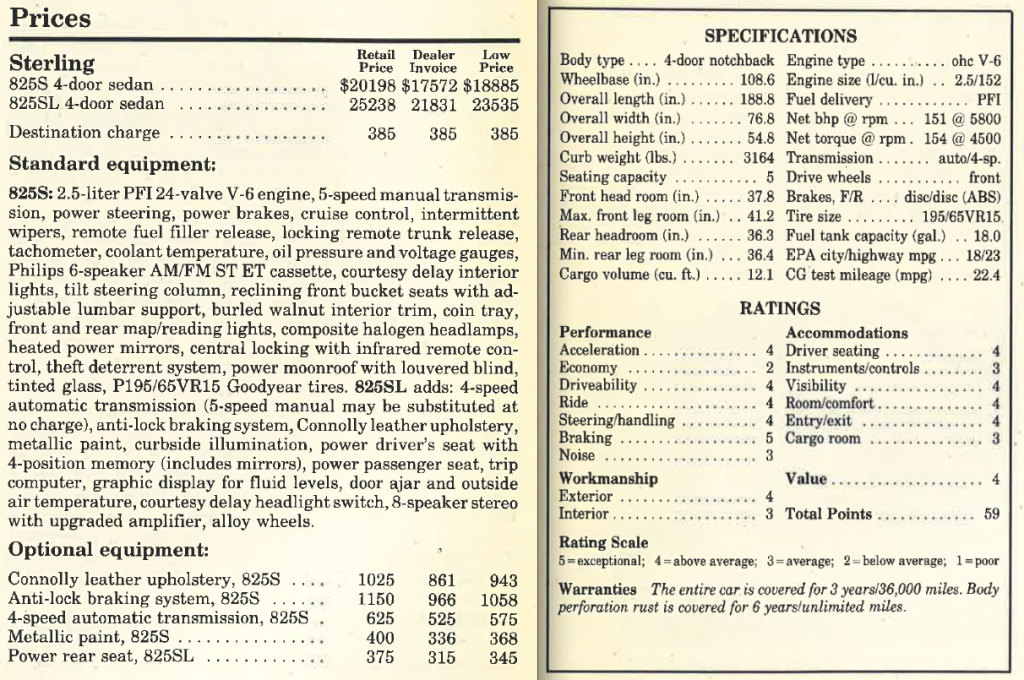 The largish midsize sedan would draw praise for its ride and handling, as well as its refined powertrain, and first-year sales proved encouraging. More than 14,000 Sterling 825s found buyers during the car's first model year.

However, quality snags quickly came to haunt Sterling, with numerous glitches frustrating owners and clogging dealer service bays. Also, Sterling cabins, which were praised for their real-wood accents and high-grade leather, were shedding trim bits at an alarming rate.
With word out that Sterling quality wasn't really where it needed to be, sales plunged by nearly half for 1988, and by almost another third for '89.
A new hatchback body style arrived for 1990. Joining the SL sedan, the SLi hatchback drew some interest from the automotive media, but didn't help boost sales. Nor did a new topline Oxford trim level, which rolled out the same year.
A 1990 model-name change to 827 signified a small increase in engine displacement, from 2.5 liters to 2.7.
Americans purchased just over 4000 Sterlings in 1990, and just under 2800 in 1991, the brand's last year.

During this same period, Acura enjoyed impressive sales success with the similar Legend, which, being assembled in Japan under the scrutiny of Honda manufacturing, achieved the highest quality ratings from customer-satisfaction research firm J.D. Power.
All told, roughly 36,000 Sterlings found their way into American garages over a five-year period–that's about as many RAV4s Toyota sells in a month. If you catch a glimpse of a Sterling, know that you are looking at a rare bird, as there aren't very many of these forgotten British oddities still on the road.

What Was The "Uncle Buck" Car?