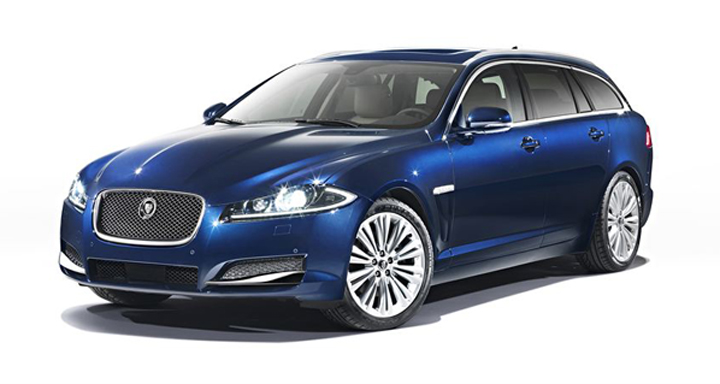 At the 2012 Geneva Motor Show, Jaguar introduced what Popular Mechanics called the company's "first estate car in 90 years, the Jaguar XF Sportbrake." Translating the Britishisms, that means that Jaguar is considering an XF station wagon. The term estate car conjures up an image of a wood-bodied wagon pulling up in front of a stately home. What is a Sportbrake?

What is a Sportbrake?
Sportbrake is play on shooting-brake, a car or horse-drawn wagon used to carry hunting parties and their gear to the shoot. Shooting might sound a little violent, or be offensive to PETA-type folk, but everyone likes the word sport—hence, Sportbrake.
This isn't Jaguar's first wagon. Jaguar must be hoping that people forgot about the X-Type Sportwagon. After all, they sold only 1,602 in the States while it was on sale from 2002 to 2008. The compact X-Type wasn't one of Jaguar's more memorable models, although the wagon was a nice addition to the line.
5 Wagons You've Completely Forgotten
The Sportbrake might have a better chance of success than did the X-Type Sportwagon. The Sportbrake is a well-styled conversion of the XF sedan—a much better starting point than was the X-Type. Consumer Guide said this of the XF sedan: "XF offers a fine balance of ride and handling along with impressive powertrain performance. For those wanting distinctive style and fresh, 'gee-whiz' technological features, this Best Buy premium-midsize sedan should be near the top of your shopping list." Jaguar promises that the Sportbrake will ride and handle as well as the sedan.
Sportbrake would be a good choice for those who need to carry extra cargo but don't want a tall, heavy SUV. With the back seat folded, the Sportbrake Concept boasts 59 cubic feet of cargo room. The vehicle includes a load-leveling rear suspension so that the bumper won't scrape if you fill all that space.
Don't get your hopes up, though; currently there are no plans to bring the Sportbrake to America. The U.S. is a tough wagon market, with wagons accounting for a much smaller percentage of overall sales than in Europe. The theory is that Boomers have a negative image of the wagons of their childhood. Even drivers who grew up riding in minivans and SUVs seem to have a prejudice against wagons. We must have a hard time forgetting the Family Truckster in National Lampoon's Vacation.
However, an optimist can hope that if the Sportbrake is a hit overseas, Jaguar might give it a shot over here. We're still waiting…

10 Most-Expensive Japanese Cars of 1992