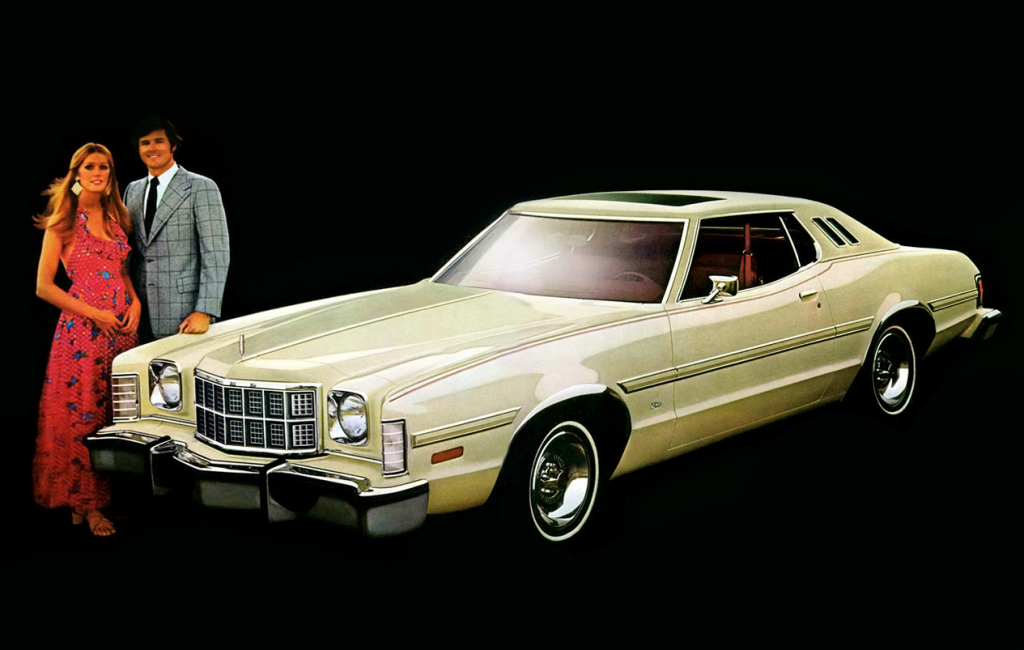 Ford is doing it right now with a subcompact crossover (EcoSport) imported from India. Cadillac did it with a German import badged on these shores as Catera. Honda did it with rebadged midsize SUV (Passport) that was actually built by Isuzu.
Our Apologies: The Personal Luxury Cars of 1975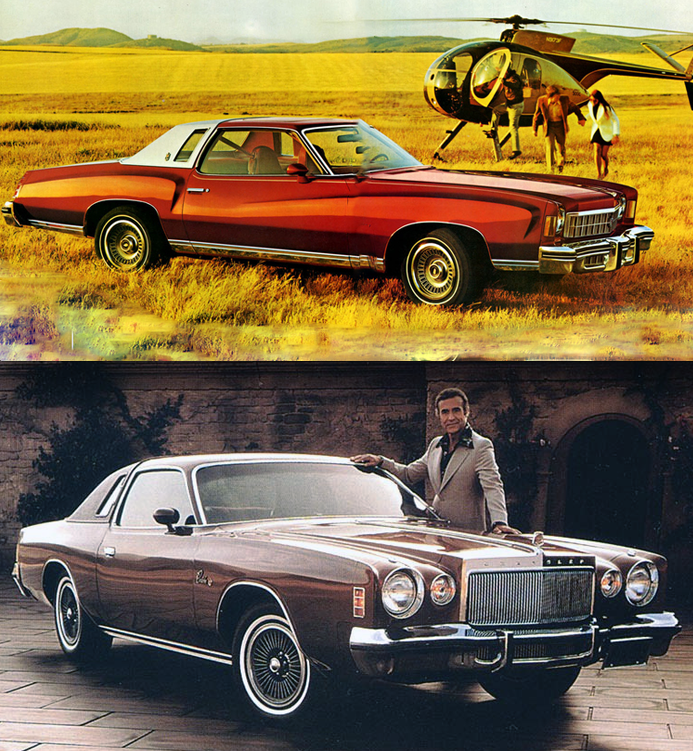 What, exactly, is the "it" we are talking about? Plugging an obvious hole in the showroom lineup with a placeholder product while a more suitable vehicle is being readied.
The aforementioned Ford EcoSport will likely be redesigned in a couple of years, at which time it likely be given more passenger space and a nicer cabin, and thus be better positioned to compete with the Honda HR-V and Toyota C-HR.
The disappointing Catera was replaced by Cadillac's much more compelling CTS. And the trucky Passport was eventually replaced by the Pilot, a more-refined crossover SUV that Honda designed and built on its own.
In each case, the carmaker in question felt the need to sell something in a growing market segment until it was ready to introduce a better, more-appropriate product.
Ford did something similar in the mid-Seventies, and, much like the EcoSport and the Passport, Ford's placeholder was employed to secure some visibility in a fast-growing segment in which the brand had no real entry.
Consider the 1975-76 Ford Elite. There's a good chance you don't remember the car, but it played an interesting role in establishing Ford in the affordable personal-luxury segment. This category, which was incredibly popular and expanding at the time, was more or less established by the Chevrolet Monte Carlo upon its introduction for 1970.
While the Monte Carlo played a role in what remained of the muscle-car era, the model would ultimately be better known as a roomy, cushy coupe—a type of vehicle that was in great demand by the mid-Seventies. Watching Monte Carlo sales grow—and perhaps aware of Chrysler's plans to introduce a personal-luxury model of its own—Ford introduced a high-end coupe trim level for its popular Torino midsize model.
The Gran Torino Elite arrived for 1974 and sold reasonably well, though nowhere near as well as the hot-selling Monte Carlo. Ford saw fit to drop the Gran Torino prefix for 1975, and was rewarded with significantly stronger sales. The numbers improved again for 1976, the second and last year that Ford sold a stand-alone Elite model.
What happened next in the personal-luxury segment was nothing short of amazing. In a masterstroke of repositioning, Ford badged the Elite's replacement Thunderbird—and watched sales skyrocket.
Smaller Still: The Personal Luxury Cars of 1980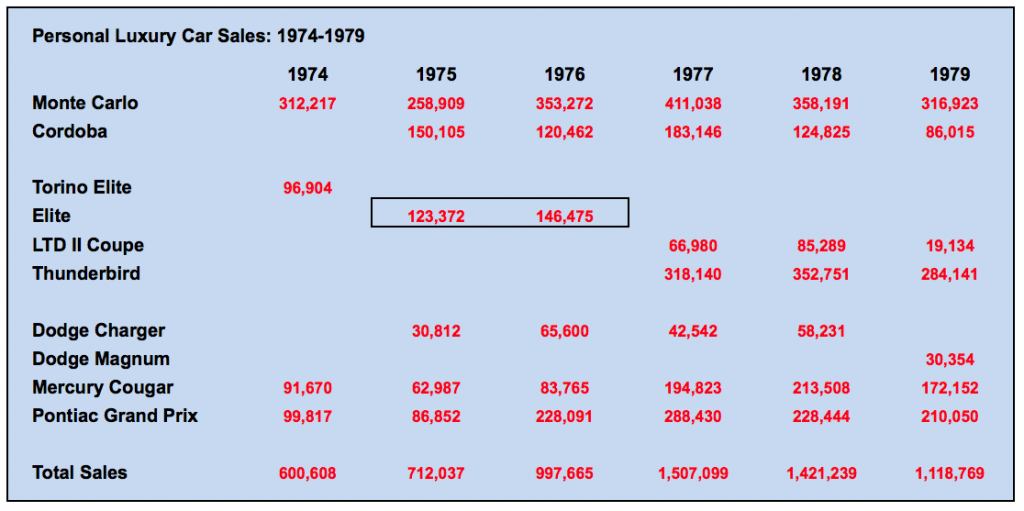 From 1972 to 1976, the Thunderbird had been priced and positioned only slightly below the Lincoln Continental Mark IV. For 1977, Ford abandoned that strategy and cashed in on the T-Bird name's cachet, applying the popular moniker to the more populist Elite replacement.
Whether it was due to the car's modern, angular styling, or simply the fact that it cost almost $3000 less than the year before, it's hard to say—but Thunderbird sales exploded for 1977. Almost 320,000 customers snapped up T-Birds in '77—more than double the volume the Elite saw in 1976.
To be fair, the entire personal-luxury segment was on fire that year, with total sales breaking 1.5 million. For reference, that's about how many midsize sedans were sold in the U.S. last year.
As for the Elite, it went away quietly after 1976. The Torino product line on which it was based had been redesigned and renamed LTD II.
If anyone remembers the Elite today, it is usually the twin opera windows they recall first. But, with almost 400,000 Elite and Gran Torino Elites having been built and sold in three short years, there're likely still a handful of them out there someplace.
If you've ever spent time with an Elite, please tell us about it. We'd love to know what you though of this short-lived placeholder.
1976 Ford Elite Specs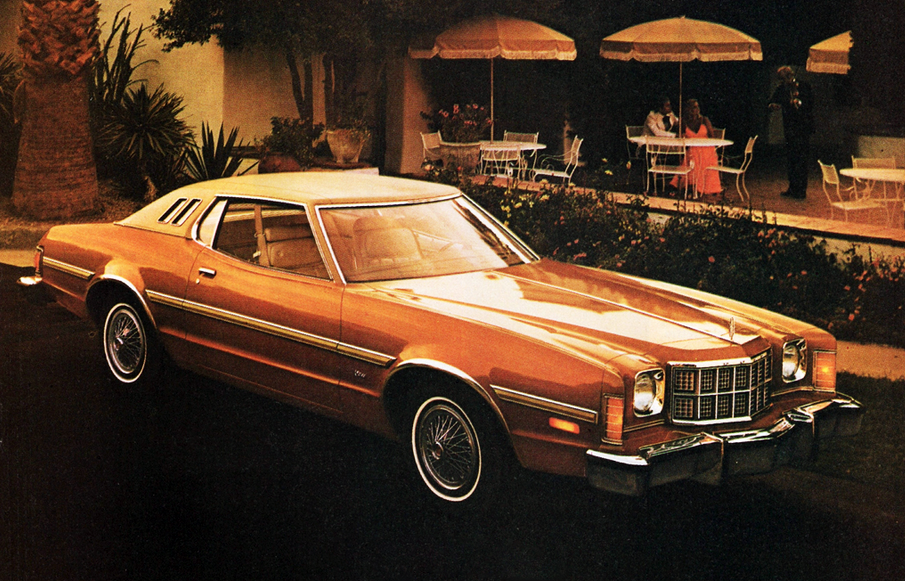 Base Price: $4879
Overall Length: 216 inches
Wheelbase: 114 inches
Base Engine: 152-horsepower 351-cubic-inch V8
Optional Engine: 180-horsepower 400-cubic-inch V8 ($93)
Optional Engine: 202-horsepower 460-cubic-inch V8 ($292)
Air Conditioning: $520
AM/FM Stereo with 8-Track player: $326
Review Flashback! 1977 Mercury Cougar