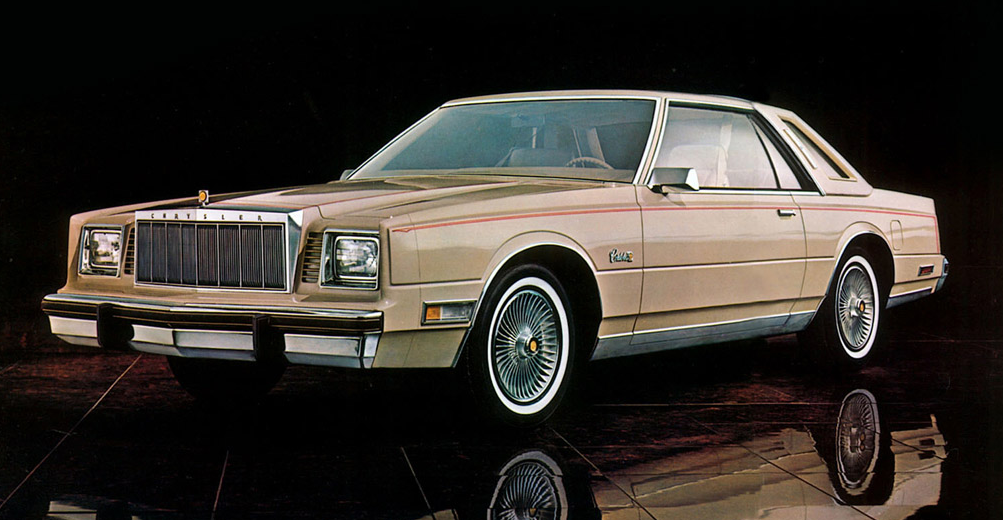 In a post titled "Our Apologies: The Personal Luxury Cars of 1975," we took note of Chrysler's seeming apology for the then-new Cordoba's size. Though about the size of any contemporary midsize car, Cordoba was, indeed, small for the brand.
In what may be one of autodom's best TV commercials, Ricardo Montalban insists that, "In this new small Chrysler, I have what I need." Translation: "Seriously, it only looks too small." You can check out the commercial here.
As it turns out, that apology probably should have been withheld for another five years. For 1980, the Cordoba would undergo fairly radical weight-reduction surgery. In fact, by 1980, every one of Cordoba's primary competitors was seriously pared down.
Here, we'll look at all six cars on our original 1975 personal-luxury list, and break down the extent of their size and weight reduction. But first, please check out Mr. Montalban's reaction to Chrysler's 1980 redesign of his favorite car it's one of the personal luxury cars of 1980:

Note: Length and weight-reduction figures presented below are compared to like 1975 models.
The Personal Luxury Cars of 1980
Chevrolet Monte Carlo

The Monte was the among the first of these cars to be downsized, shedding more than 900 pounds for the 1978 model year. Along with the flab went Chevrolet's ubiquitous 5.7-liter V8, replaced by a 5.0-liter mill as the top V8. A turbocharged 3.8-liter V6 was available for a couple of model years in the newly slimmed down Monte, but it couldn't match either V8 for smoothness.
Weight: 3132 pounds
Weight reduction: 902
Length: 200.4 inches
Length reduction: 12.9
5 Cheap Coupes You've Completely Forgotten
Chrysler Cordoda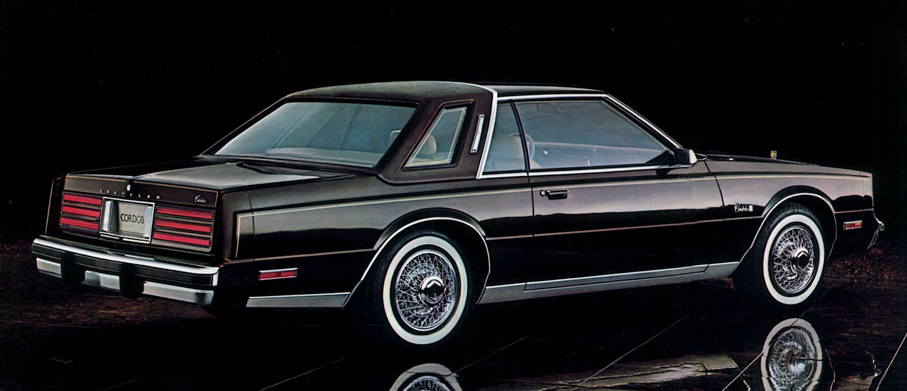 Originally designed to become a 1975 Plymouth model named Sebring, Chrysler brass opted instead to launch this car as a higher-end offering. As a Chrysler, this midsize coupe sold surprisingly well, finding three times as many customers in its first year than did the similar Dodge Charger. Cordoba was downsized for 1980, trading its flowing contours for a crisper look that didn't prove quite as popular with customers.
Weight: 3336 pounds
Weight reduction: 742
Length: 209.5 inches
Length reduction: 5.8
Our Apologies: The Personal Luxury Cars of 1975
Dodge Mirada

Dodge's personal-luxury Cordoba clone was subject to three model-name changes during the five-year period we're discussing here. Dubbed Charger in 1975, the personal-luxury coupe became Magnum for 1979, and finally Mirada for 1980. Like the '80 Cordoba, the Mirada was a much leaner car than the vehicle it replaced.
Weight: 3295 pounds
Weight reduction: 792 (versus Dodge Charger)
Length: 209.5 inches
Length reduction: 5.8 
The 6 Best-Looking Cars of 1980
Ford Thunderbird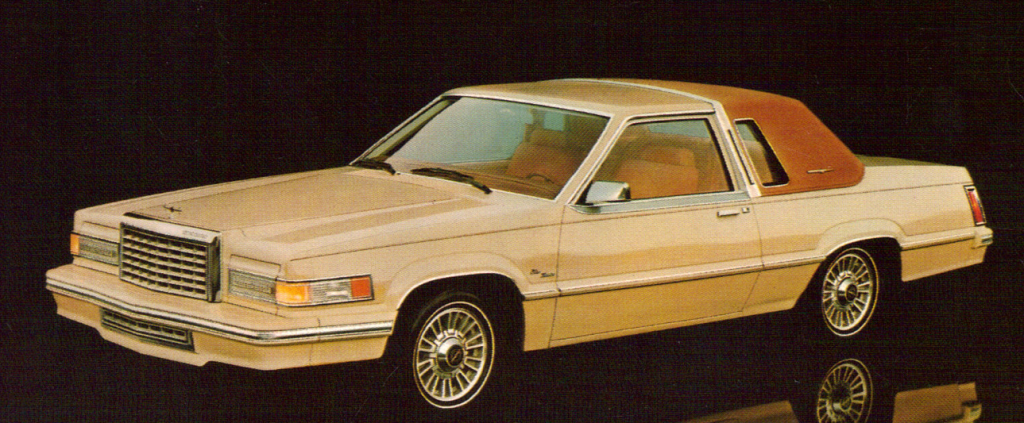 The Thunderbird was still a luxury-class large car in 1975, with pricing to match. At the time it was the Ford Elite that competed most directly with the Cordoba. All that changed for 1977 when the Thunderbird was downsized and repositioned to do sales battle with the Cordoba, Chevrolet Monte Carlo, and their ilk. A radical downsizing came for 1980, when the T-Bird was moved Ford's "Fox" platform, best known as host to the compact Fairmont sedan and coupe.
Weight: 3270 pounds
Weight reduction: 1084 (versus Ford Elite)
Length: 200.4 inches
Length reduction: 15.7 
Review Flashback: 1980 Plymouth Volaré
Mercury Cougar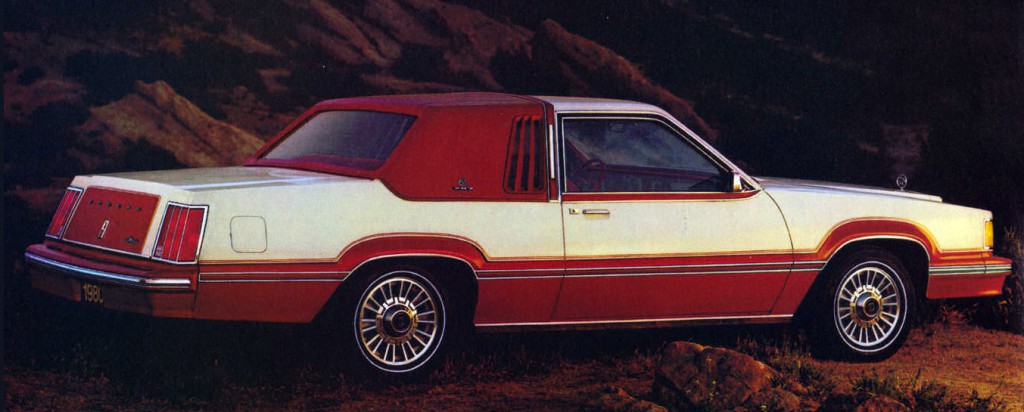 Though resized for 1980, the Cougar was arguably not reshaped. Looking a little like a 5/8-scale version of its former self, the Cougar, and the similar Ford Thunderbird, suffered a dramatic sales falloff following the downsizing. Fun fact: 1980 was first year a 6-cylinder engine was offered in the Cougar.
Weight: 3277 pounds
Weight reduction: 1077
Length: 200.4 inches
Length reduction: 15.1 inches
The Most-Expensive American Midsize Sedans of 1978
Pontiac Grand Prix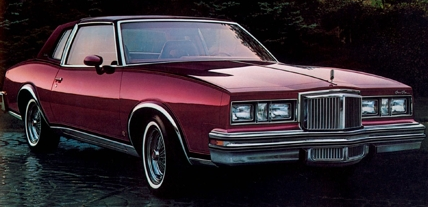 Mechanical kin the Chevrolet Monte Carlo, the Grand Prix was subject to the same 1978 downsizing event. Of all six cars on this list, the GP enjoys the distinction of having shrunk the most in length since 1975.
Weight: 3197 pounds
Weight reduction: 855
Length: 200.4 inches
Length reduction: 16.3 
The Most-Expensive American Cars of 1972
Personal Luxury Cars of 1980
Personal Luxury Cars of 1980