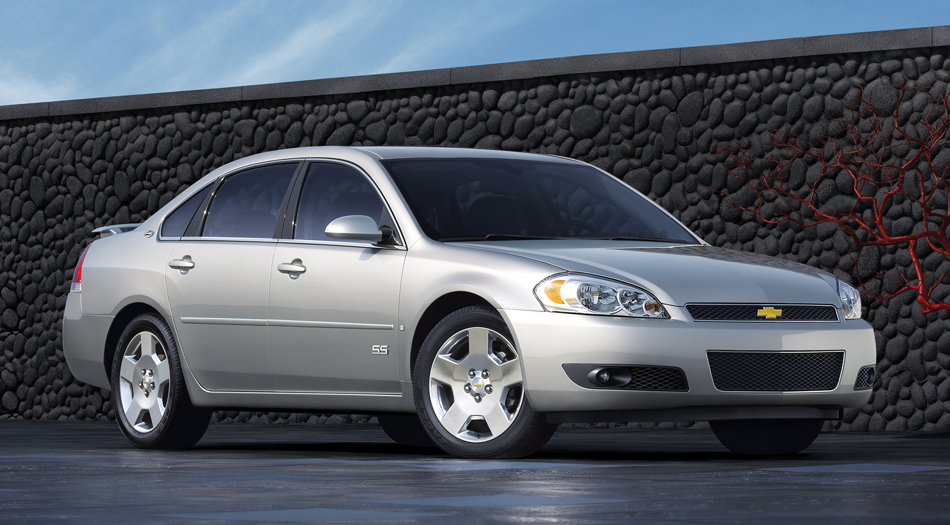 by Don Sikora II
Note: The following story was excerpted from the April 2018 issue of Collectible Automobile magazine.
The original Chevrolet Impala Super Sport was a trendsetter, and from 1961 through 1969 the nameplate adorned some fast-and-fantastic Chevy hardtops and convertibles. But as classic muscle peaked, interest in full-size performance gave way to luxury.
Review Flashback! 1987 Chevrolet Monte Carlo SS
The Impala SS made an unlikely return for 1994 as the surprisingly desirable performance-flavored rework of Chevy's visually challenged body-on-frame rear-drive Caprice sedan. Cleaned-up bodywork wearing dark paint and 17-inch aluminum wheels, along with a 5.7-liter V-8, dual exhausts, and a buckets-and-console interior helped update the original SS recipe for the Nineties. This clever concoction remains an enthusiast favorite. (Your scribe has owned a black '96 SS for nearly 20 years.)
The Caprice-based car helped set the template for the two front-drive Impala SS models that followed. First came the 2004-05 Impala SS with a supercharged 3.8-liter V-6 good for 240 horsepower. A thorough redesign for the 2006 model year brought V-8 power back to the Impala SS, and that's the car on which we'd like to focus here.
Torque-Steering Trio: Remembering GM's "Small Block" Front-Drivers
All '06 Impalas wore new styling inside and out that was smooth and inoffensive. Outside, SS Impalas sported subtle emblems, a model-specific rear spoiler, and beefy 18-inch aluminum wheels wrapped in P235/50R18 rubber, but otherwise looked little different than lesser V-6 Impalas.
The 2006 car was built on GM's W-body platform. That hardware was under the previous Impala as well, and it had evolved from the GM10 chassis that originally supported the 1988 Pontiac Grand Prix, Buick Regal, and Oldsmobile Cutlass Supreme. At Chevy, this basic setup traced back to the 1990 Lumina. Here, wheelbase spanned 110.5 inches, and overall length was 200.4 inches. Curb weight was 3711 pounds.
The 2006 SS was powered by GM's LS4 5.3-liter V-8 engine—that's 325 cid in old math. This ohv eight featured an aluminum block and heads, and GM's Active Fuel Management system that deactivated certain cylinders in low-power situations to improve fuel economy. It was good for 303 horsepower and 323 pound-feet of torque. For comparison, the LT1 350 in the '94 SS was rated at 260 ponies and 330 pound-feet. The only available transmission was a four-speed automatic.
When Car and Driver tested a 2006 Impala SS, it reported a 0-60-mph time of 5.4 seconds, a quarter-mile dash of 14.2 seconds at 101 mph, and a top speed of 154 mph. Power, a roomy interior, and the car's low $26,990 base price were high points. Gripes centered on unsatisfying behavior when driven enthusiastically. Under aggressive throttle the V-8 made more power than the front tires could reliably handle, so wheel spin and tugs at the steering wheel were part of the bargain. Uncontrolled body motions; a crashy suspension; and flat, slippery leather buckets were other complaints. C/D also mentioned that the similarly powered, but pricier, Pontiac Grand Prix GXP had different chassis tuning that did a somewhat better job of harnessing the V-8's muscle. Consumer Guide® noted the car's ample power but opined that while the SS was the sportiest Impala, it didn't feel agile.
This Impala SS didn't change too much over time. The 2007 picked up standard leather interior trim. The end-of-the-road 2009s benefited from Bluetooth cell-phone connectivity and new safety features. Online sources suggest total Impala SS production was nearly 50,000 units over the four-year run.
More on the 2006-2014 Chevrolet Impala
Pros:
Muscular V-8 sounds great.
An effortless and peaceful highway cruiser.
Roomy, comfortable interior.
Cons:
This Impala's front-drive chassis has a hard time harnessing the V-8's power.
Beyond the chunky alloy wheels, the SS doesn't look all that different from the
throngs of six-cylinder Impalas on America's streets.
Despite the name, this SS's handling isn't particularly sporty.
Final Drive:
The front-drive Impala SS models of the last decade remain stuck in the shadow of the burly 1994-96 Super Sport. The main features here are the 303-horse V-8 and the respected nameplate. Understated styling makes this deceptively quick car a bit of a sleeper, and that can be an advantage.
None More Black: Chevrolet Rolls Out Impala Midnight Edition